How many times, after sailing in the Cyclades, have you thought about a wine you'd had there that you think is really worth trying again only to realize, as you try to find out where it came from, that you have no recollection of the name of either the wine or the vineyard it came from? It's easy to lose track of the many treasures hidden on these islands. Grape's contributor Gregory Kontos, Dip WSET, takes us on a trip around the Cyclades' small wineries.
 In addition to Santorini and its famous Assyrtiko, many other Cycladic islands (despite their arid and, in many cases, volcanic soils) grow indigenous varieties , with vines trained in a traditional system called aplotaries that forces the vines to spread horizontally along the ground to protect them from the strong Aegean winds. These vines produce unique wines, making the Cyclades a wine-producing area that's really worth exploring.
 SYROS
Located 78 nautical miles southeast of Athens in the Aegean archipelago, Syros is the center of the Cycladic islands. Its beautiful main town, Ermoupoli, is the administrative capital of the Cyclades. The island hosts two wineries.
Syros Winery:
Established in 2011 by oenologist Nikos Hatzakis, this small winery is located in the area of Langada in Talanta on the road which leads to Galissas and Delagracia. They produce three wines: San ta Maratha, a white made from Assyrtiko; Fabrica White, made from the indigenous varieties Monemvasia and Kountoura, and Fabrica Red, from the red variety Mandilaria. The wines can be found in shops in Syros and Tinos, and are also distributed to some of the central wine shops in Athens.
Info:Talanta Syrou
 T (+30) 22810.61617,   (+30) 694.630.2920
OuSyra
This winery is the creation of Scotsman Edward Maitland Makgill Crichton and his Greek wife, whom he met and married in Syros. Ousyra was the name given to the island of Syros by its first inhabitants, the Phoenicians; it means "happiness". The winery produces two wines, OuSyra Serifiotiko and OuSyra Assyrtiko.
Info:Chroussa Ano Syros
T (+30) 697.747.3967
TINOS
Having initially gained its tourism reputation thanks to religious pilgrimages, the island of Tinos is fast becoming one of the most important centers of Greek gastronomy, and is producing some excellent wines as well. Tinos Food Paths is a food festival organized there every year; it enjoys the participation of famous Greek chefs and places an emphasis on local products. As far as wine production is concerned, the initial efforts of Christos Fonsos and Alexandros Avatangelos are being augmented by the work a number of new small producers on the island.
Christos Fonsos Winery
The first winery on the island of Tinos was established in 1997 by Christos Fonsos, in the area of Komi. He vinified a number of indigenous varieties, among them Mandilaria and Monemvasia, producing two white wines, Mpeloni and Mathioulis White, and one red, Mathioulis Red.
Info:Komi Exombourgou
T (+30)22830.510.48,  (+30) 697.766.8060
T-OINOS VINEYARDS
This is the most famous winery on the island of Tinos . It was established in 2002 by Alexandre Avatagelos, a man with considerable experience in the winemaking business in Greece. Today, this winery is considered one of the most important winemaking investments in the Cyclades, and the wines it produces are exported to many international markets, France in particular. Four varieties are planted in the granite soils of the 40-hectare vineyard, two white (Assyrtiko and Malagousia) and two red (Avgoustiatis and Mavrotragano), all indigenous varieties of the Cyclades. The first grapes were harvested in 2008, and annual production recently reached 15,000 to 17,000 bottles. Avatagelos is supported by a dynamic team, including chief oenologist Thanos Facorelis , special consultant enologist Nadine Gublin, oenologist Eleni Alevra and the "general in the field," Michalis Tzanoulinos. The winery produces six wines: the whites T-Oinos Malagousia and Clos Stegasta Assyrtiko, the Mavrosé (a rosé produced from 50% Mavrotragano-50% Avgoustiatis), and the reds T-Oinos, (65% Avgoustiatis-35% Mavrotragano) and Clos Stegasta Mavrotragano. All of the wines are worth trying and can be found in all the major wine shops in Athens.
Info:Falatadoς Exomvourgou, Tinos
T (+30) 2283041120,  (+30) 6937471043
www.toinos.com
VOLACUS WINE
Volacus Wine, established in 2010, vinifies grapes from its vineyards, which are surrounded by large granite rocks boulders known as volakes (large cannonballs). Different legends and myths surround this moon-like landscape and the famous round rocks scattered across it. One legend has it that they are the remnants of a mythical battle between gods and giants; other versions are that the volakes took their shape from the sea that at some point surrounded the area; a third posits that they came from a meteor shower. According to geologists, they are granite rocks that were formed 15-25 million years ago; changes in temperature and in humidity, as well as rainfall and wind, caused them to develop spherical shapes. The vineyards are at an elevation of 400 meters and have granite soils. Three varieties are planted here; Malagousia, Assyrtiko and Mavrotragano. At present, the winery produces one wine, the varietal Volacus Malagousia.
Info: Gardari, Falatados Tinos
T (+30) 6978485671
Vaptistis Winery
A traditional pigeon house stands right in the middle of the vineyard; this is this winery's trademark image. This enterprise is a new, very promising winery which currently produces two wines, Vaptistis White 70% Assyrtiko-30% Monemvasia) and Vaptistis Red ( 70% Black Athiri-30% Mavrotragano)
Info: Mesi Stenis Exombourgou , Tinos
T (+30) 2109964633,(+30) 6977979627
MYCONOS
Myconos Vioma, organic farm and vineyard.This farm was established in 1994 by Nikos Asimomitis. In addition to the family-owned vineyard in Marathi and Koumiri, Myconos Vioma also grows grapes in the vineyard belonging to the Monastery of Panaghia Tourliani in Ano Mera, which Asimomiti rents. The vines are organically farmed and are very well looked after, even enjoying classical music, which Mr Asymomitis believes has a very positive effect on their growth. Three wines are produced here: the White Paraportiano wine, a blend of Assyrtiko and Athiri; the Red Paraportiano, a blend of Mandilaria and Ayiannitis; and the Heliofilos, a sweet wine made from combining sun-dried Mandilaria and Malagousia. The farm doesn't have a winery, so vinification takes place elsewhere, but visitors are welcome to watch the harvest activities and to sit under the pergola right next to the vines, sipping wine and tasting fresh produce from the farm.
Info:Maou, Ano Mera
T (+30) 22890 71883,  (+30) 6974120069
MYCONOS VINEYARDS
This is a joint venture between Nikos Asimomitis and Chateau Nico Lazaridi, from the region of Drama in northern Greece. They produce three wines: Anemon Nisos, Egea Ampelos and Paraportiano. The grapes come from Myconos vineyards and are bottled at the Nico Lazaridi Winery in Drama.
PAROS
On the way from Parikia to Naoussa, you'll come across some of the oldest vines on the island, literally crawling on the ground, trained in the traditional way called "aplotaria," as protection from the strong winds. Paros's historical tradition in winemaking is underlined by the fact that it produces three different Protected Designation of Origin (PDO) wines: the White Paros (100% Monemvasia); the Red Paros, the only Greek red PDO which also permits a percentage of white grapes; and the sweet dessert wine Malvasia Paros. This makes Paros one of the four appellations in Greece which produce this historical wine, whose origins can be traced back to medieval times.
MORAITIS WINERY
Δείτε Επίσης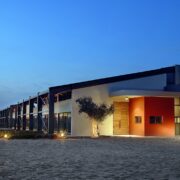 This winery, located in Naoussa, is currently under the leadership of the fourth generation of Moraitis winemakers. This family has been producing wine for over a century; recently, the winery's old machinery was replaced by modern equipment. The 10-hectare private vineyard is planted with Mandilaria, Assyrtiko, Malagousia, Aidani, Malvasia, Sauvignon Blanc, Cabernet, Merlot, Syrah, Aidani Black, Athiri Black and Karabraimis. The winery produces 5 PDO wines: Paros White, Paros Oak Wild Fermented and Moraitis Estate Paros (all of which are 100% Monemvasia); Paros Red and Paros Reserve (75% Mandiliaria-25% Monemvasia); and PDO Malvasia Paros (100% Monemvasia), aged for 4 years. These wines are distributed both in Greece and abroad.
Info: Naoussa, Paros
T (+30) 284051350
MORAITICO- George Moraitis Winery
With a long tradition in wine making, George Moraitis grows organically indigenous varieties, from which he produces three wines: Epochi White, a blend of Monemvasia and Malagousia, Epochi Red , Monemvasia co- fermented with Aidani and Mavrotragano and Rodi tou Nisiou, a rosé which combines Mavrotragano with Malagousia .Recently a sparkling rosé was added to the list. The wines are sold both in wine shops on the island and in wine shops in Athens. Ktima Adam
 This is a relatively new winery in Kamares Naoussa, established by architect Adam Kostikas. He fell in love with the island while on a business trip in 1995, and decided to buy his first plots of land. His first productions came from the harvest of 2015; there are two white wines, Alissafi Aidani and Alissafi Monemvasia, one rosé, Alissafi Mandilaria and one red, Alissafi Mandilaria and Monemvasia.
Info: Kamares, Paros
T (+30) 2284028854,  (+30) 6977486526
ΜΙLOS
This beautiful volcanic island, rich in minerals and famous both for its unique beaches and for the Venus de Milo, is also one of the most important gastronomic centers in the Cyclades.
KONSTANTAKIS WINERY
Located near the charming fishing village of Pollonia, Konstantakis Winery belongs to Kostas Mallis. Using grapes from Mallis' privately owned vineyards, the winery produces three wines: the white Selection, a blend of Assyrtiko and Savvatiano; Spilia White, a blend of Savvatiano and Roditis; and Spilia Rosé, a blend of Mandilaria, Roditis and Muscat. The winery produces about 5,000 bottles annually, all of which are sold exclusively on the island.
Info: Pollonia, Milos
T (+30) 2287041125,  (+30) 6936644481
SIKINOS
MANALIS WINERY
On the road that goes southwest from Hora, the main town of Sikinos, towards Episkopi lie the organic vineyards owned by Manalis Winery. Since 2008, the winery has been producing four wines, all from indigenous varieties: Manalis En Lefko ( Assyrtiko, Aidani and Monemvasia), Manalis Rosé ( Aidani and Mavrotragano), Manalis En Thermo ( Mavrotragano, Mantilaria and Fokiano) and the sweet dessert wine Manalis Liosato (Assyrtiko, Aidani, Mavrotragano, Monemvasia, Fokiano and Limniona). The spectacular view from the winery's veranda makes it the perfect spot for wine tasting, and that's good because these wines can only be found on the island of Sikinos.
 Info: Between Hora and Episkopi
T (+30) 6932272854 g