Did Dimitris Katsaros get things backwards, or was he just ahead of his time? Back in the 1980s, people in Greece usually gave up their vineyards to pursue a better life in the city, whereas he, an accomplished medical practitioner, felt the urge to throw himself instead into a struggle against the soil. His determination, love and hard work validated the opinion expressed by a journalist during a wine tasting: "Although not an ophthalmologist, the doctor has opened many winemakers' eyes to the true essence of winemaking."
Today, his son Evripidis follows in his admirable footsteps; having completed his studies in France, Evripidis is now in charge of Katsaros Estate, whose bottles still bear their trademark wildflower on the label. As for Dimitris, the winery's founder speaks with pride of his son and says: "I'm merely a helper now." Katsaros Estate is located in the village of Krania on the slopes of Mt Olympus, at an elevation of 800 metres, with magnificent views upward towards the mountain of the gods and down towards the sea. There, on the lower flanks of Olympus stand the stone houses of Krania, looking almost as if they had climbed up this far and were resting. There are numerous accounts of this location dating from ancient and Byzantine Greece through to the modern era that praise the local vines, seeming to suggest that the vineyards of Krania have always been there. 
In 1978, ENT surgeon Dimitris Katsaros was hiking in the area on a brief escape from the fast pace of city life, and came across this beautiful place. "I was visiting the area with a friend," Katsaros explains. "The view was breath-taking: we could see all the way to Mt Athos. Within the space of a week, I had purchased the property and a year later we moved into the house, which didn't even have proper shutters. We used it as a holiday cottage. In the morning, I'd work in the city of Larissa and in the afternoon I would come back here. One thing led to another and I ended up becoming involved with wine. I realized that the small amount we were producing was costing us way too much and so I decided, on a whim really, to produce slightly more. I started with Cabernet in the beginning, since we didn't really know how to experiment back then." In an attempt to revive the area's rich wine tradition, and with the invaluable help of his wife Stella, Katsaros decided to experiment with different grape varieties. Their first wine was produced in 1987; in 1989, the full production run of 300 bottles was released. 
The Katsaros history is being told to me at their winery, which I've reached after a four-and-a-half-hour journey. Here, I find a warm and welcoming lunchtime table awaiting me and am greeted by Stella Katsaros' delicious pies and the four wines produced by the Estate. I join the family at the table and together we share food, wine and stories. This is when Dimitris Katsaros starts reminiscing about his early days in winemaking.
"As an ENT doctor, as you can imagine, I already felt a connection to wine, since the organs involved in wine-tasting – the mouth, the nose and the ear – are the same as the ones involved in my medical practice." My baffled look elicits a clarification. "The ear is connected to that clinking sound you hear when someone's making a toast," he says with a laugh. He recounts how he came to meet the Greek winemaker Vangelis Gerovassiliou, the person who, he says, helped him more than anyone: "I called him up and said: 'I'm a doctor from Larissa, I make my own wine, and I'd like to show it to you.' Instead of hanging up, he suggested we met at Thessaloniki. So I packed my samples and headed north. Years later, he confessed to me that he'd thought: 'A doctor who makes wine in the valley? What sort of wine could that be?' The odds were against me, but he must have been intrigued by me, since not only did he meet me, he also ended up supporting me more than anyone else. He wasted no time in coming over to the vineyard, bringing along his oenologists, and that was the beginning of a relationship that's always been based on mutual appreciation. He never feared Katsaros might make a name for himself, he was always by my side and he never accepted any sort of material remuneration." 
When Katsaros started working at the winery, he continued his medical practice but stopped performing surgery, knowing it would be impossible for him to give his full attention and focus to both his chosen professions. He says that, in those early years, he remembers rushing to the fields of Krania at one o'clock at night to water the vines, after someone had called him to say that the temperature had reached 28 degrees Celsius. He grabbed the sprinklers and took care of the vineyards himself. After a while, the locals at the village kafeneio (coffee house) began staring at him and saying things like: "What is the doctor trying to prove?" At that time, the villagers of Krania were, for the most part, busy selling their vineyards which, due to their small size, could not easily be made profitable; the doctor, through considerable effort, managed to acquire 25 acres of land in total. "In all those years, working at his practice in the morning and in the vineyards in the afternoon, not once did he complain to me about being tired," his wife Stella says. "Despite the fact that we were missing out on many exciting conferences and trips, he never even mentioned them to me; he always dedicated his free time to the estate and to his work." She pauses for a moment, then adds, with a smile, "Not to mention that he has never properly thanked me in public." Dimitris' comment on this is laconic and rather cryptic, but he too is smiling as he says: "All that glitters is not gold."
Their son Evripidis has been in charge of the family business since 2007. Having grown up in the vineyards, and after concluding his studies in General Biology at the University of Bordeaux and in Oenology at the University of Burgundy, he now continues the family tradition, equipped not only with the passion he has inherited from his father, but also with the knowledge he has acquired at these universities. It's certainly no coincidence that a vivid presence of France is also a characteristic of his wines. As he shows me around, he speaks passionately of his work: "We're now at the winery's vertical unit, at the foothills of southeastern Olympus. Our vineyard is 100% privately owned – we don't purchase anything – and it has received organic certification since 1998. Most of the vine plots have a southeastern orientation, while the high elevation helps us achieve a particularly fine quality. The sea breeze and the winds are highly beneficial to the grapes, especially during the rainy season, as they help reduce humidity. Harvesting usually takes place in late August and in September; however, over the past years, things have changed due to global warming."
The walls of the winery are decorated with murals depicting scenes from the grape harvest and from the biblical 'Marriage at Cana'. Each year, a new wildflower native to Mt Olympus is displayed on the wines' label; this has, over time, become a classic characteristic of the winery. Chardonnay wines remain in the barrel for five months. One-third of the barrels are new, one-third were used the year before and the remaining third come from previous vintages. As for the red wines, half of the barrels are new and the other half are last year's barrels. This is a winery with a solid reputation, open to visitors, where only 50,000 bottles per year are produced out of 25 acres. Out of this, about 40% is exported, with much of it going to the US and to Quebec, Canada.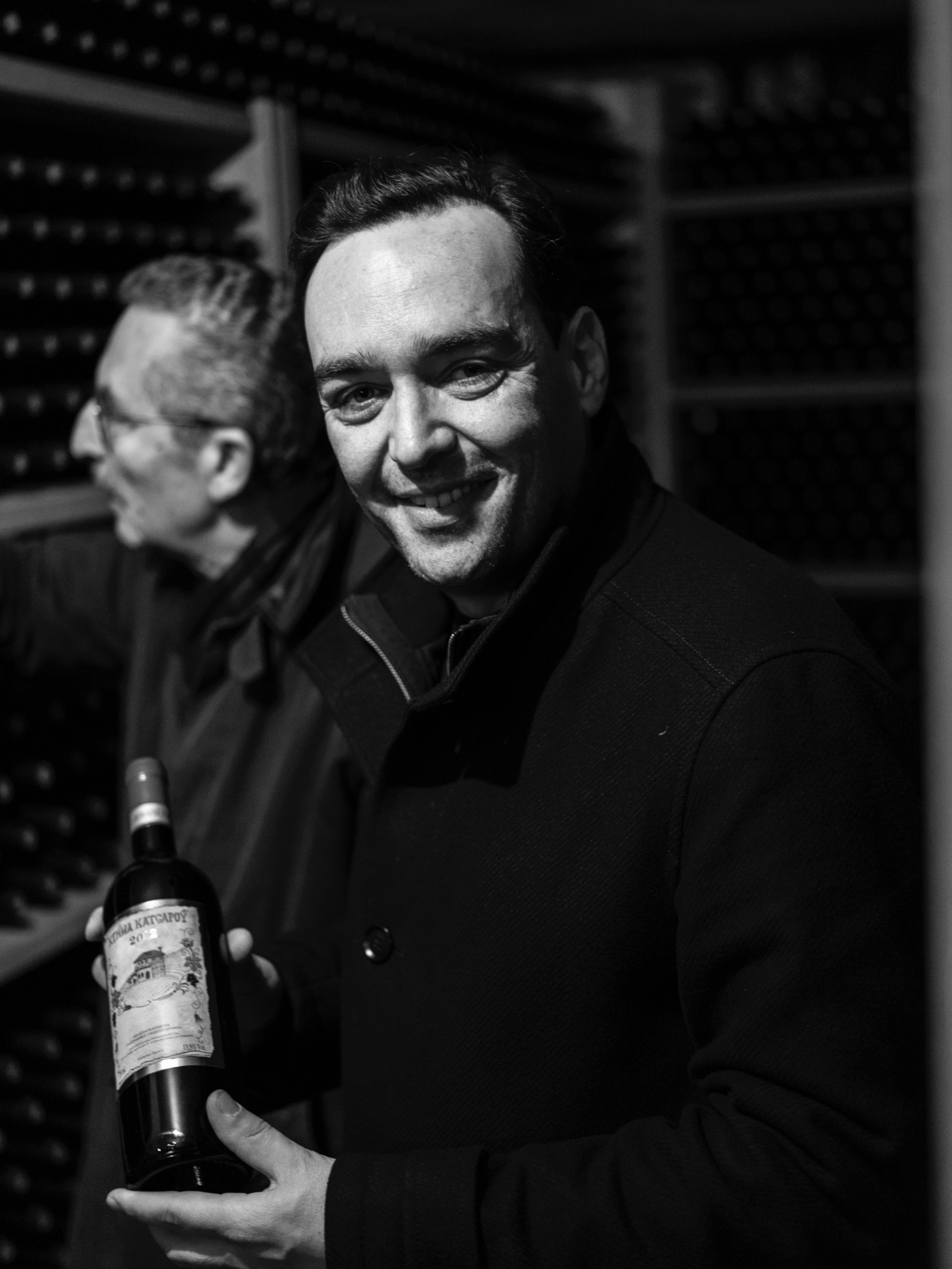 Do you intend to increase your production?
E.K. Not by means of acquiring more land. However, what we would like to do is to focus on smaller pieces of land that would ultimately provide us with an even higher quality and more recognizable product – something which is, of course, not easy to do. We'd also like to extend our facilities, but I'm not talking about huge buildings or anything like that.
Why would a foreign customer opt for a Greek Chardonnay?
E.K. The truth is that, at first, people are rather sceptical, but once they've tasted our wine, things change. Given their price range, our wines are competitive on a global level. In Burgundy, Chardonnays of this quality would come in at a totally different price. You visited Conterno yourself recently and you must have noticed that their Chardonnays, too, cost four times more. Have a look at the glass you're holding right now, and judge for yourselves: is their quality actually four times better than the wine you're having? On the other hand, it's extremely unlikely that someone in a restaurant abroad would go ahead and order a Greek Chardonnay, without the sommelier having first introduced it accordingly.
The new generation, equipped with studies and experience acquired in France, comes back home to apply all this expertise to the very same vineyard that the previous generation built with such love, hard work and devotion. Did this cause any friction?
D.K. There's never been any rivalry between us whatsoever, because I quickly came to terms with the fact that my son is way better than I am and that, thanks to him, things will improve dramatically – that he will help our work a great deal. But also Evripidis respected my own contribution and my own take on the work that we do. Another thing is that we never went after any prizes; we always did what we liked. Dreaming big is a good thing, don't get me wrong, but there's always the danger that it might throw you off track.
Early on in your career, you decided to produce wine in accordance with organic standards. Did this choice have to do with the fact that, as a doctor, you were aware of the health hazards associated with crop dusting? 
D.K. Actually, this is something that happened without me realizing it. I used sulphur exclusively in any case, so someone said: 'Since you only use sulphur, why not get your cultivation officially certified?' I didn't want to use any artificial substances. But I was also lucky to have started with Cabernet, because nature protected me from the rainy season, which at the time used to begin later on, after I'd harvested my grapes. In fact, this is the very reason why I then came to choose Chardonnay – for its resilience in comparison to Greek grape varieties.
Is there a winemaker or a wine label that you particularly like?
D.K. My favourite among our own "children" is Estate Katsaros Red. It's different from the rest; its density fills your mouth, its aftertaste lasts and lasts… The longer the wine sits in the glass, the better it becomes: its aromas change and seduce you. This is the wine that really makes us stand out. As far as other wine producers are concerned, many good ones have entered the market recently, but I keep forgetting their names. Apart from Gerovassiliou, I have long admired Tselepos, Paraskevopoulos, and Katogi Averoff as well. 
E.K. I'm fond of Kokkinomylos and Avlotopi by Tselepos, Gaia Estate, and of the white wines by Antonopoulos, including Adoli Gis. I also like Sigalas from Santorini, with his plain label. The Xinomavro by Karydas and Dalamaras are good, and as far as Cretan wines go, my favourite ones are Dafnios by Douloufakis and Sitia by Economou. I also really like Zakynthino and Mavrodafni by Sclavos. Parparoussis makes a top quality rosé wine called Petite Fleur.
Our conversation on wines came to an end the instant Stella Katsaros' milk pie appeared on the table. 
THE WINES OF THE ESTATE
Estate Katsaros Red 80% Cabernet Sauvignon, 20% Merlot, average age of vines: 16 years. Long extraction in stainless steel tanks and maturation in small (228-litre) French oak barrels for 12 to 18 months. Bottled unfiltered. Deep red colour. Abundant and intense nose of gooseberry, sour cherry and black cherry, with notes of ink and butter. Thick and velvety mouth with excellent structure and tannins. Long aftertaste and long length.
Estate Katsaros Chardonnay 100% Chardonnay, average age of vines: 15 years. Fermentation in small French oak barrels and maturation on the lees for a period of five to six months. Light fining and filtering before bottling. Once bottled, it ages for three months before being released. Yellow-blond bright colour with light green shades. Intense and complex aroma of yellow fruit, citrus fruit and wax, with notes of smoke and vanilla. Cool mouth with good acidity and volume. Long aftertaste and long length. 
Estate Katsaros Xinomavro 100% Xinomavro. Fermentation in stainless steel tanks and maturation in small (225-litre) French oak barrels for 10 months. Once bottled, it ages for at least one year before being released. Red, medium-intensity colour and vivid aromas of red fruit and sun-dried tomato, with hints of herbs and olive. Acidity and tannins balance the fruit. Fruity aftertaste.
Estate Katsaros Merlot 100% Merlot. Fermentation and long extraction in stainless steel tanks of controlled temperature. Maturation in small (228-litre) French oak barrels for 10 to 16 months. Once bottled, it ages for at least a year and a half before being released. Red-black colour and vivid aromas of red fruit, marmalade and cedar. Notes of spices and milky hints. Rich mouth with density and excellent structure. Velvety tannins and ageability. Long aftertaste. g