A few years ago, four friends and I decided to go on a road trip to a part of Greece that might also prove interesting from a wine perspective. To cut a long story short, the destination we finally agreed upon was the island of Kefalonia. I hadn't been there since a five-day school trip in senior year in high school, at a time when I still couldn't tell the difference between beer and wine. Ever since then, I've remained emotionally attached to the island, despite the long distance between us.
There are two main reasons why I love Kefalonia. The first one is its people. They have a reputation for being oddballs, nutcases and shouters. I can assure you, after having spent considerable time hanging out with the locals, that this assessment is 100% true. Their extroversion and their way of life make you feel so at home, it's like visiting your hometown or, more accurately, like visiting the quirky hometown of Asterix. The second reason that I love Kefalonia is that, in many ways, the island reminds me of Crete, my birthplace. Mount Aenos has rough, rocky landscapes and steep slopes where mountain goats jump around. As you drive along, mesmerised by the scenery, you suddenly have to hit the brakes to avoid crashing into a flock of sheep and their shepherd! That's right when you realize who's responsible for the bullet holes in the road sign you just drove past.
The National Park, with its dense fir forest is a must-visit all year round. In a matter of less than an hour, you can go from wearing a jacket at the summit of Mount Aenos to drinking a chilled glass of wine in a swimsuit at a beach bar, or diving into the beautiful clear blue water of the Ionian Sea. The local cuisine is simple but delicious, and if you happen to have a friend who's into speargun fishing, then you've just found paradise. Kefalonia is definitely included in the top five of Greece's wine-producing zones. However, this doesn't automatically place it on the list of the top wine tourism destinations. Making your way through the island's wineries, you certainly won't find the same organizational skills as at Nemea's wineries, which offer regular tours to visitors, or the architecturally impressive facilities of northern Greece. But, as you walk through their door, you will meet warmhearted people, winemakers filled with love and passion for wine and for their island. Our first stop was the winery of Evriviades Sklavos in Lixouri. Vladis (as he's known to his friends) is considered the father of biodynamic cultivation in Greece, but if you ask him, he'll look away modestly and say that he doesn't know how to make wine. According to many, he makes the best dry version of Mavrodaphne, a wine named Orgion (which definitely does NOT mean what you might think). One of the most beautiful Greek white wines is Metagitnion; the variety is fermented and matured in a large wooden tank for about a year to become a wine that clearly reflects the magnificence of Kefalonia's terroir. The famous Vino di Sasso (Robola) shocks me to the core with its minerality and saltiness every time I try it, while Zakynthino excites my imagination with the range of gastronomic options with which it can be paired.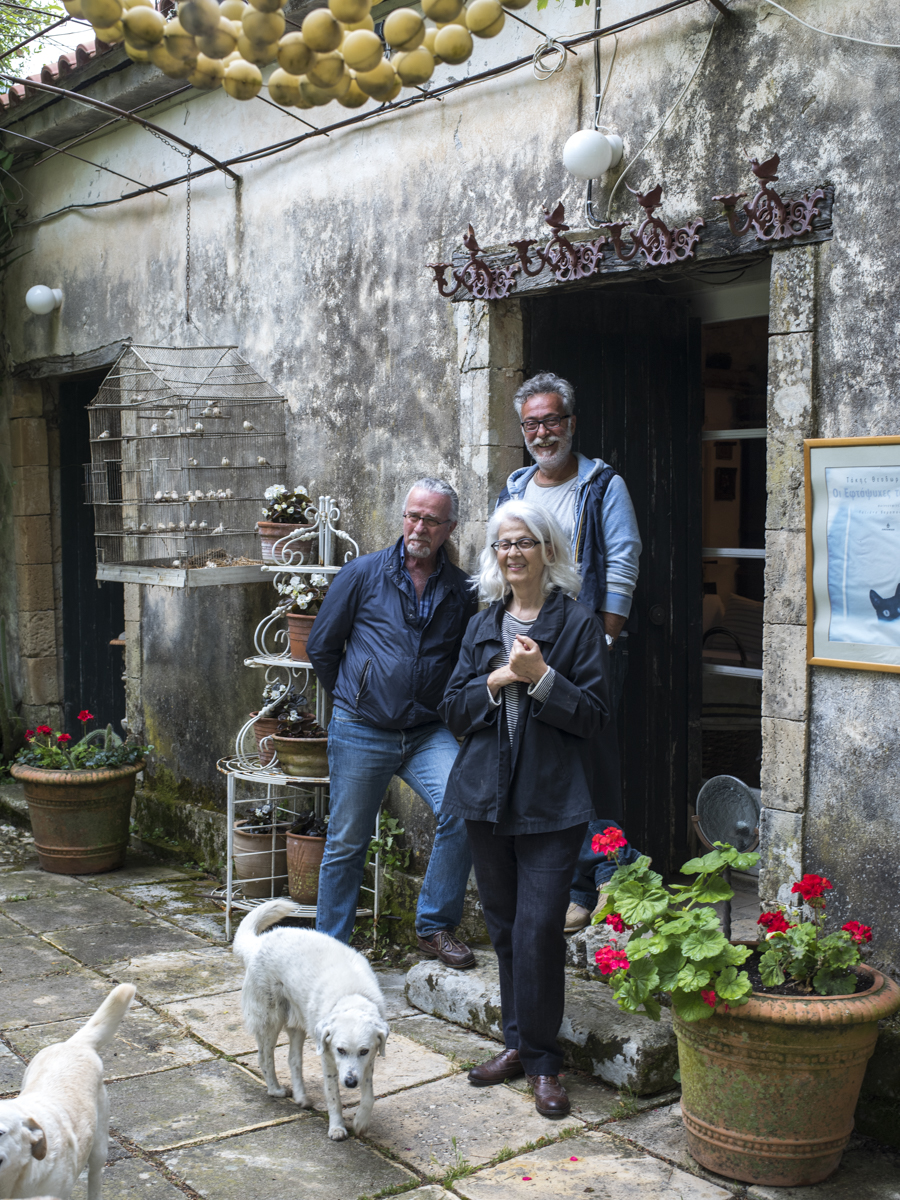 Our next stop is Ktima Charitatou. The three Charitatou siblings are so hospitable that you're sure to feel at home. As Ioanna impresses you with her French finesse, Charitos starts cracking jokes, poking fun at everything, and Konstantinos plies you with tsipouro and sings "Do You Like Mademoiselle The Greece?" They gave us a very nice tour of the estate, where they only cultivate the three local varieties Mavrodaphne, Moschato, and Vostilidi, and afterwards we tasted their wines. The evening became even more interesting when Evriviades and his partner Spyros Zisimatos joined us, and we all talked about wine. In Kefalonia, winemakers face the same problem with grapes as their colleagues do in Santorini, although perhaps not to the same extent. Even so, here, too, winemakers tear their hair out over every year with worry over whether they'll be able to buy good quality grapes.
Just opposite, in Minies in Argostoli, stands Gentilini Winery. Here, you'll find a more "Australian" approach to the whole issue, as both the winery, which offers tours, and its wines are reminiscent of Barossa Valley. Petros Markantonatos attaches great importance to raw material, and this is why he cultivates his vineyards organically. At the same time, like a maestro at the podium, he harmoniously conducts the orchestra of the winery's tanks and barrels, with only one thing in his mind: that the wine be enjoyable. Interventions are not altogether prohibited, and the vinification techniques are very advanced. Every time we meet, he shows me how he can monitor tank temperatures on his mobile phone and talks about all of his "crazy" new projects. The wines he produces are excellent; my personal favorite is his Robola, which, as it evolves in the bottle, displays more mineral and petrol aromas. It can be paired fantastically with the delicious ceviche that he makes himself.
Unfortunately, we did not have time to visit the Petrakopoulos winery (formerly Melissinos). Nikos Petrakopoulos and Kiki Siameli are doing an incredible job there; they produce perhaps the best Robola of Kefalonia, while constantly experimenting with different winemaking practices (including single-vineyard vinification and orange wines). We did talk, however, and they said they were looking forward to seeing us on our next island visit, and we promised we would stop by. To me, Kefalonia is the next big thing in Greek winemaking, thanks to its terroir and grape varieties. It possesses two out of the three most misunderstood varieties in Greece, but it also has a winemakers' association that doesn't give up. They try, as a team, to give a fresher, more modern and more gastronomic character to the wines of their birthplace. Kefalonia is an island which, no matter how many times you visit it, will always give you a reason to come back.
SOK
There is strength in unity, thought a group of wine producers on Kefalonia and Ithaca, and they decided to join forces to promote their fine wines, wines that are increasingly gaining ground in the market. They formed SOK, the Association of Winemakers of Kefalonia, and on our trip we noticed the work they were doing on Kefalonia, efforts focused on transforming the island into one of the top global destinations for wine tourism.
Seven wineries have joined together to promote the wines of Kefalonia and Ithaca:
Foivos (Wines of Greece)

Gentilini Winery & Vineyards

Haritatos Estate – Haritatos Vineyard

Oralios Gi

Petrakopoulos Wines

Sarris Winery

Sclavos Wines
The PDO varieties Robola, Mavrodafni and Moschato are known worldwide, have a long tradition and play an important role in the culture of the island. SOK's mission is to plan promotional and marketing activities throughout the year with the aim of strengthening the brand name of Kefalonian and Ithaca wine. Wine tourism is a priority of the group as well, and SOK aims to put Kefalonia on the map of world destinations for wine tourism. The cultural and gastronomic traditions are integral parts of the wine world here as well, a fact that will also be highlighted by the association. In short, they will be showcasing the viticultural landscape and the wine products of the islands alongside the culinary and cultural riches of the islands.
More about SOK, the Association of Winemakers of Kefalonia – Kefalonia Wines, can be found on facebook and instagram @ kefaloniawines.  g