Marmita opened in 2013 on the island of Skiathos, serving real Greek food in an idyllic setting. In their own words: "We specialize in contemporary Greek cuisine and rely on the use of fresh local ingredients combined with innovative takes on traditional recipes to create a delicious menu full of flavour. Our aim is to take you on a journey through the authentic flavours of Greek cuisine. The unique setting provides the atmosphere as the food takes centre stage and other factors, including the music, the lighting, and the flowers, combine to create comfort, intimacy and even romance. Real authentic cooking is what we believe makes the difference. We provide good, honest food. Fresh ingredients, in season, and grown locally or in the region, and healthy recipes are crucial to the way we understand cooking and run our kitchen. Everything we do is created and presented in an elegant way. Our menu has a unique and appealing identity. Our menu allows the dishes to speak for themselves: they are simple, tasty, light and healthy."
Marmita's wine list is based mainly on Greek producers and indigenous varieties. With more than 70 wines from all over Greece, Marmita aims to offer some of the best Greek wines from different regions, appellations, terroirs and winemaking traditions. The wine list also includes organic and vegan options. 
The recipes below are for two dishes that the restaurant makes with local seasonal ingredients.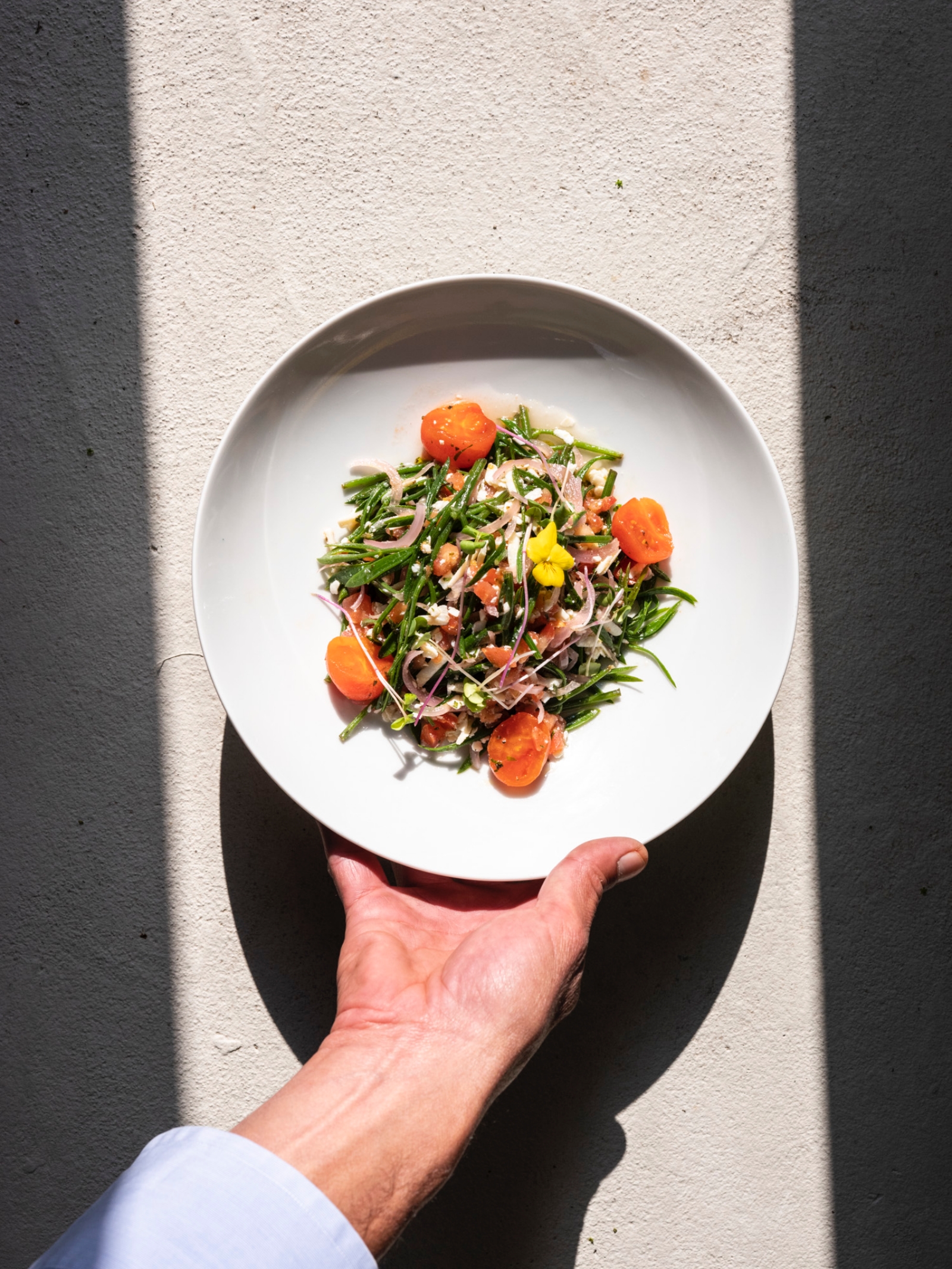 Kritama (Rock Samphire) Salad 
Ingredients: 
Rock samphire – 150 g

Marinated onions – 20 g

Cherry tomatoes– 30 g

Aged Anthotyro cheese – 30 g

Olive oil – 25 ml 

Vinegar – 5 ml

Pinch of salt and pepper 

Pinch of oregano 
Preparation:
To marinate the onions, slice them and put in a bowl with red wine vinegar. Place the bowl in the refrigerator for 24 hours.  Blanch the kritama, or samphire, for two minutes in boiling water. After draining the water, put the samphire in a bowl with some ice to preserve its intense green colour. Cut the cherry tomatoes in half and slice the cheese thinly. Mix in all the ingredients, including the marinated onions, and serve in a salad bowl.
Wine pairing
Kritama Salad, with a Gold 2017, Petrakopoulos Wines
Bright golden colour with a clear aspect that mesmerizes. Full of flowers, ripe peaches and apricots, with notes of wet leaves, this wine revitalizes you with its acidity, which balances perfectly with its full body, and it ends in a lemon-flavoured aftertaste.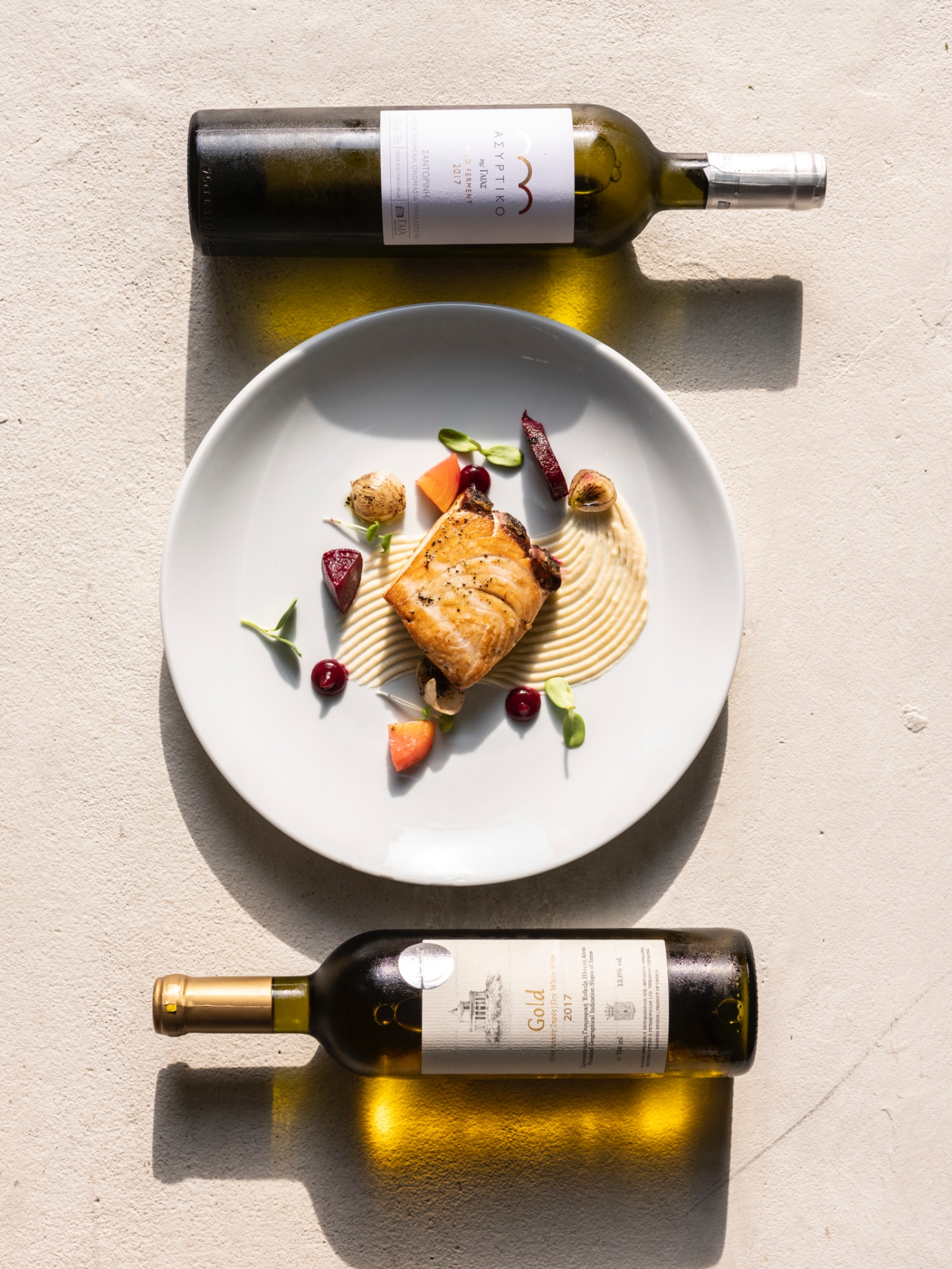 Magiatiko (Amberjack) Fillet with Celery Root Purée  
Ingredients (per person): 
Fillet of amberjack – 220 g

Olive oil – 5 ml

Butter – 5 g

Celery root – 200 g 

Olive oil – 10 ml

Butter – 10 g

Lemon juice – 5 ml

Coconut milk – 120 ml

Fresh thyme – 2-3 sprigs 

Salt and pepper to taste

Beetroot – 1

Pearl Onions – 2 
Preparation:
Celery root purée
In a deep pan over low heat, add the oil and butter and then the diced celery root and fresh thyme. Wait until the roots start to change colour and get softer. Add the coconut milk, bring to a boil and, when the roots are soft, remove from the heat, place in a mixer and blend until smooth. Add lemon, and mix again. 
Beetroot
Put the beetroot in the oven for 50 minutes in 180° C. Peel and slice, sauté in a pan with some olive oil at high heat, add white vinegar and wine, and cook off. 
Pearl onions 
Put them in the oven for 15 minutes at 80° C after marinating them in white wine for at least 3 hours in the refrigerator in a covered bowl. 
Amberjack fillet
Put olive oil and butter in a pan at high heat, add the fish and cook for 10 minutes on each side. Remove from stove top and finish cooking in the oven for 6 minutes at 180° C.
Serving 
Add olive oil and salt flakes. 
Wine pairing
Magiatiko with Cellery Root Purée, with Gaia Santorini Assyrtiko Wild Ferment 2017, Gaia Wines
Citrus notes combined with the floral aromas of the acacia and the vanilla of the oak result in a wine with a highly complex aromatic profile. Minerality and well-balanced acidity give depth and longevity. g