Beneath a bright sky, the grapes were swelling. Huge bunches of fruit peeked out from behind dense foliage, the leaves shining, unblemished, profuse. It was mid-June, the sun was warm, the slopes fell gently away and graceful rows of well-tended vines stretched into the distance.
It was an image of the earth at its most fecund. Along with the elegant, modernist building where the production process and tastings take place, the aesthetics of the Fantaxometocho Estate in Crete were exceptionally beautiful. I stayed the night in a luxurious suite converted from an old building which used to house the grape-pickers. It is situated in the middle of the vineyard, far from the noise of cars and planes, and I woke up to the music of birdsong. After such a peaceful night's sleep, I was full of energy and ready for the tour that the owner, Marina Boutari, was going to give me. Her enthusiasm and knowledge of every aspect of her family's wine business was thrilling in itself. There is nothing more exhilarating than to be with someone who pours so much of themselves into what they do, and, as I was to discover, this dedication is manifested in the end result. I admitted to being an enthusiastic consumer, but also to the fact that this was my very first visit to a winery.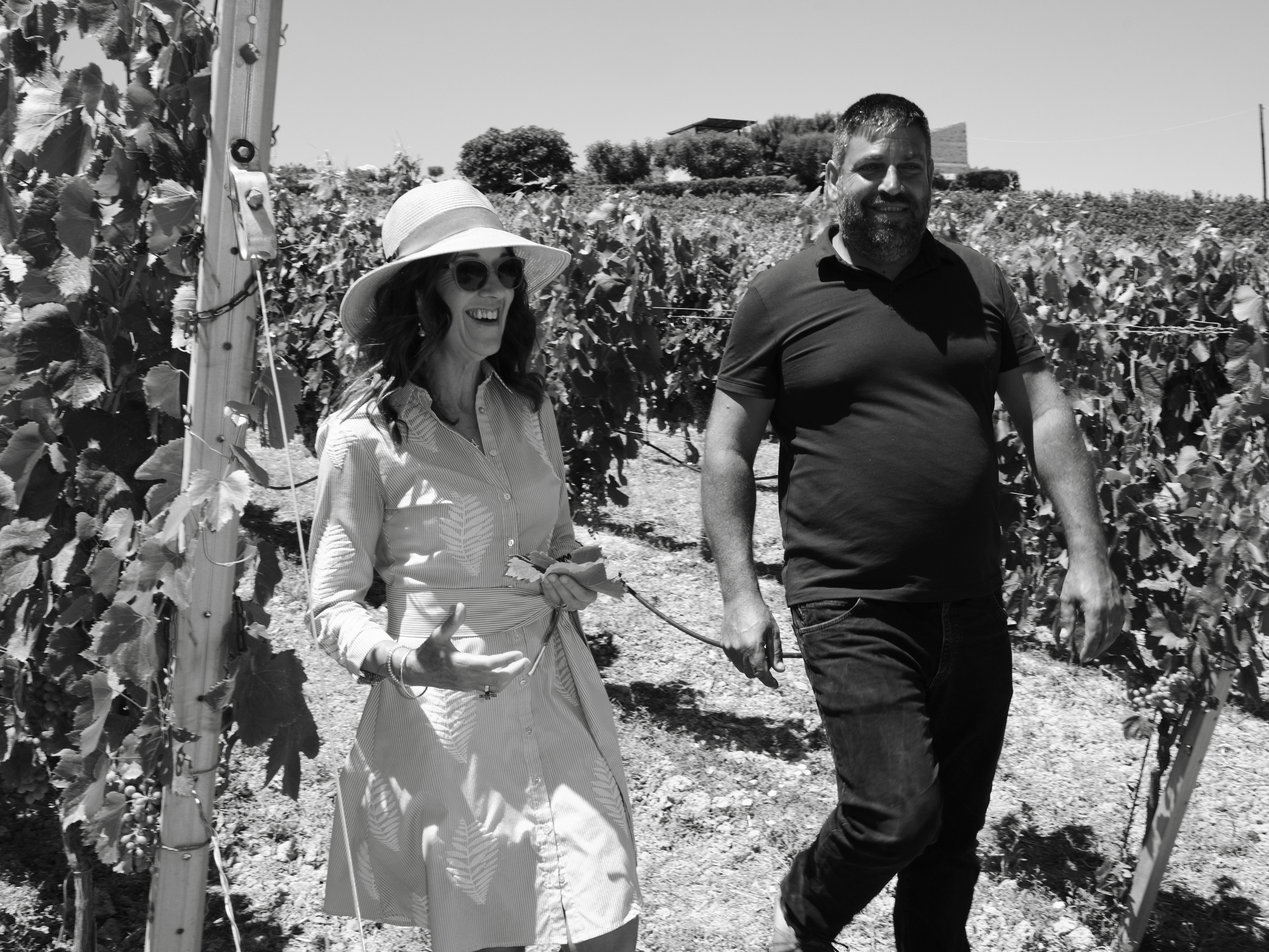 The vineyard itself is managed by Nikos Kostantakis, who seemed to know every plant and every leaf in his care. Each decision, even whether to pluck a leaf now or later, plays a role in either protecting the grapes or exposing them to the sun. He even showed me the bunches that would be discarded to allow others to thrive. Nikos, who took over from his father in 2019, seemed to have an instinct for this work running through his veins. I pictured him as a child, following his father up and down the rows of plants, watching and learning. Later this year, when he sees that the moment is right, every bunch will be hand-picked under his care.
I have always enjoyed the taste of a good wine, but knew nothing of how the vines are tended, how grape varieties differ, which grows best and where, how they are blended, or how the fermentation process is controlled and managed. As every reader of "Grape" probably already knows, it is not just a science, it's an art too, with each stage as finely tuned as a concert piano.
Of course, there was a tasting. We tried three different whites, three different reds and a dessert wine. Why do some have tastes that linger more than others? Why are some wines lighter in alcohol than others? Why do their hues vary? Why do some age better than others? Even the source of the barrels and the type of oak with which they are constructed can make a subtle difference to the end result. It was fascinating! I fearlessly asked questions, but regretfully spat out each mouthful (it seemed so rude! Such a waste!). That day, I saw how the creation of good wine is so much more than a carefully planned chemical process. Of course, there are specific stages to follow and steps to be taken, but the main ingredient in this Boutari winery was a human one.
From now on, when I open a bottle for friends, I will do it with reverence, I will pour it with more care, I will inhale its fragrance, and let it linger on my tongue. Most importantly, I will appreciate not just the science but also the magical ingredient – the love that comes from the people who have made it. g