A new profession has emerged over the past years in the wine world: "celebrity" oenologists who, with the help of their teams, are responsible for several wineries at once. What about Greece though? Who are the people behind the label and why are we usually familiar just with the winemakers? How well-known and well-paid are Greek oenologists after all? To find out, and to learn a little more about how they might view things, we met with some young, passionate and highly successful oenologists from all over Greece and asked them some questions.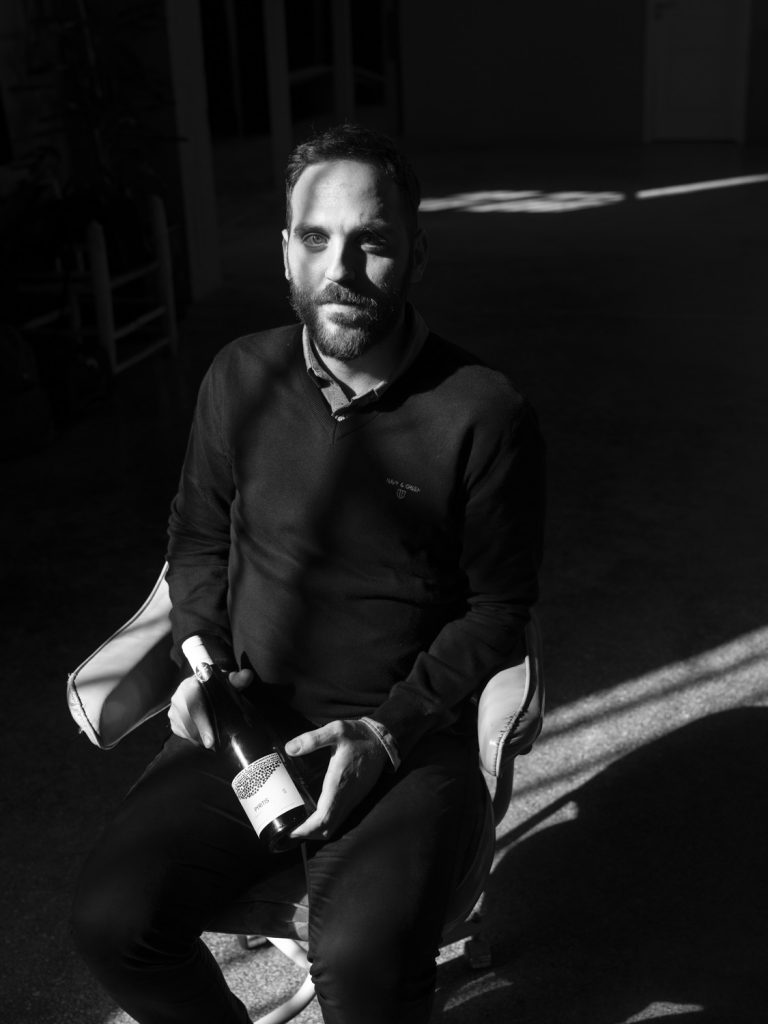 Lefteris Anagnostou/Artemis Karamolegos Winery
Lefteris Anagnostou is a graduate of the Agricultural University of Athens who also holds a Master's degrees in both Viticulture and Oenology from the Montpellier SupAgro and Bordeaux Sciences Agro universities. He has also been awarded the French National Diploma of Oenology (Diplôme National d'Œnologue, DNO). After gaining valuable experience working in various regions of France, such as Corbières in the south of France and Margaux (Château Kirwan) in Bordeaux, he participated in winemaking in different regions of the world, such as New Zealand (Isabel Estate) and Crete (Manousakis Winery). He's always seen Santorini as a challenging but attractive wine destination, and the Cyclades in general have always held a certain significance for him. So, after a brief collaboration with Estate Argyros, he was appointed production manager at Artemis Karamolegos Winery in early 2016. More recently, he's been collaborating with different wineries as a freelance consultant.
Vineyard or winery?
The answer, even though it might sound banal, is that the two of them are intricately connected, making it impossible to say whose role is more important. I'm a firm believer in this, and that's the reason why obtaining two Master's degrees seemed like the only option for me. There's no doubt that great wines begin in the vineyard; on the other hand, you run the risk of wasting excellent raw material if the right work isn't done at the winery. Still, oenologists aren't magicians. They can't create remarkable wines out of mediocre raw materials, and one thing's for certain: great wine is always closely linked to an exceptional vineyard.
From where do you draw the inspiration for your work?
From the region itself. Expressing the uniqueness of each region through a bottle of wine is the cornerstone of my philosophy and my overall approach to wine. As purely theoretical as this may sound, you'll often sense that the vineyard's characteristics, the history of the region and the grape variety itself are pointing you in the right direction. Another source of inspiration is each person's personal points of reference, their travels and the winemaking experiences they've acquired in different regions of the world, as well as the constant experimenting they've done.
Does it bother you that, in a way, you're the "unsung hero" behind well-known labels?
I consider it to be unfair when somebody's work and effort aren't recognized in a suitable manner. Personally, I haven't experienced such a thing, as I'm lucky enough to be collaborating with a winery where self-promotion isn't regarded as an end in itself and where the roles are clearly delineated. The trust and appreciation Artemis Karamolegos has shown me is something I value greatly.
What are the difficulties and joys of your profession?
This certainly isn't an easy profession. To those who think that we just wander around aimlessly all day holding a glass of wine, I'd like to explain that we work under difficult and challenging conditions! We have many responsibilities and we're often under great pressure; we face situations where a single decision may affect a whole year. What's more, we have to depend on weather conditions, we're away from our homes during harvest, it's often not easy to communicate with wine producers. On the other hand, the sheer joy of sharing something that you've created is truly one of a kind. An acknowledgement of your efforts, a positive review, a prize, a smile of contentment or a compliment, and above all your own personal satisfaction are invaluable, and they're very hard to measure against the difficulties mentioned above.
What would your dream wine (the ideal wine that you'd like to create) be like?
That's a difficult question… I'll answer based on my current working conditions, so I'd like it to be a PDO Santorini. Above all, I'd like it to be a wine that's able to stir the emotions, say an Assyrtiko that would still seem fresh after seven to eight years have gone by, and that would, at first, appear austere and ill-tempered. I would like it to convey a sea breeze and a flinty aroma and be able to transport you to some distant rock outcropping in the Aegean Sea. Its mouth should be structured, oily, with a sharp acidity, length and vivid saltiness, as if you've just tasted a limpet! It should make you want to taste it again right away, even while you wait for it patiently as it sits in the carafe, wondering, as you wait, whether you've opened it too soon.
Which wine from one of your "competitors" have you been jealous of, in a good way?  
I've tasted certain Santorini wines that have been able to stir my emotions, but I haven't felt jealous of them, not even in a good way. I'm always glad when I taste excellent Santorini wines, because I feel as if the expectations I have of this region, as well as its enormous potential, are being confirmed. I have been touched and "transported" by a freshly bottled 2015 Cuvée No 15 by Haridimos Hatzidakis, and I was stunned by the evolution of the over-sulfited 2012 Thalassitis, when I tasted it five years later. I also take my hat off to the exceptional formality of 2014 Kavalieros by Sigalas.
Dimitris Mansolas/Rhous Winery Tamiolakis    
Dimitris Mansolas has studied Oenology in France, graduating from Bordeaux Segalen University. He also holds a degree from the Faculty of Agriculture, School of Geotechnical Sciences of the Aristotle University of Thessaloniki. For nearly eight years now, he's been involved with the Rhous Winery of the Tamiolakis family. Nonetheless, he considers the period between 2002 and 2010 as having been equally important to his career. During those years, he collaborated with the Kir-Yianni Estate for a period of five years and with the Wine Art Estate for a period of three years. "They were both," he says, "beautiful collaborations, mainly because of the quality traits of the people involved, namely Stellios Boutaris and Yannis Papadopoulos respectively."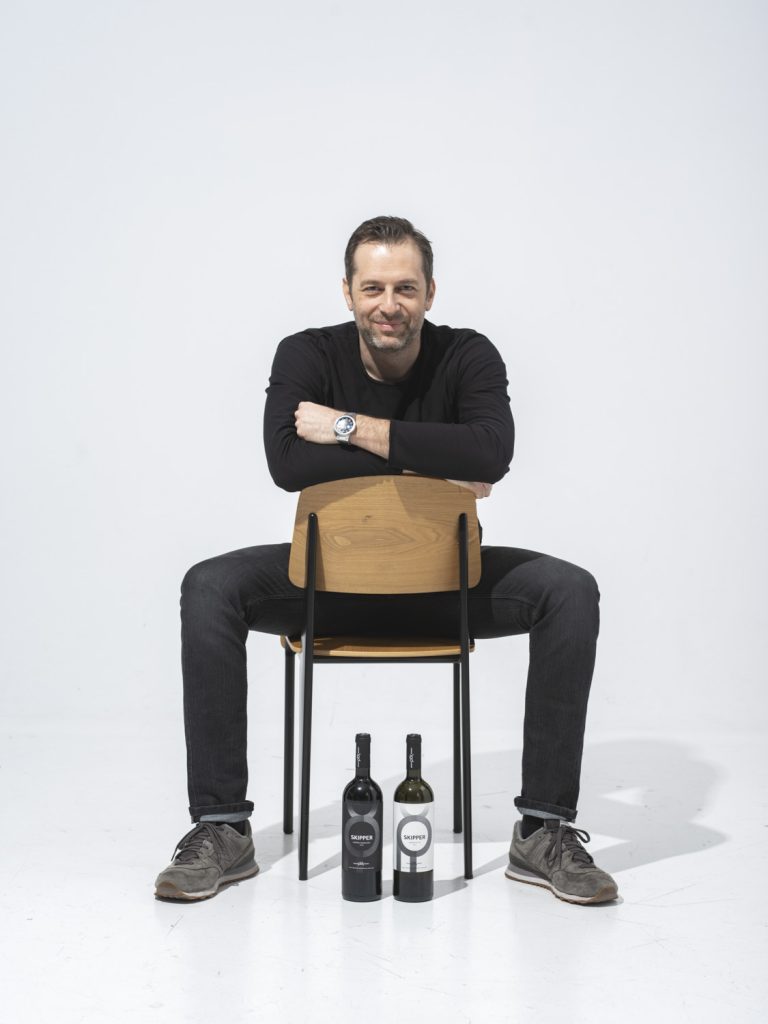 Vineyard or winery?
They both need each other. It's a team effort. The contribution each makes ends up intertwined with the work of the other, and the result depends upon whether or not everything has been done correctly. However, a truly great wine is "born" in the field and it is largely determined by the vintage (millésime). In that sense, the better job a winegrower does, the less the oenologist needs to intervene. Even though, as I said, it's the vintage and its interplay with the vineyard the determine the "DNA" of a truly great and unique wine.
From where do you draw the inspiration for your work?
I regard my job first and foremost as precisely that: a job, in the sense that I need to spend many hours in the vineyard, by the grapes, while at the same time also making good use of the available scientific knowledge and of my own experience. I think that throughout this process, various challenges can emerge, which will serve as a source of inspiration for the next wine to be created or for the next viticultural or oenological detail to be addressed. So, I think that I draw inspiration from my work itself: from a new grape variety, a new plot to be planted, or from a rain that falls just a couple of days before the scheduled harvest.  
Does it bother you that, in a way, you're the "unsung hero" behind well-known labels?
Not at all. My goal is to produce wines that people enjoy and choose to buy. In other words, for me, it's enough to see the sales numbers go up.
What are the difficulties and joys of your profession?
Many of them… both difficulties and joys. Challenges include the lack of interest among younger workers in learning how the work in the vineyard is done (pruning, for example), the legislation covering the planting of new vines and PDO/PGI/varietal wines, and the logistics of the harvest season. The list of joys, on the other hand, is probably longer, so I'll simply mention the most important one, at least for me: creating such a "living" product. Besides, this is the very need I was trying to satisfy for myself when I chose this profession: the need to create.
What would your dream wine (the ideal wine that you'd like to create) be like?
My dream wine would definitely come from indigenous red grape varieties. With each sip, you'd be able to recognize the region where the vines are rooted and the variety's "DNA." It would have a clean and, at the same time, complex nose of fruit, herbs and metal. Its mouth would be round, condensed and structured upon a sharp acidity, which wouldn't, however, be pretentiously overshadowed by a high alcohol percentage. It would be a wine that would be over the top and still be characterized by a simple harmony. Intellectually, you would approve of its solid technicality while emotionally you'd be moved and filled with impressions. Perhaps a Mandilaria wine, a Liatiko, a Mavrodafni, a Xinomavro, a Limniona… Who knows?
Which wine from one of your "competitors" have you been jealous of, in a good way?
I'm jealous of the fruitiness of New Zealand wines, of the "air" and durability of Burgundy wines, of the Mediterranean warmth of Languedoc-Roussillon. I'm also jealous of the acidity and minerality of a Rhine or a Mosel Riesling and of the extroverted nature and voluptuousness of Australian wines. Here in Greece, there are many fellow oenologists and winemakers who are doing an excellent job and, from time to time, I have been "jealous" of a number of their wines. These include the Nemea Reserve and the Mavrodafni of Patras by the Parparoussis family and the Roussanne by the Manousakis-Nostos winery, right here on the island. The most well-rounded wines I have ever tasted so far are the 2000 Château Haut-Brion Blanc, the 1996 Château Margaux and the lovely 1994 Kir-Yianni Ramnista.
Evaggelia Moraiti/Sclavos Wines
Evaggelia Moraiti studied Oenology and Beverage Technology at the Technological Educational Institute (TEI) of Athens, and continued her studies at the National and Kapodistrian University of Athens (Viticulture-Oenology and Wine Retail). She also graduated as a sommelier from the Le Monde Institute of Hotel and Tourism Studies (2012). "I can still remember, when I was very little, having climbed onto a wooden trailer and pressing Mouchtaro grapes at my grandmother's village in Thebes. I was utterly… 'possessed' by the spirit of Dionysus and that was it for me; there was nothing else I wanted to do with my life."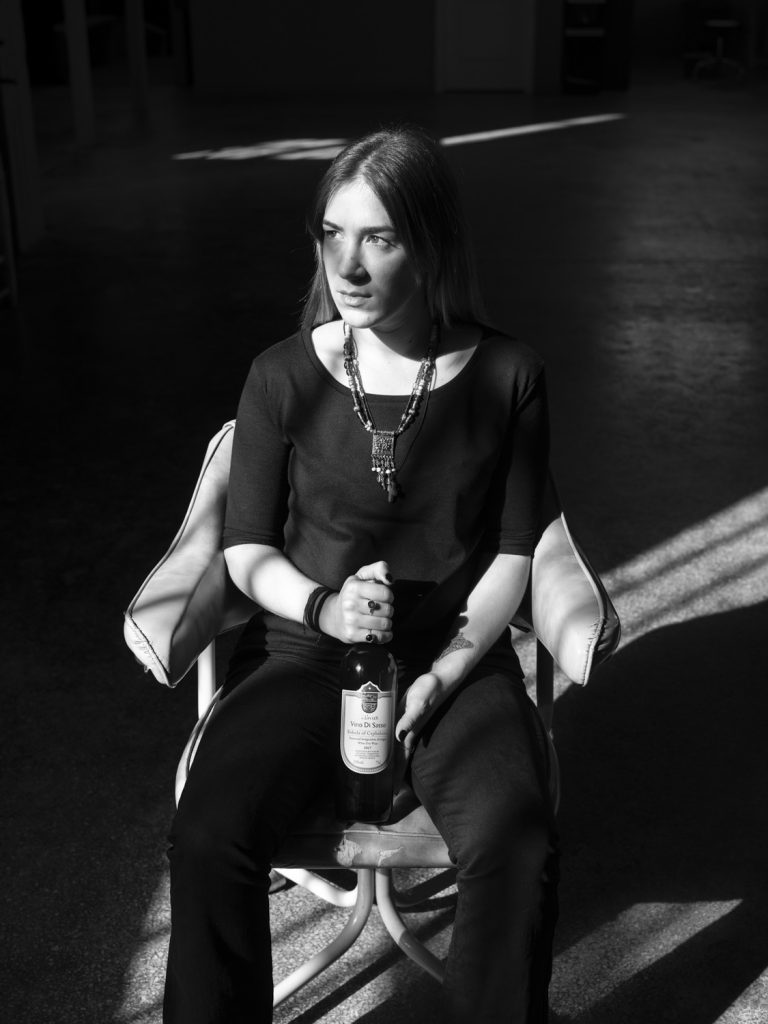 Vineyard or winery?
That's a difficult question… Many people say that good wine is made in the vineyard, and I agree with the logic behind this. However, I'm convinced that it's about teamwork, too; each bunch of grapes is being handled by many pairs of hands – the energy transmitted to the grapes is tremendous and the power you can bestow on the final product yourself is no less magical. If wine can hear us and feel our presence, why shouldn't the same thing apply to the vineyard? So, once more, it all comes down to the fact that everything is intertwined and interrelated.
From where do you draw the inspiration for your work?
What inspires someone is different from person to person. I haven't figured it out yet, but I think it must be something very spontaneous; the more spontaneous it is, the better the result. When I open a bottle of wine that holds a little part of myself in it, only then do I understand why I have sacrificed all those summers. And the answer is invariably the same: in order to create. Wine itself is my sole inspiration.
Does it bother you that, in a way, you're the "unsung hero" behind well-known labels?
When I first started doing what I really love, I certainly wasn't thinking about becoming well-known. It seems to me that we aren't recognized by the public at large for a very simple reason: we oenologists are a somewhat strange "species." Some of us strive for – and achieve – recognition, while others have a harder time promoting themselves. Take me, for example: I don't even have a Facebook account. I think I belong to the second category. Evriviadis Sclavos himself has a naturally shy disposition, yet he always makes us feel that wine isn't made by one person. So behind a bottle of wine there are many "unsung heroes" and I'm sure people are aware of that.
What are the difficulties and joys of your profession?
There's no such thing as an easy job, and mine is no exception, since a whole year's work basically depends upon two months of harvest, during which you have to fight against a number of things, above all the weather conditions. But when the brief and yet tremendous moment arrives, when you're about to open the wine you fought so hard to bottle, and you see the faces of the people around you aglow with excitement, for me this is possibly the only thing that keeps me going for another year full of pressure and difficulties.
What would your dream wine (the ideal wine that you'd like to create) be like?
A dream wine in my opinion is a wine that would give prominence to a Greek grape variety. It should be a wine that, when opened by a group of people, a couple, or whoever just wants to have a glass of wine, wouldn't perplex them, but instead would offer them beautiful moments and relax them. In other words, my dream wine would be as discreet as possible.
Which wine from one of your "competitors" have you been jealous of, in a good way?
To be perfectly honest, most wines that I like have made me feel jealous, but in a good way, of course. However, the one wine that has particularly caught my attention over the last couple of years is Robola Natural by Melissinos Winery, and this is because it gives me the impression that this is what a Robola wine must have actually tasted like back in the old days. Also, a dynamic Roditis by Tetramythos Winery makes me feel proud of this largely misunderstood wine. 
Louiza Dougou/Dougos Winery
Louiza Dougou studied Chemistry at the Aristotle University of Thessaloniki and, later on, Viticulture and Oenology at Trento and Udine, Italy. She has participated in two harvests in Italy: one in Sicily at the Feudo Arancio Winery, and one in Friuli at the Borgo del Tiglio Winery. Since 2006, she has been working at the family winery alongside her brother Thanos, an agriculturist.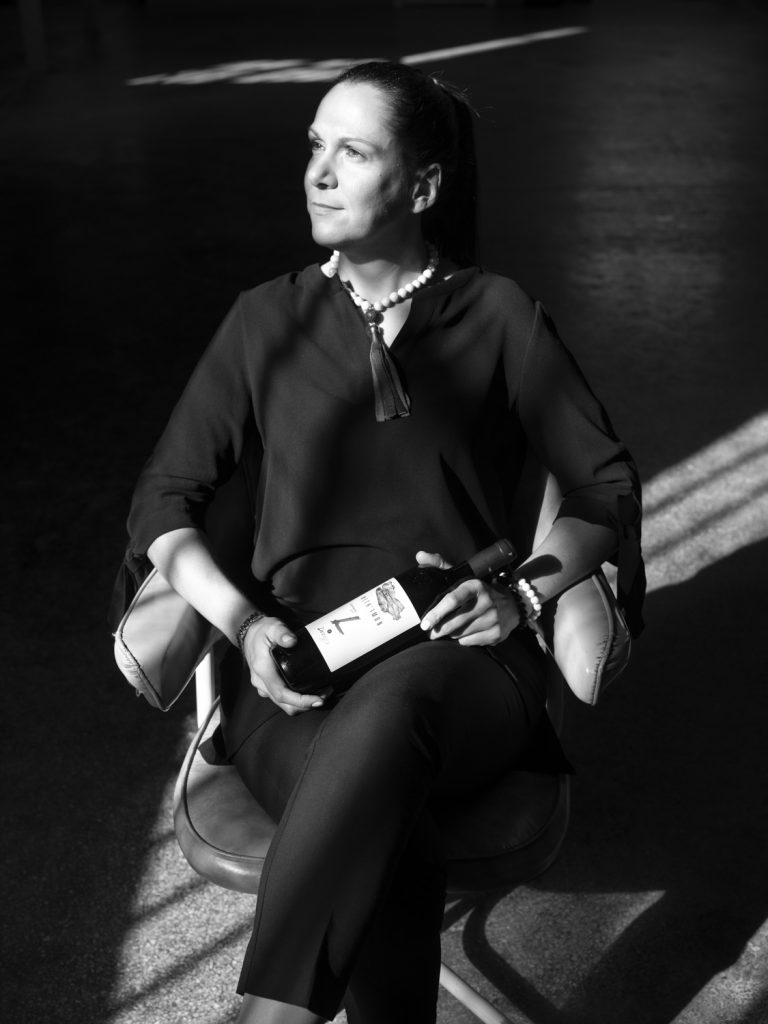 Vineyard or winery?
The work can't be done by either an agriculturist or an oenologist on their own. The role of the agriculturist is essential, because basically the wine is "made" in the vineyard. You can't create anything good out of poor-quality raw material! Having said that, it is then, of course, the oenologist's turn to do things properly in the winery. Their craft is most needed, and their mistakes are noticeable in a bad vintage!
From where do you draw the inspiration for your work?
I came to love wine at a very early age, because my father Dimitris was involved with vine nurseries, which gradually led him to become inextricably linked to wine. Later on, when I became actively involved with the family winery alongside my brother Thanos, I understood very well what it means to take something – a bunch of grapes – from scratch and to take them all the way to the end – a bottle of wine! It's a great feeling, to be having dinner at a restaurant and to notice that people at the next table are drinking a wine that you made, or to receive an e-mail from the other side of the world in which someone congratulates you for one of your wines they tasted the day before. I think that very few professions can offer you this kind of job satisfaction!
Does it bother you that, in a way, you're the "unsung hero" behind well-known labels?
Not in the slightest, because I believe that an oenologist should express him or her self through their wines. It is through them that an oenologist comes into being. The important thing is that people like our work, and this is what we strive for.
What are the difficulties and joys of your profession?
The difficulties are many, since you never know what lies ahead… We depend upon one great imponderable, the weather, that always has plans of its own. You can never be sure of the toll it will take on the raw material you'll have to work with! But this is ultimately what makes our profession so magical and so alluring. Each year is new and unique! The joys are always connected with accomplishing your principal goal: produce a lovely outcome. If you manage to do this, the feeling is indescribable, and the satisfaction is immense.
What would your dream wine (the ideal wine that you'd like to create) be like?
I don't think there's such a thing as an ideal wine, but it's true that our goal is to achieve an ever higher quality each year and, as time goes by, you keep learning new things and you experiment. You yourself know that our profession is one that's constantly evolving. Having said that, there's no doubt that I have a soft spot for red wine. I'm a firm believer in the Greek varieties we are producing, Xinomavro, Mavrotragano and Limniona, and I would like for us as a winery to keep doing even better things in this direction.
Which wine, made by one of your "competitors," have you been jealous of, in a good way?
There are many winemakers in Greece who are doing an excellent job. My soft spot, of course, as far as grape varieties are concerned, has always been Xinomavro, so I would most likely be jealous of a great Xinomavro wine. I'm also very pleased when I see winemakers working to revive grape varieties that have been lost over time, because I believe that the future of Greek wine lies in its unique indigenous varieties.
Panagiotis Panagiotopoulos/Tetramythos Winery
To date, Panagiotis has participated in twenty-four harvests. He's been in charge of setting up no less than eleven wineries, which means his experience is vast. For the past twenty years he's been collaborating with Tetramythos Winery. What's more, he comes from a family with a long tradition in winemaking. He was born in Australia, and when his parents returned to Greece, they became involved with land cultivation. He studied Oenology in Athens and the wineries where he's worked include Ftelia, Katogi and Stofilia.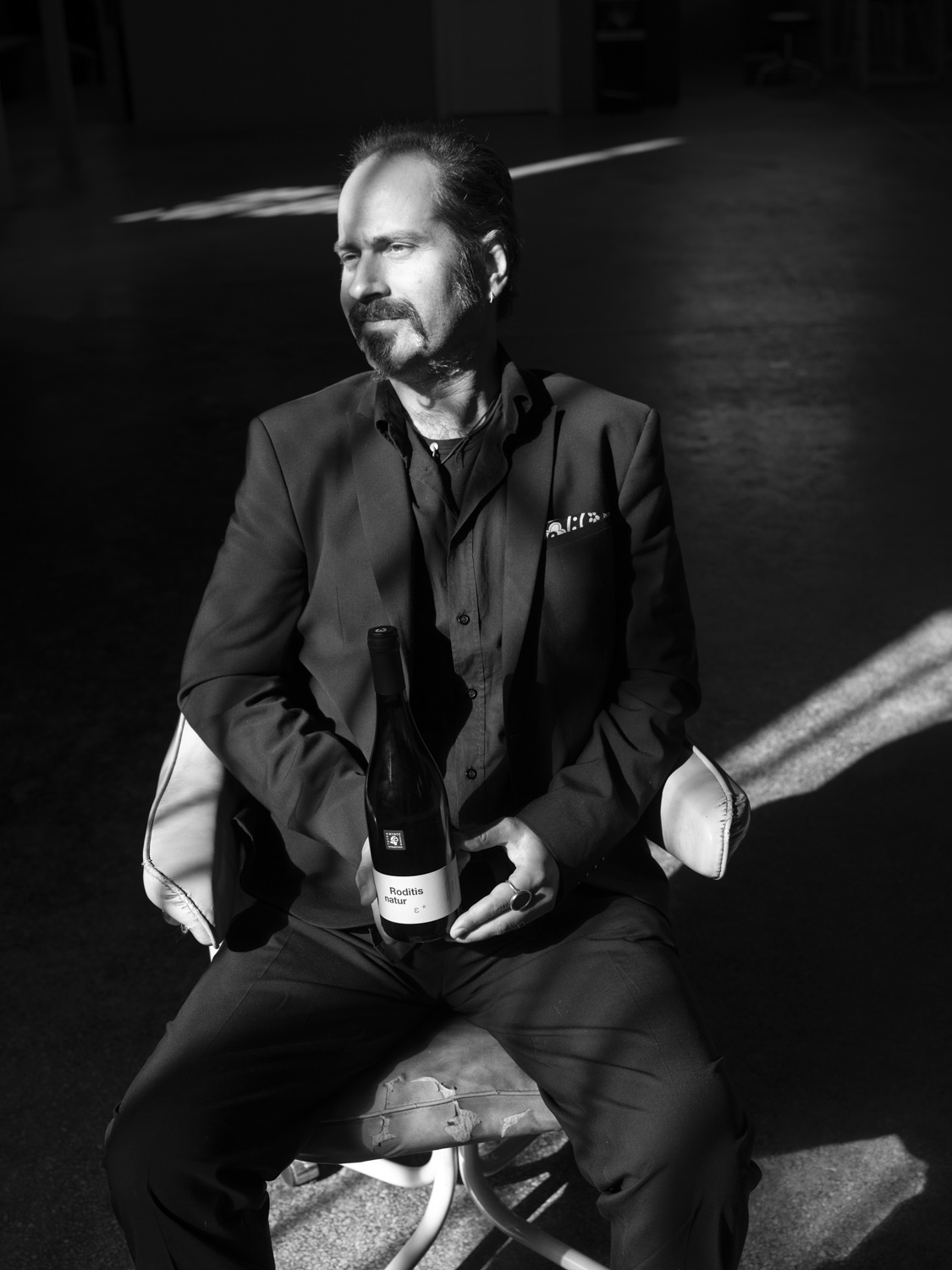 Vineyard or winery?
These are the two strongest links of the six-part, cosmically intertwined chain, in which everyone contributes to creation.
From where do you draw the inspiration for your work?
My main source of inspiration is the memory of those moments when you finally get the gifts the vines have given you, after the fruit has gone through a production process (whether more or less challenging) during which you have been attentive to the slightest differentiations, having heard the call to prolong the existence of these fruits by providing them with a form of immortality. Beyond this, since I am blessed and lucky enough to be working in one of the most beautiful and historic vineyards of Greece, even the smallest observations of everyday life and those permutations that occur can serve as sources of inspiration.
What are the difficulties and joys of your profession?
The main difficulty is coping with the ever-increasing amount of paper work, which leaves very little time for creation. Our often absolute devotion to our work can also cause various interpersonal tensions and create distance. In other words, most people have a hard time accepting the intensive working conditions required during harvest-time or the frequent need to work late nights and on weekends. The joys are many; above all, being involved with such a multidimensional product and enjoying the fruits of your creation (especially when we set aside tasting for a moment to actually start drinking).
What would your dream wine (the ideal wine that you'd like to create) be like?
I'm happy to say that I've already created it.
Which wine from one of your "competitors" have you been jealous of, in a good way?
The three wines (made by friends and companions) that have provided food for thought over the last decade by overturning our usual perception of wine and by carving new paths are Efranor, made by Evriviadis Sclavos and the lovely Evaggelia Moraiti; Metagitnion, created by the same people, that was left half-opened for a period of six months; and Assyrtiko de Mylos 2010, by Haridimos Hatzidakis. g