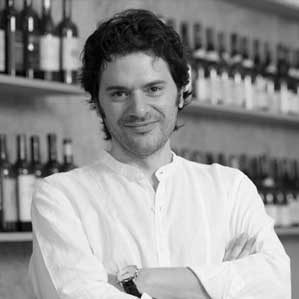 "People don't remember days; they remember moments!" Wines, restaurants, aromas, moments and ideas, all dully noted.
Last week, I visited the Zea Marina in Piraeus and, although it was only a half hour's drive from home, it made me feel as if I were on vacation. I chose to have lunch at the very popular "Hams and Clams," a brightly lit cosmopolitan oyster bar with minimalist decor overlooking the yachts and luxury cruisers in the Marina. The large windows allow in ample sunlight and you only need a few oysters, some seabream tartar, a lovely plate of seafood pasta and a glass (or two) of Apla Rosé 2018 by Oenops Wines to feel that you're in paradise! For me, the Apla did the job: a lovely, pale, all-around rosé wine with aromas of red fruits, tomato paste and herbs, made from Xinomavro and Cabernet Sauvignon.
So you find mixing cocktails difficult. I understand. But here's an idea for your summer drinks: Otto's Athens Vermouth! Besides the fact that vermouth is very cool and back in fashion on a global scale, this refreshing and charming urban drink is ridiculously easy to prepare! The other day I just grabbed a highball glass and stirred Otto Athens Vermouth with tonic over ice and that was it; my drink had hints of rose petals, citrus fruit, orange peel, a modest sweetness and an overall summery character. For the record, vermouth is an aromatized fortified wine infused with herbs and spices, and sweetened. Try it!
Malagousia–Assyrtiko is a popular Greek white wine blend, from two quite different but complementary varieties. The Sirius 2018 white from the Georgios Lafazanis winery is a perfect example. We opened a bottle for our eldest son's birthday and it charmed everyone; it was refreshing, food-friendly and vivid. Malagousia offers a tropical and herbaceous aromatic profile, while Assyrtiko offers texture, acidity and a mouthwatering lemony character.
The best Greek wine ever made. Is there such thing? I don't know. What I know is that Vinsanto 2002 by Estate Argyros – which Robert Parker scored 98/100 – is one of the most memorable and moving wine experiences someone can have. Seventeen years of ageing – twelve of them in old oak barrels – give the wine an alluring complexity: toffee, caramel, roasted almonds, coffee, crème patisserie, sky-high acidity and a never-ending finish! Pick your dessert very carefully before pairing it with this gem from the volcanic island of Santorini! Either chocolate or caramel-based sweets will offer serious amounts of pure pleasure.
Celebrating Greek Orthodox Easter is a big deal in Greece, both spiritually and gastronomically! We spent a few days on the beautiful island of Lefkada and paired our Easter lamb with a lovely Xinomavro: Naoussa Argatia 2014 which is a modern version of the grape, replete with forest fruits, raspberries, tomato paste and earthy notes and with a very refreshing acidity that dries and refreshes the palate between fatty, meaty bites! The earthy aromas of the lamb suit the wine perfectly.
There's nothing more adventurous – and rewarding – than ageing white wines with potential. I had a bottle of Ovilos 2012 by Ktima Biblia Chora with a simple mushroom risotto and aged graviera cheese shavings from Naxos, and the result was stunning! After six years, this iconic Greek wine has reached its peak and offers a generous bouquet of aromas: honeycomb, quince, meat broth, truffles and minerality. g