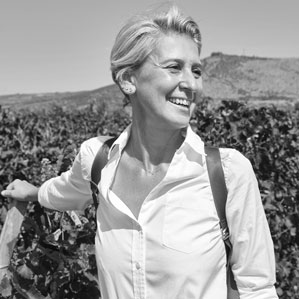 Θάλεια Καρτάλη
Όταν ολοκλήρωσε τον επαγγελματικό της κύκλο στην εφημερίδα Καθημερινή, και…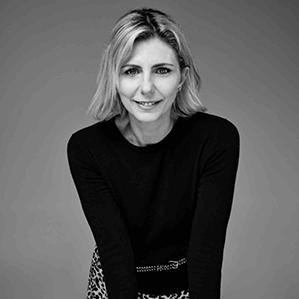 Πηνελόπη Κατσάτου
Αφού πέρασε 15 χρόνια σε στούντιο ειδήσεων ασκώντας "σοβαρή δημοσιογραφία"…
Traveling across the island of Crete on a winery-hopping trip can be quite an experience. This large island, better known for its beautiful beaches rather than its wine, holds a lot of surprises for anyone who sets out to discover its wines. Cretan viniculture, with its long history, has undergone tremendous improvement in quality over the last years, and now offers some of the most amazing styles of wine one can find, made from indigenous varieties only found on this island. Our trip started in Hania and ended in Irakleio, with a stop in southern Rethymno where we visited some of the oldest vineyards on the island and found out just how challenging viticulture can be on the steep slopes of the Cretan mountains
IRAKLEIO
The City
Irakleio, Crete's biggest city, boasts a multicultural past
as Byzantine churches stand next to Venetian mansions and Turkish fountains; it also has a thriving present, with many restaurants, coffee shops and bars.
Archaeological Museum
It's one of the greatest museums in Greece and the best in the world for Minoan art, home to the most notable and complete collection of artifacts of the Minoan civilization of Crete.
Historical Museum of Crete
This museum covers the art and history of Crete from the 4th century AD up to and including the Second World War. The collections include two paintings by Doménikos Theotokópoulos (El Greco), born in Crete.
The Palace of Knossos
The largest Bronze Age archaeological site on Crete, Knossos is considered Europe's oldest city. The Minoan palace is the main site of interest.
The Natural History Museum of Crete
This great museum highlights the diverse flora and fauna of the Eastern Mediterranean.
Western Crete HANIA
Archaeological Museum
The museum contains a substantial collection of Minoan and Roman artifacts excavated from around the city of Hania. Its exhibit items include model ships, nautical instruments, paintings, historical photographs and war relics, as well as other objects covering the period from the Bronze Age to the present.
WINE & FOOD
Best local food / Ingredients
Olive oil • Tomatoes • Artichokes • Wild onion bulbs • Herbs
(wild sage, oregano, thyme, parsley, marjoram and more) • Snails • Wild hare • Goat meat
• Pork meat • Local cheeses: graviera, anthotiros (mild and soft), kefalotiri, mizithra (fresh cheese made from sheep's milk) • Dolmas: stuffed vine leaves with rice • Dakos: rusks topped with grated tomato, olive oil, cheese and oregano • Candied fruit • Kaltsounia (local sweet cheese pies) • Loukoumades (fried donuts topped with honey, cinnamon and dry nuts)
ACTIVITIES
Swimming
Enjoy world-class beaches: Falassarna Beach, Balos Beach and Lagoon, Elafonissi Beach, Seitan Limania Beach and Agii Apostoli Beach.
Samaria Gorge National Park. A World Biosphere Reserve, this gorge in southwest Crete is 16 km long and is a major tourist attraction of the island.
MANOUSAKIS 
WINERY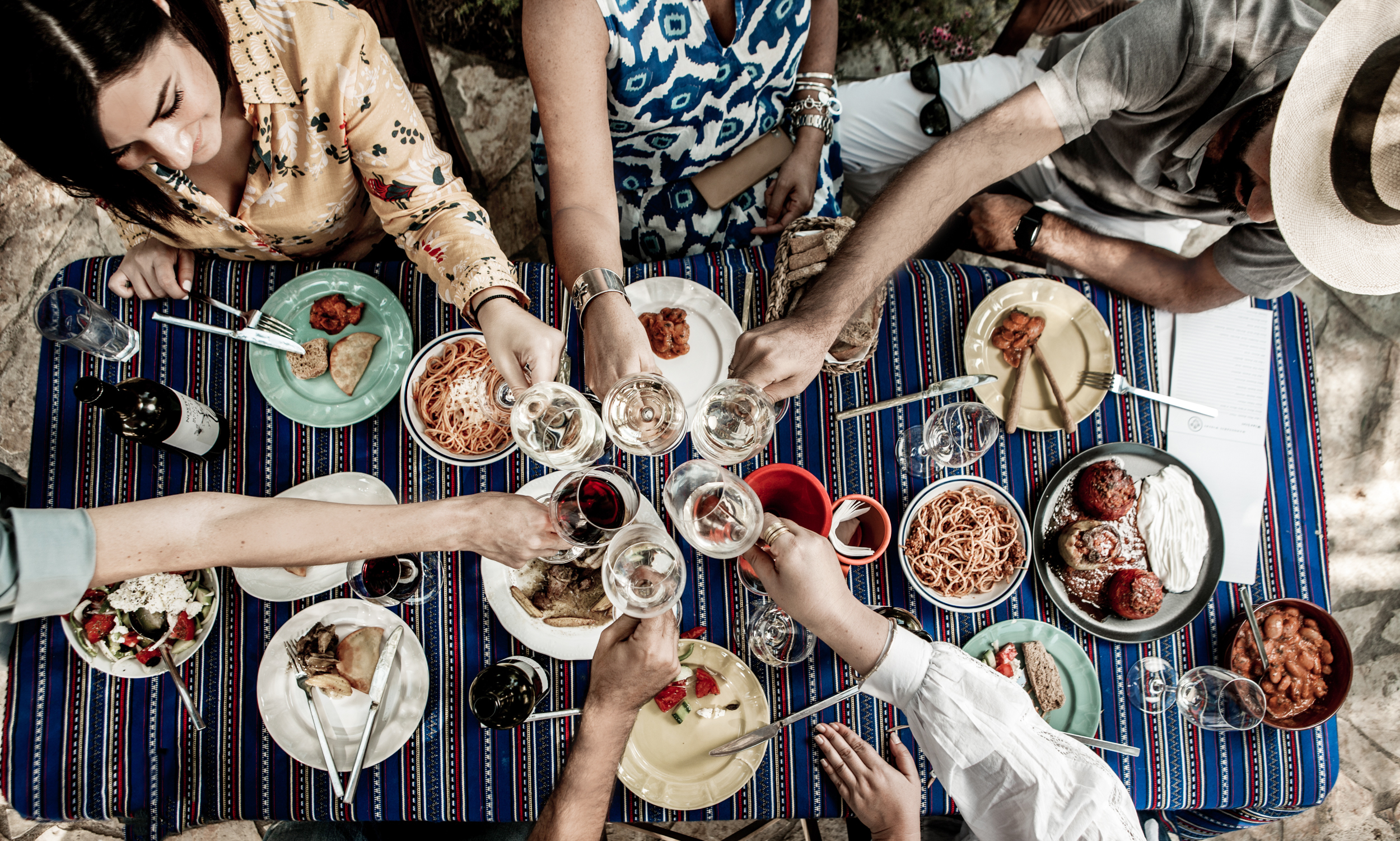 This beautiful estate, situated in Vatolakos, about 15km from the city of Hania, owes its existence to the vision of one man. Born in 1943 in a house that still exists on the estate, Theodoros Manousakis emigrated to the United States at the age of 11 to escape the dire economic situation at home.
As a young immigrant, he built a new life but never forgot his homeland, the desire to come back always burning in his heart. A suc- cessful businessman and a well traveled individual, Manousakis set out to produce great wines from his home soil. He began by buying a few plots of land and, with the help of experts, decided to plant four Rhone Valley varieties: Syrah, Grenache, Mourvedre and Roussane. Soon the vineyard was expanded to include Greek varieties; Vidiano, Assyrtiko, Romeiko are now all vinified under the guidance of the estate's chief oenologist, Kostas Galanis. Meanwhile, the management of the winery passed into the hands of Manousakis' daughter Alexandra and her husband Afsin Molavi, a sommelier who also owns Salis, an award-winning restaurant in Hania with an impressive wine list.
The winery itself boasts modern production facilities surrounded by beautiful gardens, and orange and lemon groves. It is open to visitors who can also enjoy selected Cretan specialties, chosen to pair perfectly with the wines offered at the wine tasting. The total production is about 120,000 bottles, a large percentage of which is exported mainly to the United States. The most recent addition to the estate's labels is "Hartman Molavi," a sparkling wine from Xinomavro and Romeiko made using traditional methods. It's the result of cooperation between Afsin Molavi and Laurens Hartman, a ground-breaking producer from the north of Greece. The estate's other labels include five white varietals, Nostos Roussane, Nostos Vidiano, Nostos Muscat of Spina, Nostos Assyrtiko and Nostos Romeiko. The reds include two varietals, Nostos Syrah and Nostos Mourvedre, and two blends, Nostos Alexandra's and Nostos Blend.
We had the pleasure of trying all of them, while enjoying a lovely lunch which included some wonderful local specialties.
DOURAKIS WINERY 
Our next stop was Dourakis Winery, in Alikampos. Antonis Dourakis welcomed us with a broad smile on his face, happy to see visitors from Athens after a long period of solitude due to the lockdown.
Settling in around the long wooden table in the winery's well tended garden, we couldn't help noticing a few tourists who'd already arrived, eager to try the estate's wines. The estate was one of the first ones in the region of Hania to open its doors to visitors and offer winetasting sessions and, as Dourakis explained, the plan is to open a kitchen that will prepare traditional Cretan dishes to accompany the wine tastings. The estate was established in 1988 by Dourakis' father, who had studied oenology in Stuttgart. The first label produced was "Logari," which slowly came to be known at local restaurants and hotels during a period when the dominant trend was to serve wine in bulk, i.e., by the carafe. The elder Dourakis made the decision to invest in the winery, buying equipment and building an elegant building based on traditional architecture. "If it doesn't work out, we can always turn it into a nightclub," he used to joke. Things did work out, however, and the estate now produces 17 different labels, most of them from local varieties. "Within our five-year plan, we intend to grow our vineyard by adding nine new fields," says Antonis Dourakis. The varieties being grown at the estate are a mix of local and international varieties, with an emphasis on the local ones: Vidiano, Malvasia, Kotsifali, Mandilari, and Romeiko, an indigenous variety from the region of Hania which many winemakers find attractive.
The estate produces about 250,000 bottles a year in total volume, 10% of which are being exported, while the rest are released to the local market. As is the case for most winemakers in Greece and worldwide, the pandemic has had a big impact on sales, but Dourakis remains optimistic: "Luckily now that things are opening up again, people have no qualms when visiting our winery to spend a bit more on a bottle of wine; in a way, they are making up for lost time by choosing slightly more pricey but higher quality wines."
Wine Tasting: Lychnos Vidiano 2018, Lychnos Vidiano 2016, Kudos Malvasia 2019, Apus Blanc de Noir, from the Romeiko variety Kudos Syrah 2018 Euphoria, a sweet dessert wine from sundried Romeiko grapes
KARAVITAKIS WINERY 
Driving across the region of Hania, on the other side of the city of Hania we reached Karavitakis Winery.
We were welcomed by Nikos Karavitakis, a fourth-generation winemaker and an energetic young man who skillfully managed to be engaged in different tasks while still talking to us and tending to the needs of the winery's visitors; on that particular day, they seemed to be flooding in. Karavitakis's great-grandfather was the family's first winemaker, although the estate was established by his father who, upon returning from his studies in Italy, became manager of the local cooperative while also caring for the family's vineyards. Most of the vineyards in the area had been destroyed by phylloxera and the local people had turned to the cultivation of olive groves. Influenced by his studies in Italy, the elder Karavitakis started planting international varieties like Syrah, Grenache and Carignan, but quickly turned his attention to the indigenous varieties, which today make up 85% of the cultivation.
"The estate's philosophy, especially in the past 11 years since I started working here, is to showcase the potential of our indigenous varieties, using them in blends with international varieties but also making good quality varietal wines", explains Karavitakis, who believes in a more modern approach to winemaking with less barrel, more expression of the fruit and lower alcohol levels. According to him, the two indigenous varieties that can stand alone and make it to the international markets are Vidiano for whites and Liatiko for reds. "Vidiano is a strong variety that can have many different expressions; it can make everything from fresh everyday wines to dynamic aged ones. Contrary to what many believe, it is not an aromatic variety," he says. "As far as Liatiko is concerned, we choose to approach it more as a Pinot Noir, producing a fresher, more New World, fruitier style with minimal barrel in comparison to the traditional long barrel aged style of other producers." Despite the emphasis on Greek varieties, the estate's most premium label is "Elia Blend," which has only been released to the market six times since 2003 when it first came out. With Syrah, Grenache and Carignan, it is a Southern Rhone blend. The estate produces annually approximately 200,000 bottles, of which 45-55% are exported.
Wine Tasting: Klima Vidiano 2020, Klima Vidiano, Barrel-aged Kompsos, Liatiko red, Elia Blend 2016
ANOSKELI WINERY
After a drive through the more mountainous area of Kolimbari, we found ourselves wondering whether we had, in fact, reached the right place.
We were standing in front of what looked – and smelled – like an olive oil press. Greeted by Gerasimos Voultoudakis, we soon found out that, in Anoskeli, the owners have successfully combined the production of olive oil, the area's main agricultural product, with winemaking that emphasizes the Greek varieties for the whites and international varieties for the reds. The first bottle of wine was produced in 2005 but, as Voultoudakis, the company's chief engineer who took an interest in winemaking, explained, the oenological part of the business really started taking shape in 2011. The overall production is limited to 35,000- 40,000 bottles, but Voultoudakis is a person who loves to experiment, and he cares less about the quantities than he does about trying different winemaking techniques. In the cellar, we found ourselves in front of a barrel where a Romeiko, produced using the solera system (which is used to produce sherry), was being aged. Ιn another barrel across the room, an Assyrtiko resting on the lees had been ageing for three years, waiting its turn to be bottled and released to the market. Anoskeli produces mainly two labels: Ano Plagia, in white, rosé and red (all of them blends of both local and international varieties); and Anoferia, varietal wines of both white and red, with the greatest emphasis being given on the indigenous white varieties of Vilana, Assyrtiko and Vidiano. "I think it's pointless to assume we can make a red wine from local varieties that can become top shelf and be priced accordingly. Our energies need to be focused on our white and rosé varieties," says Voultoudakis. Our wine tasting was preceded by an olive oil tasting, giving us the opportunity to find out that the two procedures are really quite similar. The winery is open to visitors and is happy to offer them the experience of both tastings.
Wine Tasting: Anoferia Vilana 2020, Ano Plagia, 2020 Vidiano, Vilana, Asyrtiko Ano Plagia rosé 2020, Anoferia Syrah 2018, Anoskeli Stone Romeiko
ENDOCHORA WINERY 
Back in Hania, we found ourselves face to face with a model expression of garage winemaking.
Housed on the ground floor of a two-story building in the center of town, Endochora can hardly be called a winery , but the product that comes out from this 60m2 space is really noteworthy. Three or four small stainless steel tanks, a few barrels and a grape selection machine is all Michalis Tsafarakis needs to produce his four labels. " I don't come from a family of winemakers or farmers; I grew up in the city and studied mathematics," he says. "But I became hooked on the process of winemaking, the vineyards, all of it and my hobby became my profession." With the help of oenologist Costas Galanis, he produces about 7,000-8,000 bottles a year, mainly from Vidiano, Kotsifali and Syrah, which he has planted on the 15 acres of vineyards he owns, scattered in different locations around Hania.
Wine Tasting: Endochora Vidiano 2020, Endochora Rosé 2020, Endochora Kotsifali 2019, Krostandt Syrah 2017
IRAKLEIO WINERIES
Going down a steep dirt road in the back of a pickup truck can be quite an experience, but it's also the best way to take in all the wild beauty of the Cretan land.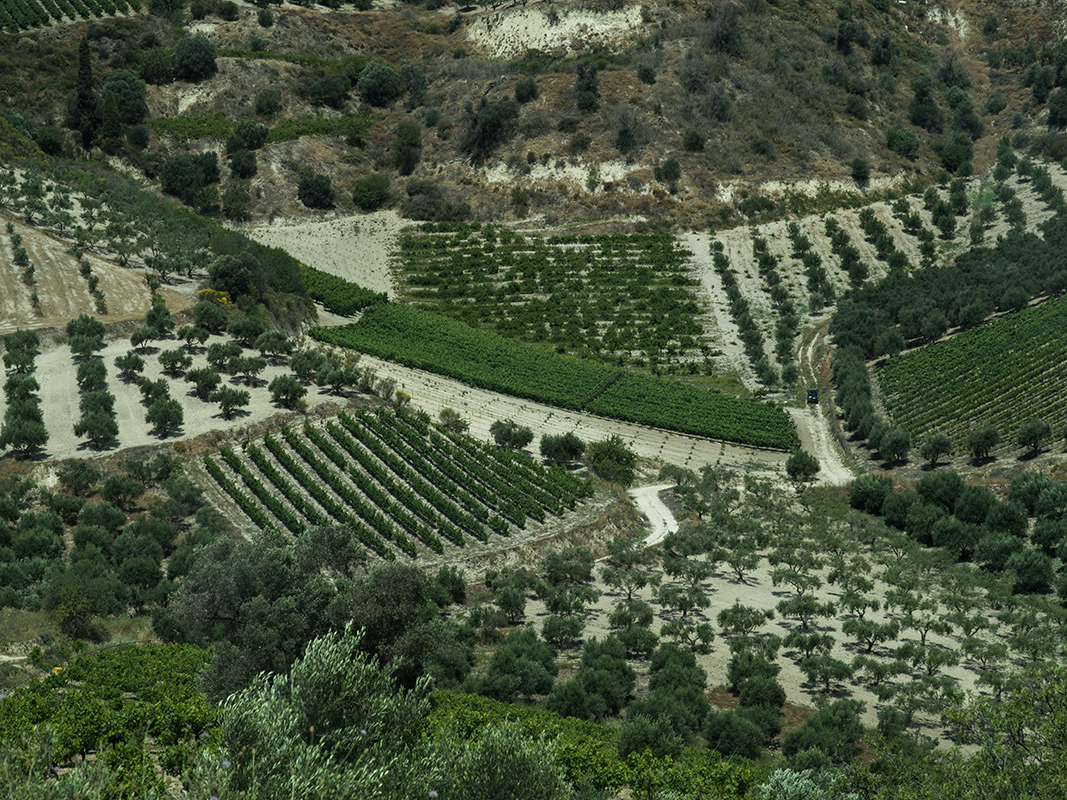 BOUTARI WINERY
Built on the Fantaxometocho Estate – which in Greek means the haunted estate – the Boutari Winery is close to the archaeological site of Knossos. The estate owes its name to a previous owner who, in order to keep thieves away, promulgated a story about the estate being haunted. Surrounded by its vineyards, the winery offers spectacular views of the nearby hills and is open to visitors who wish to tour the cellars, take cooking lessons offered on the premises, or stay in one of the three suites at the estate's old guest house. The Boutaris family bought the estate in the '90s and, in 2014, begun to replant the whole vineyard, focusing on the indigenous varieties of Crete. Lately it has been rebranding some of its labels even while new products are also hitting the market. Enjoying a lovely lunch, we had the pleasure of tasting the brand new Scalarea Vidiano-Athiri , a crisp white wine, and the red Scalarea, made from Syrah and Kotsifali.
DOULOUFAKIS WINERY
Going down a steep dirt road in the back of a pickup truck can be quite an experience, but it's also the best way to take in all the wild beauty of the Cretan land. Vineyards and olive groves are all you'll see going down the hill from the village where Nikos Douloufakis has his winery. "These are all very small parcels of land, since, according to Cretan tradition, each piece of land had to be divided equally among the family's children," he explains. "So you get a small vineyard here, an olive grove there, and then another vineyard. Unfortunately, this dispersal doesn't help with costs, but it does give our wines complexity," he tells us as we walk under the burning Cretan sun. All the vineyards are located on slopes. "All the work is done in the vineyard," he says. Truly proud of his Cretan heritage, he insists that one of the greatest advantages of Greek wine is its long history. "Crete is a very strong brand of its own, and lately Cretan wines have been doing really well in markets abroad. We export to France, Germany, Belgium, the Netherlands, the United States and Canada."
LYRARAKIS WINERY
If you're in the area of Irakleio, this is one winery that you shouldn't really miss. Contrary to the local tradition of having small parcels of land, this winery is surrounded by 14.5 hectares of vineyards which Sotiris Lyrarakis obtained in the '60s. The winemaking experience of Lyrarakis was finally "bottled" for the first time in 1996. This is truly a family business; brothers, cousins and nephews are all involved, as the older generation is now giving way to the younger one. "Back in the '90s, the trend was to plant international varieties, mainly Chardonnay and Sauvignon Blanc. We decided to replant a big part of our vineyards, giving more emphasis to two local unique varieties: Plyto, a white, and Dafni, a red," explains George Lyrarakis. "From a commercial point of view, this was suicide. But we were committed to saving these varieties from extinction. The truth is that most people prefer something more common like a Chardonnay, but we also get a lot of tourists who are looking to try something different." Lyrarakis is also the first winery which worked on blending the indigenous red variety Kotsifali with Syrah, with great success. Since 2005, they have been experimenting with a Mandilari, another indigenous red variety, which was traditionally used in a blend with Kotsifali. According to George, Crete's climate is ideal for producing great wines. In 2007, the winery opened its doors to the public; since then, it has been receiving thousands of visitors every year, mostly tourists. Their wines have won prizes in international contests, and are being exported to other European countries as well as to the United States, Canada, Australia and China.
PATERIANAKIS WINERY
Walking ito the Paterianakis Winery in Arhanes we found ourselves in front of a table covered with Cretan delicacies, cheese, olives, homemade bread there was, of course wine as well, all in a room with enormous windows offering a breathtaking view of the vineyards. The winery, established by George Paterianakis' father, is now being run by his two daughters, Emmanuela and Niki. The estate produces organic wines, following the practices of biodynamic viticulture, which forms part of the tradition of winemaking in Crete. The wines are divided into three groups, according to varieties and vineyards. The Local Treasures are made strictly from local varieties, the Premium Wines are a blend of a local and an international variety, and the Vintage Spirits are wines made from indigenous varieties that come from the older vineyards. In the vineyard, the family follows all the traditional practices of their grandfather, harvesting by hand and taking good care of the grape at all stages. One of their goals is to spread the philosophy of biodynamic cultivation, the tradition of the older generations on Crete. The estate produces 120,000 bottles, many of which end up in Switzerland, Cyprus and the United States.
SILVA DASKALAKI WINERY
A few kilometers away, we came across the Silva Daskalaki Winery. Its owner, Irini Daskalaki full of relentless energy She wakes up every morning at five o'clock to tend to the vines and goes to bed only after having inspected all the work in the winery. A strong believer in biodynamic viticulture, she smiles and says: "I was born on a full moon; this must have had something to do with it." She follows a special calendar based on the moon phases, according to which she plans all the work that has to be done in the vineyard. "These are practices known to us from our grandmothers," she says, "and we see the result in the quality of our wines. I believe there's something magical behind all this, and it is priceless." Her daughter Haroula is responsible for bottling and marketing.
"You can't be a real winemaker if you're not willing to put your hands in the dirt," Irini says. "You've to be very careful during all the stages of winemaking, because what good is it having a good grape and then messing up with the winemaking?" Her hard work has been recognized; the estate's wines have won numerous prizes, which has helped them to go on despite the problems caused by the economic crisis. The estate's emphasis is on indigenous varieties, although their best wine is considered to be a blend of Kotsifali and Syrah. They also produce a series of sweet wines from local varieties.
DIAMANTAKIS WINERY
One of many young aspiring wine producers in Crete, Zacharias Diamantakis welcomed us to his winery on the steep slopes of the eastern foothills of Crete's highest mountain, Psiloritis. The vineyards here are at an elevation of 400m with a southeastern aspect. They have been planted on terraces because of the steepness of the slope, making manual harvesting quite a challenge. The varieties planted there are the indigenous Mandilari and Malvasia, as well as Chardonnay. A little higher up, at 600m, is a vineyard planted with Assyrtiko. "Crete can produce an excellent Assyrtiko," says Zacharias. He believes that one of the biggest challenges for Cretan wines in the near future will be an increase in exports, a goal, he says, that has been set collectively, through Wines Of Crete, a network created by the producers for the promotion of their wines. g