I was about to take yet another trip. For the following five and a half hours, give or take, I'd be able to enjoy just being a passenger, relaxing in the comfortable back seat of a Golf TSI on the way to Naoussa. For the first time in a long time, I was visiting a wine destination with friends, more to have a good time than as part of my job. Nothing against wine experts, or going on extreme wine missions – which certainly helps you get the full picture of a vintage or a region – but when it comes to Naoussa, it's best to simply sit back and enjoy it.
I should make it clear that I love Naoussa's wines very much, but certainly not in the same way that I love, say, Nemea's. I think that I feel towards Naoussa somewhat like a mother who has a bit more love for (if I can say that), or at least is more likely to spoil, the sensitive and weakest among her children. And this is something I've felt since the first time I ever set foot in the region, several years ago. It was that first trip that shattered the image I'd built up in my head about this great wine zone.
You read and hear so many descriptions of Naoussa, you taste its powerful Xinomavro wines, and you imagine a completely different reality. Everything is magnified in your mind. But the truth is quite different. You can drive for nearly half an hour in what is called the "viticultural zone" of the area, and not see the slightest hint that this is one of the most important wine regions in Greece.
Instead of the famous Xinomavro vineyards, the only thing that you see for miles, on both sides of the road that runs through the wine zone, are peach trees, cherry trees, plum trees, apple trees and, if it's the right time of the year, the lean silhouettes of the workers who irrigate their crops incessantly. Unfortunately, Naoussa's vineyards have shrunk to a great extent. And the sad truth is that Amynteo, on the other side of Mount Vermio, is already producing more Xinomavro grapes. From the back seat of the Golf, I could clearly discern the initial surprise, even disappointment, on the face of both of my companions, who were visiting the area for the first time: "Is this Naoussa? Where are its vineyards?" We talked about what we'd seen as we entered Barolo, in Italy's Piedmont; there were grapevines everywhere, no matter which direction we looked at. Here, niente… Nothing…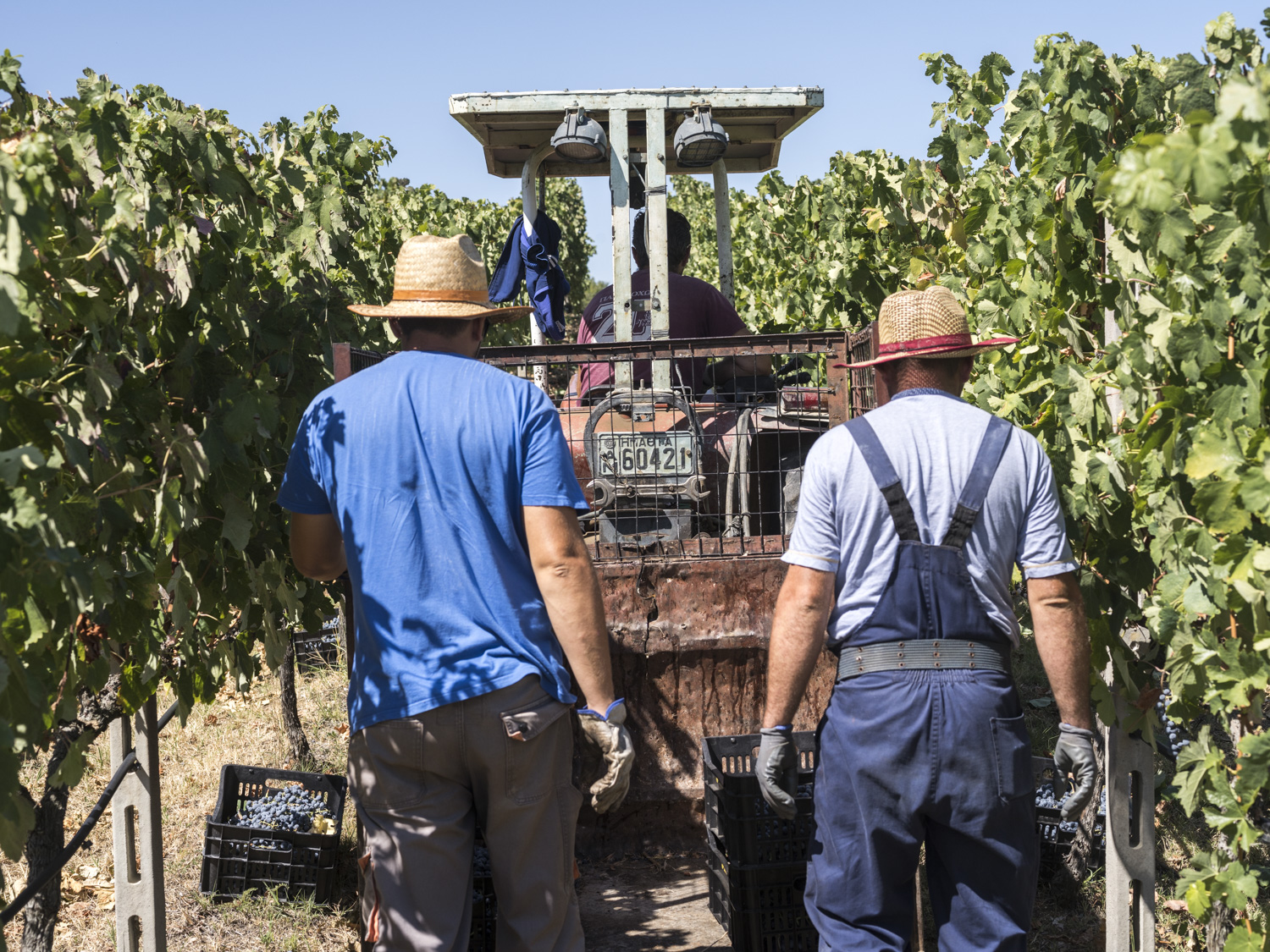 And yet, Naoussa has its secrets; all you need to do is be in the right mood and have enough time to unlock them, and a wonderful world will be revealed to you. It will be unconventional and idiosyncratic but, at the same time it will also be harmonious. What has always fascinated me the most about the region are its contrasts: both the different ways in which winemakers approach their favorite grape variety, Xinomavro, and how they deal with concepts such as hospitality and wine tourism.
Arriving at Markovitis Winery in Polla Nera, we saw the 25- acre single vineyard stretching out right in front of our eyes; in the case of Thymiopoulos Vineyards, however, you'll need a 4×4 to reach some of the at least thirty vineyards "hidden" between Fytia and Trilofos. These wineries are representative of the two subregions of Naoussa where, in a matter of a fifteen-minute drive, the climate and the soil both change considerably, and which, of course, produce wines of very different styles. Markovitis consistently produces, as a matter of principle, only one wine from his amazing, meticulously attended vineyard; on the other hand, Thymiopoulos constantly makes plans to create different single vineyard vinifications from his individual vine plots. Two different approaches, with the common denominator being, of course, the winemakers' love for Xinomavro.At the Boutari winery, you'll get goose bumps at the mere opening of a 1974 Naoussa Boutari. This isn't only because you're about to taste the unabridged history of Greek wine; it's also because you know that, in a minute, you'll be lucky enough to have in your glass a blatantly beautiful wine, full of generosity. It's a Xinomavro truth, that, if it weren't for the Boutari family, the variety could have been lost forever. That same evening, sitting around a table at the Diamantakos winery, you might taste the latest and most modern version of what Naoussa has to present, straight from the barrel, to the rest of the world. Diamantakos' Naoussa has such fruit and finesse, that it justifies those who praise the variety's "Pinot Noir dimension." These two different moments, ones that bridge yesterday and tomorrow in such an exquisite way, are so perfect it's hard to decide in which direction you want to travel.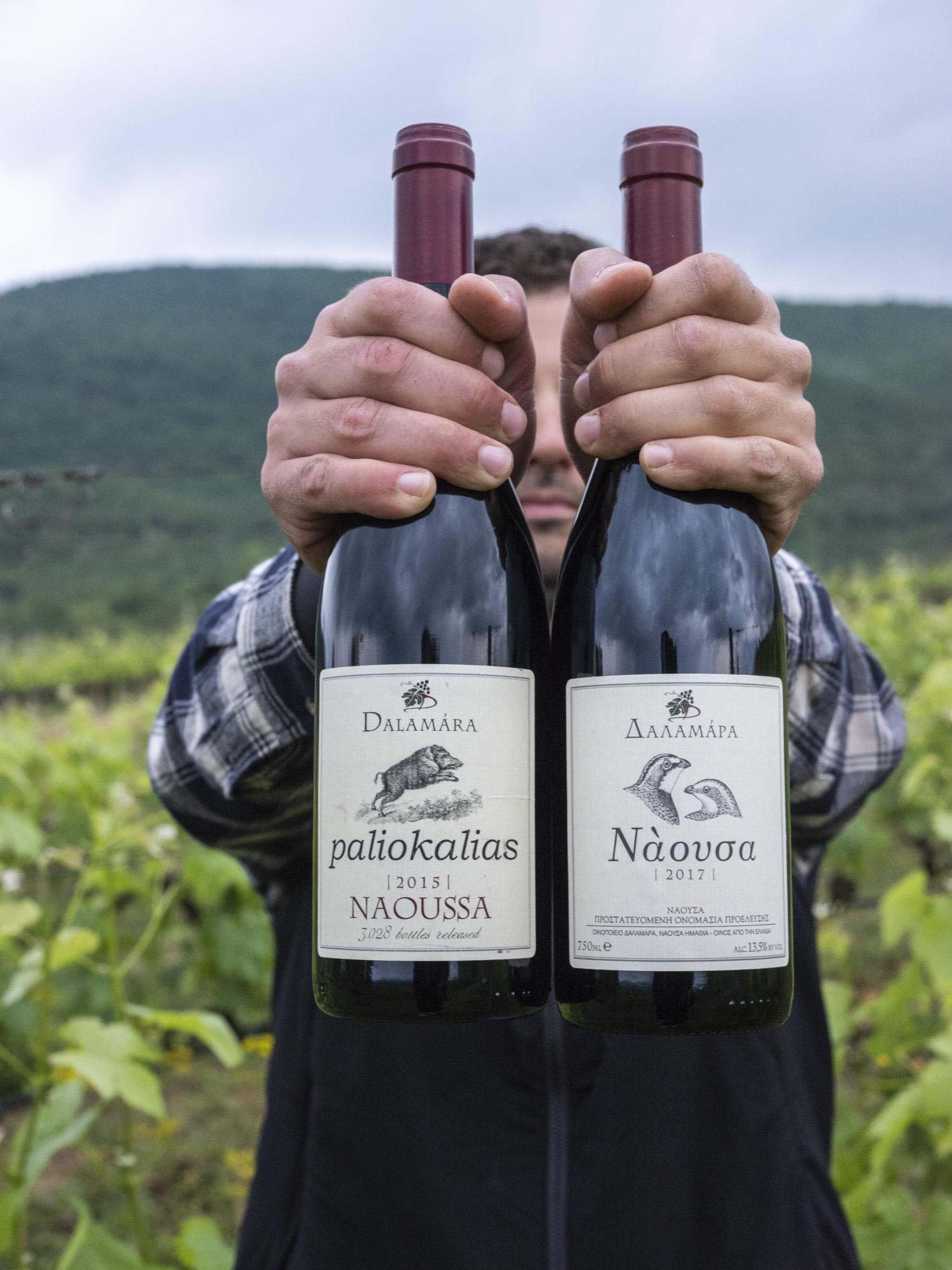 The following day, you find yourself at the hospitable Dalamara Winery with Kostis and Maria. There, you're served a platter of local cold cuts – which Kostis slices on the spot with a knife – in a warm family environment, as you drink wines with clean lines and a clear philosophy, accompanied by a lot of conversation. You feel nothing short of being in the company of friends, as if you were at home. You taste their breathtaking Paliokalia and, before you leave their company, you make a stop at their own rooted pre-phylloxera vineyard, where, gazing at the ancient stumps, you discover the true history of Naoussa. A few hours later, you'll enjoy to the fullest the uplifting view and the tranquility that Ktima Kyr-Yianni in Giannakochori has to offer. While there, you might decide to take a sneak peek at the impressive, brand new underground cellar, which houses the winery's barrels and wine collection, as you listen to Stellios Boutaris' brilliant plans for wine tourism in the area. A glass of the now impossible-to-find 2013 Ramnista will make you feel lucky you've have the opportunity to enjoy it. That's Naoussa in a nutshell – in one day, you can find two completely different takes on wine tourism that both highlight the innate passion of Greek winemakers for hospitality.
Under no circumstances would I want Naoussa to be, even in the slightest, different from what it really is. In Naoussa, traditional meets modern, small producers coexist with the big ones, and intense ambition is found side by side with a more relaxed attitude towards life. What I always make sure to do is not give myself enough time to visit everyone. I leave at least one visit for next time, be it either my beloved Argatia, or perhaps Foundis, which I have yet to visit, or Kokkinos, or Chrysochoou, or one of the other twenty or so winemakers in the area. I always need to have an excuse to come back, again and again.
My dear friends, it takes time for Naoussa to enchant you… To be precise, it takes 5 hours and 17 minutes, a 330-mile drive from Athens, and the best possible company you can find. As for those who aren't from Athens, you do your own calculations. One thing's for certain; no matter how long the trip is, it's definitely worth it. g