Greece has a long standing tradition in the art of winemaking. It's known as one of the oldest wineproducing regions globally and among the pioneers in the industry. The historical roots of Greek winemaking can be traced back approximately 6500 years.
However, this summer, the focus is on the present, as contemporary Greek wines have reached new heights in terms of quality and flavor. Let us embark on a journey through the essence of Greek summer encapsulated in a glass of wine.
Exploring Greece and delving into its vineyards and wines can be an incredible experience, embracing island life, finding tranquility on the mainland and, to borrow the words of Nobel laureate Odysseas Elytis, being able to witness "olive trees and vineyards stretching to the sea."
Allow me to introduce you to the best wine selections for this summer.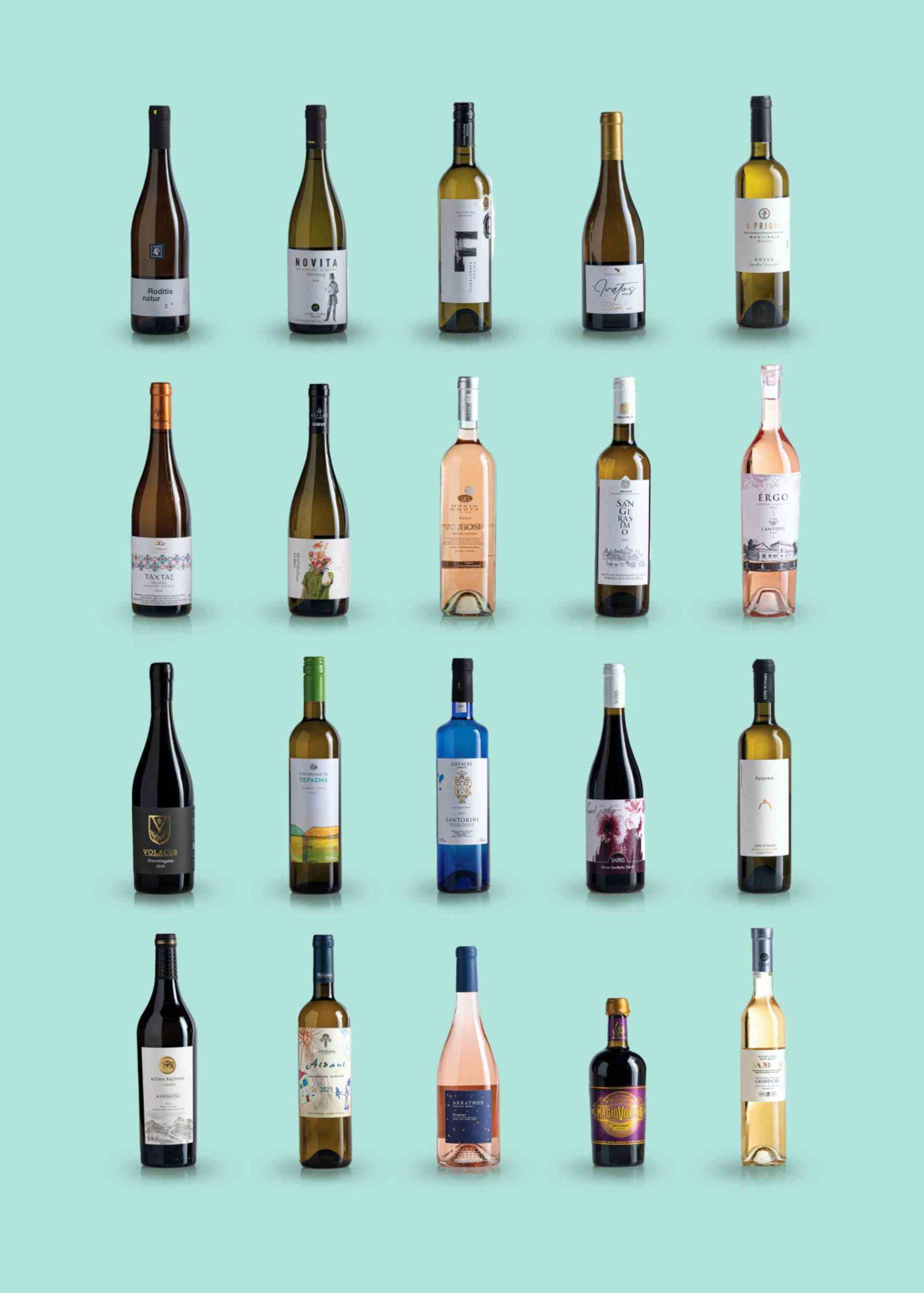 1 RODITIS NATUR, TETRAMYTHOS WINERY, [ Roditis ]€13.00
If you're going to go natural, do it right. This is an amazing natural vinification of the Roditis grape from old vines at an elevation of 850m in beautiful Aegialia. Tetramythos Winery introduces us to a pale gold wine with intense aromatic personality featuring expressive citrus fruits, apricot, melon and pineapple. In addition to being fruity, the wine is also a bit herbaceous and slightly salty and flinty, with lemony acidity and a creamy texture.
2. NOVITA GRAMPSAS WINERY [ Goustolidi ]€13.50
Grampas Winery has made great and successful efforts to save and promote Goustolidi, a rare local grape variety. This wine shows the variety's great potential and the importance of having revived it. Along with charming aromas of lemon blossoms, citrus fruits, jasmine and pear, the nose is round and well balanced, while the lemony and floral flavor in the mouth lasts through to the aftertaste.
3. F BY FOIVOS PAPASTRATIS [ Assyrtiko, Muscat ]€12.20
F is a wine that puts a smile on your face, just as a good easy-drinking wine should bringing you a sense of satisfaction right away. This blend combines the aromatic Muscat with the lean Assyrtiko to make a wine that's fresh and fruity, with floral aromas, crispy acidity, and an elegant flavor. Ideal as an aperitif, it's also a good pairing with seafood dishes and olive oil-based Greek recipes.
4. INATOS, STRATARIDAKIS WINERY [ Muscat of Spina ]€34.90
With this wine, Strataridakis, a.k.a. the master of Muscat of Spina, presents a premium and quite surprising varietal expression. All the extroverted fruit and floral aromas, such as ripe peach, citrus peels and flowers, are embraced by the "barrel effect". If you crave rich and complex aromatic wines with balanced acidity and a long fatty aftertaste, you've just found the right wine to pair with either fish or white meat.
5. A PRIORI MANTINEIA, NOVUS [ Moschofilero ]€10.70
NOVUS Winery is the creation of Leonidas Nassiakos, whose name is linked with Moschofilero and its PDO region. This wine is a charming, well-structured and charismatic PDO Mantineia, with delicate and demonstrative aromas of rose petals, rose water and loukoumi. It also has herbaceous hints and notes of orange, as well as a round sip with luscious acidity and a long, intense aftertaste.
6. TACHTAS, DOULOUFAKIS WINERY [ Tachtas ]€11.50
Crete has an inexhaustible wealth of hidden wine treasures, including the white variety Tachtas This wine is unique! The deep yellow hints at an aromatic profile of ripe pears, peaches, apricots and white flowers, while the velvety texture and creamy sweet sensation harmonize perfectly with the mildly refreshing acidity.
7. ISEXY, HETERO WINES [ Vilana, Thrapsathiri ]€14.90
Inspired by sexiness as an attitude, this wine is an impressive result of gypsy winemaking. Cretan grape varieties Vilana and Thrapsathiri blend harmoniously. Melon, peach, apricot, and grapefruit, along with orange blossoms and lemon blossoms, define the aromatic palette. As a result, this white is aromatically confident enough to become your next obsession.
8. NEGOSKA ROSÉ MIKRO KTIMA TITOS [ Negoska ]€14.30
The Goumenissa region, known for its quality wine production, has a new member in its wine club, a 100% Negoska rosé that will amaze you as much as the fairytale set-up of the winery, hidden in the dense oak forest. Red fruit aromas, floral notes, pink grapefruit, lime and bergamot hints direct a pleasantly fresh, silky sip.
9. SAN GERASIMO, OREALIOS GAEA [ Robola ]€13.60
The grapes that go into San Gerasimo PDO Robola of Cephalonia are sourced from semi-mountainous vineyards of Kefalonia still cultivated using traditional techniques, producing low yields of exquisite quality. This formula is how Ionian wines reply to their Aegean counterparts, and here it results in complex aromas of citrus fruits, crispy acidity, and an intense and fresh finish.
10. ERGO ROSÉ, LANTIDES WINERY [ Assyrtiko, Agiorgitiko ]€19.20
This is a blend of white Assyrtko and red Agiorgitiko from Lantides Winery, which employs a variety of winemaking methods, including the use of amphorae, cement and stainless steel tanks and oak barrels, to create premium, complex and food-friendly wines that excite the nose and the palate with mild aromas and diverse flavor profiles. This fine rosé is a perfect match for seafood in particular and Mediterranean cuisine in general.
11. VOLACUS WINE [ Mavrotragano ]€55.00
The special energy of an undoubtedly unique terroir and the multidimensional personality of the Mavrotragano grape combine to create impressive results. After undergoing fermentation with native yeasts, the wine takes its time – two years – in French oak barrels before it's bottled unfiltered. Only 400 bottles are out there, so you'd better visit Tinos soon!
12. PASSAGE STROFILIA ESTATE WINERY [ Savatiano ]€7.70
This contemporary version of Savatiano, the indigenous grape of Attica, is tasty and exciting! Delicate citrusy aromas join with notes of orange blossom, pear and herbs. A balanced, full yet refreshing taste gives way to a pleasant fruity aftertaste with a hint of white pepper. It's an amazing accompaniment to different Greek mezedes, seafood, green salads and even white meat.
13. SANTORINI, GAVALAS WINERY [ Assyrtiko ]€30.90
If you like volcanic wines, you'll love Santorini. Free-flowing juice from more than 50-year-old Assyrtiko vines take part in classic white vinification. The extraordinary terroir of the island provides amazing minerality and flinty scents to the wine. The light aromas of lemon and peach, the typical saltiness and the high acidity all match perfectly with clams and oysters!
14. MEGALI PETRA, SARRIS WINERY [ Mavrodaphne ]€21.10
The zero-elevation 55-year-old Melissa vineyard in the Minies area of southern Kefalonia yields high-quality grapes, and the result here is a seductive red that's round and balanced, oak free with black fruits, balanced and refreshing acidity in combination with velvety tannins and a long-lasting aftertaste.
15. AGERIKO, LIPSI WINERY [ Athiri, Assyrtiko, Fokiano ] €13.30
This beautiful white blend put the island of Leipso's on the wine map of Greece. Three charming varieties, the red Fokiano (in white vinification) and the whites, Assyrtiko and Athiri maintain their typical characteris- tics while highlighting their origin. There are extroverted aromas of pears, melons and apricots, minerality, refreshing acidity and lasting aftertaste.
16. DIASELO WILD YEAST KIDONITSA, PALIVOU ESTATE [ Kidonitsa ]€21.10
Palivou Estate redefines the profile of the ultimate up-and-coming white Greek grape, Kidonitsa, in a terroir-driven wine with a touch of French and American oak (2 months each in a row). With complex aromas of citrus fruit, quince (the characteristic for the variety), peach, honey and caramel but- ter. The refreshing acidity balances perfectly with the creamy, almost full body, texture and leads to a long lasting finish.
17. AIDANI, HATZIDAKIS WINERY [ Aidani ]€28.50
This PGI Cyclades Aidani, from the Santorini vineyards in Pyrgos, Megalohori, Akrotiri and Emporio is an absolute must-try. Having remained on fine lees for 6 months and bottled unfiltered, it boasts fine aromas of citrus fruits, pear and nuts, blended with floral notes such as gardenia. It has an elegant yet buttery texture with hints of saltiness through to the finish.
18. ORATOR, AKRATHOS NEWLANDS WINERY [ Agiorgitiko, Syrah, Grenache Rouge ]€14.20
Orator pays homage to the role that wine has played throughout history in Greece. A successful blend of three vari- eties – Agiorgitiko, Syrah and Grenache Rouge – vinified separately, before their final blending, this pale rosé is honest and seduc- tive, crispy and refreshing, well made and delicious. Strawberries, cherries, peaches, mint, and jasmine are about to dominate your palate. Be ready!
19. MAGIOVOTANO WILD FERMENT, AMPELOURGEIN [ Liatiko ]€24.50
Cretan vineyard. Ampelourgein Winery grows this native grape organically and the result is amazing. Magiovotano is a low-intervention, gently oxidative, naturally sweet wine. With hedonistic aromas of red fruits such as strawberry and sour cherry, raisins, carob, sweet spices, coffee and chocolate. Smooth tannins, and exceptionally refreshing acidity contribute to an everlasting finish.
20. SAMOS GRAND CRU, UWC SAMOS [ Muscat of Samos ]€9.80
This classic Vin Doux Naturel is considered to be the most important ambassador of the Samos PDO. This terroir-driven varietal dessert wine is an excellent example of balance between sweetness and freshness. The grapes are sourced from selected semi-mountainous vineyards. Exotic fruits and blooming flowers help to facilitate challenging food pairings with sweet or salty bites.