Are we sure that Greek wine isn't already fine wine? What is fine wine, anyway? And is it something that we should care about, or even like?
The very concept of "fine wine" might be an oxymoron in the minds of many. Wine is, after all, an agricultural product and a staple of nutrition in quite a few countries. So, a natural assumption might be to think of wine as just a commodity. However, wine hits world markets in a vast number of guises, with wildly different qualities and at widely varying prices. Although there are other products "born of the land" that can command crazy prices — such as truffles, speciality coffees, rare teas or, indeed, beef — fine wine has a gravitas and an abundance of cultural implications that make it unique.
Any attempt to define fineness in wine will, sooner or later, stumble onto the thorny question of "How much does it cost?" Areni, one of the most important think tanks in the world of wine, defines fine wine initially by price. In a recent study, they used a three-tier system. The first tier of fine wines is for wines that retail between roughly €55 and €330; the second tier goes from €330 to €1000; and the final segment is for wines that retail above €1000. If this is all that's needed to spot a fine wine, then Greek wine is largely out of contention: less than fifty labels from our country belong to the first tier and possibly none to the tiers above. But the idea that the selling price alone is enough to make a wine fine is a dangerous concept, one that pushes winemakers to price their products higher just to jump on the "fine wine" bandwagon.
There is a serious distinction here that we must address – "fineness" and "pricy-ness" are two dissimilar, only slightly overlapping, concepts. High quality, because this is the real issue here, is all you need in my book to call a wine "fine." High price, on the other hand, is the result of a very complex equation with a myriad of variables, from history to rarity and from market trends to producers' illusions of grandeur. I'm not going to say that "cheap wine can taste as good as that €100 bottle," or that "expensive wine exists only because insecurity does as well." There are usually many reasons behind the success of a wine, and high quality must play a role. But, flip that around and you'll see that a lot of fine wines haven't, in fact, cashed in on their superior quality. Over the last two decades, the concept of fine wine has become embellished with other, more nuanced notions. The aromas, the complexity, the balance and the persistence remain in the picture, but there is so much more in a wine. Things like character, individuality or suitability to match with food are increasingly viewed as equally significant. Other qualities are decreasing in importance, like ageing ability – after all, who has the cellar space, the money and the patience to enjoy a 30-year-old wine, and why should we even bother? Additional aspects, totally unrelated to taste, are slowly becoming parts of the fine wine canvas too. Sustainability, environmentally responsible methods of vine growing or winemaking, the importance of wine production in the local community, and many other factors and ethical considerations are taking centre stage. If wine is a vital part of the social fabric, then any endeavour to understand or define its quality must be holistic, going far beyond what is in the glass.
Δείτε Επίσης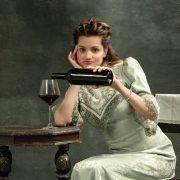 Αρχική » CAN GREEK WINE EVER BE FINE WINE?
This is the splendour of Greek wine. Greece produces wines that, by any measure, have the taste, the balance, the purity, the personality and the sophistication to excite anyone, from the occasional wine drinker to the wine connoisseur. For millennia, these wines have been created to complement food, no matter what is on your plate. The many different, usually rare, indigenous grape varieties have been sculpted by our climates, our people, our traditions, our philosophies and our lifestyles, and these varieties are turned into wines that are truly unique. There are very few things, if any, with the same power as Greek wine to reach you wherever you are and deliver such a detailed portrayal of what Greece is all about. And, yes, you can have it all in your glass: Greek history, geography, culture, anthropology and more, just a sip away.
I think I'm thirsty… g