Overlooking the beautiful Avithos Beach, the Avithos Preview Taverna offers you a little more than your average Greek taverna. Since 2004, Panos and his mother Angela have been producing delightfully authentic Cephalonian and Greek cuisine, using select local products, fresh fish straight from the fishermen at Argostoli Harbor, and vegetables from their own organic garden.
Cephalonian meat pie, eggplant in tomato sauce, fried cod served with aliada (garlicky mashed potatoes) and bourgeto (whitebait in tomato sauce) are just some of Angela's specialties, while Panos is a certified sommelier, serving the very best local wines from an extensive wine list. 

Bourgeto (whitebait in tomato sauce)
Ingredients (4-6 servings):
1/2kg whitebait (cleaned, gutted and heads removed)

100ml olive oil

3 chopped garlic cloves 

3-4 grated tomatoes or 300ml tomato juice

1/2 teaspoon dry oregano

1 dry bay leaf

Pinch of rock salt

Juice of half a lemon
Preparation:
In a frying pan, place the olive oil and garlic, and sauté for 2 minutes. Add the tomatoes and stir for 5 minutes. Add the oregano, bay leaf, and whitebait. Add salt. Cook for 15 minutes. Add the lemon juice, and plate up.
Fried Cod with Aliada (garlicky mashed potatoes)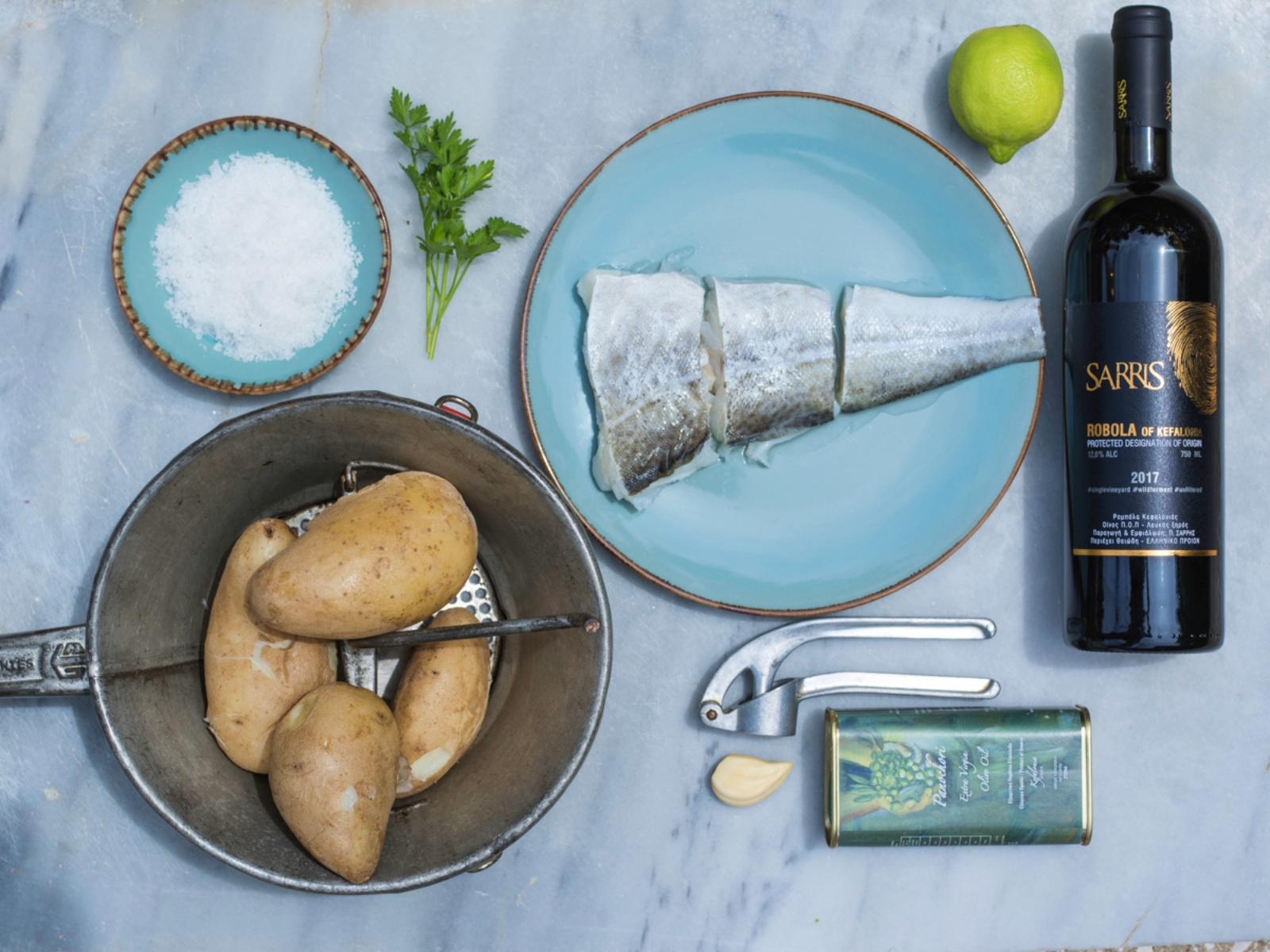 Ingredients (4 servings):
1 large piece of salted cod (soaked in water overnight, with a change of water 3 or 4 times to remove salt)

Vegetable oil for frying
For the batter:
For the aliada:
1kg potatoes

6 cloves of garlic

Juice from a whole lemon

1 tablespoon salt
Preparation:
Without peeling, wash the potatoes and boil well. Cut a piece from the end of the cod (about 1/3 of the filet) and simmer for 15 minutes. Reserve the water. Peel the potatoes while still warm and put into a mixer with the garlic, lemon juice and one glass of the water used to boil the cod. Mix until creamy. In a deep plate, mix the water and flour to make the batter. Cut the remaining cod into pieces and dip them in the batter. Fry in a non-stick frying pan with plenty of oil. Serve the cod with the aliada and boiled beetroots.
Wine Pairing
Robola is a wine intended to accompany fish, seafood, and "oily" summer dishes with light sauces. Of course, if you'd like to be faithful to the customs of Cephalonia, you'll drink your Robola with the traditional dish of the island, fried cod with aliada.
Fried cod with aliada, with a Sarris Robola of Kefalonia 2017
From the "Megali Petra Domain" of Panos Sarris comes this Robola, made with grapes from three privately owned vineyards on the southern slopes of Ainos. Stony and limestone soils on steep slopes that enjoy the sea breeze create the ideal conditions for the best expression of the variety. This wine has concentrated aromas of white flesh fruits, flowers and herbs, and a rich body, crisp acidity and a long aftertaste with notes of minerality.
Bourgeto, with Gentilini Wild Paths 2017
A limited-production single-vineyard Robola, passed through French and American oak barrels. Aromatic, with rich body, refreshing acidity and long after taste.
Avithos Beach, Kalligata, Cephalonia
T: (+30) 26710 42135 g