Nestled in the azure waters of the Mediterranean, the island of Crete is a gastronomic paradise that entices travelers with its rich culinary heritage and delightful wines. The largest Greek island, Crete boasts a vibrant culinary scene that reflects its historical influences and its many natural resources.
Crete's gastronomy goes hand in hand with its exceptional wines. The island's vineyards produce a diverse range of wines, from robust reds to crisp whites and delightful rosés. Its winemaking tradition dates back thousands of years and today local wineries combine traditional techniques with modern expertise to create unique and flavorful wines.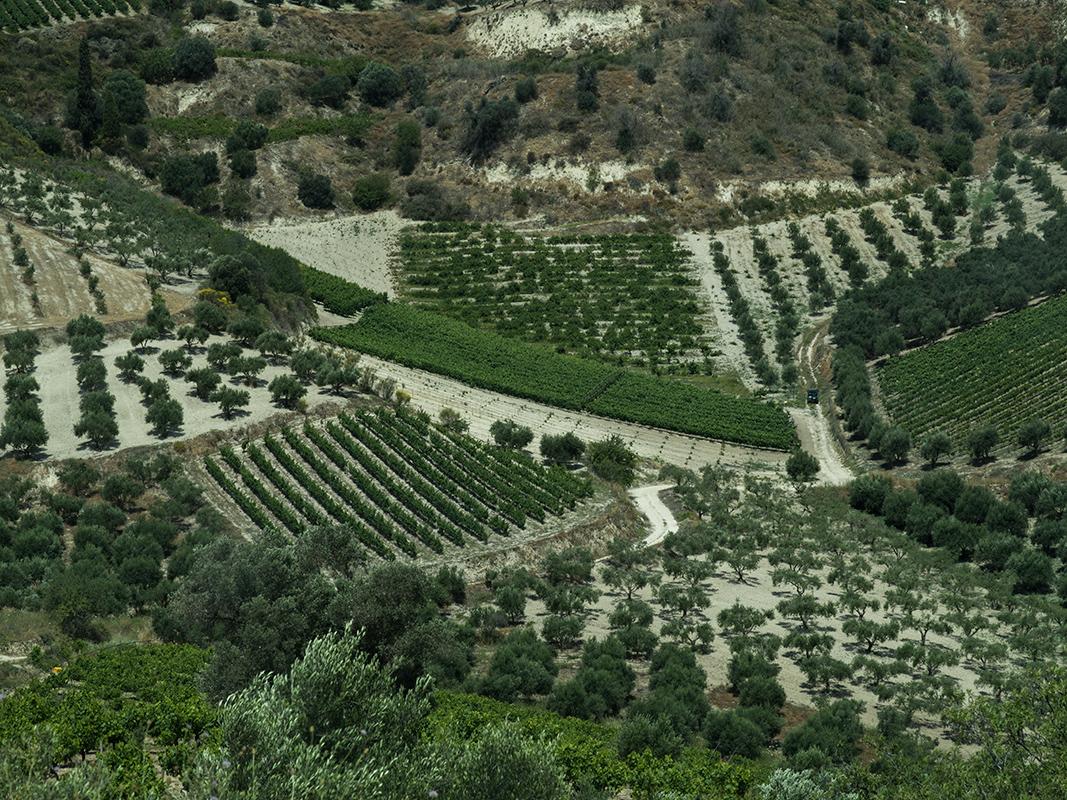 Accompanying the wines is Crete's delicious cuisine, which is a celebration of fresh, locally sourced ingredients. The island's fertile soil yields an abundance of vegetables, fruits, and herbs, while the surrounding Mediterranean Sea provides an abundance of seafood. Cretan cuisine is known for its simplicity, and for its emphasis on natural flavors. From the iconic dakos (rustic barley rusks topped with tomatoes, olive oil, and feta cheese) to the mouthwatering lamb dishes cooked with aromatic herbs, every bite you take in Crete is a revelation.
In addition to its other flavorful ingredients, Cretan cuisine also incorporates the island's famed olive oil. With a long history
of olive cultivation, Crete is renowned for producing some of the world's finest olive oils. The locals use this golden elixir liberally, infusing their dishes with its distinct flavor and health benefits.
Exploring Crete's gastronomy is a journey through its history and culture. Visitors can savor traditional dishes in cozy tavernas, visit local markets bursting with fresh produce, and even participate in cooking classes to learn the secrets of Cretan cuisine firsthand.
Crete's wines and its gastronomic wealth are testaments to the island's rich heritage and the passion of its people. Both in the vineyards and in the kitchens, every step of the production process is infused with a deep appreciation for quality and tradition. Whether you're a wine connoisseur or a food lover, a visit to Crete promises an unforgettable culinary adventure that will leave your taste buds yearning for more.
IRAKLEIO
The area of Irakleio is home to a number of wineries that embody the rich tradition of winemaking of the island. Nestled among sun-drenched hills and fertile plateaus, these wineries welcome hundreds of visitors every year who are eager to explore the vineyards and learn the secrets to cultivating indigenous varieties such as Vidiano, Assyrtiko and Malvasia.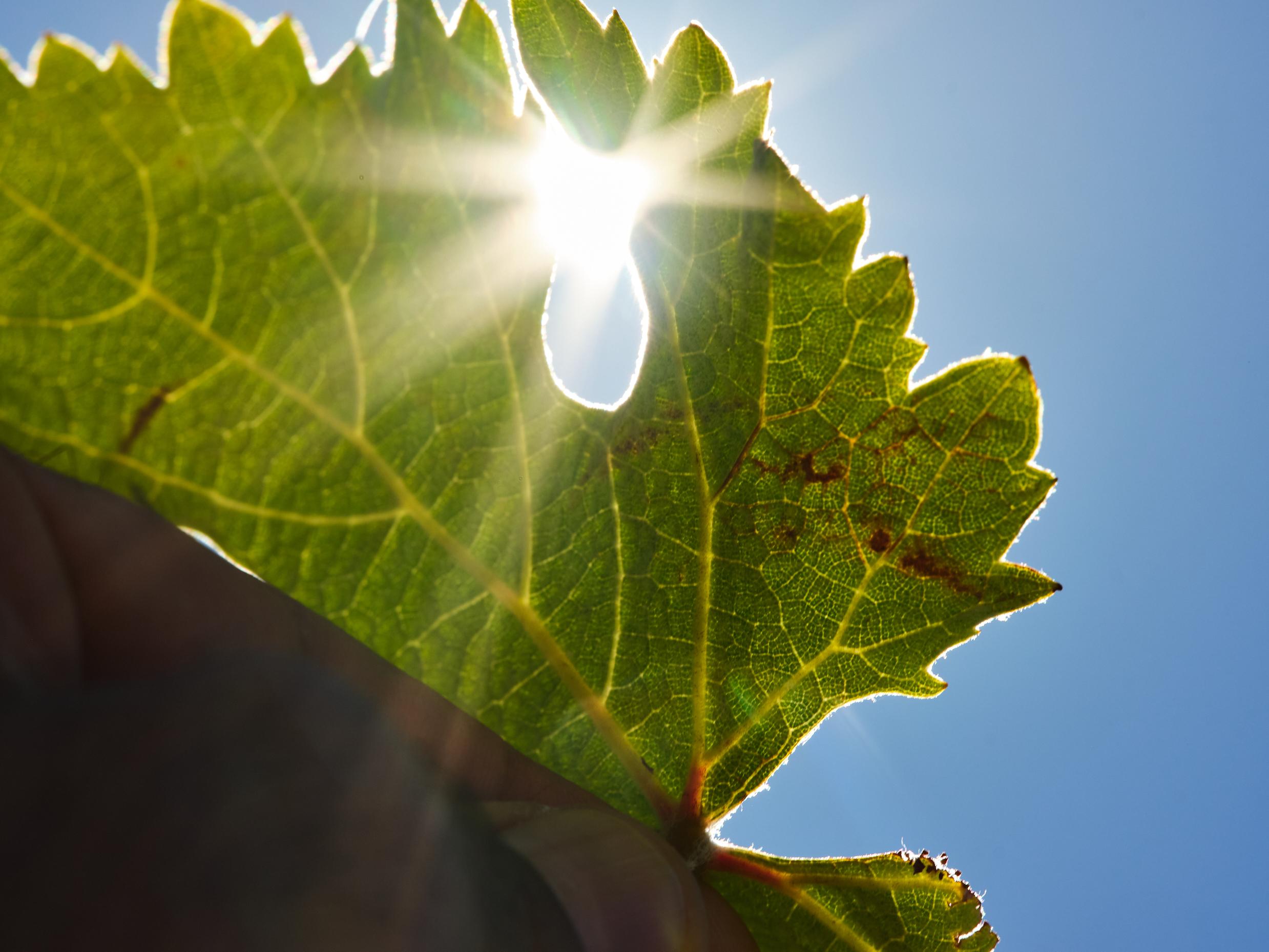 A few summers ago, we took a tour around the wineries in Irakleio and met with the people who are dedicating their lives to reviving the island's great indigenous varieties. We enjoyed their warm hospitality, but have yet to fulfill our promise to return.
LYRARAKIS WINERY
Contrary to the local tradition of working with small parcels of land, this winery is surrounded by 14.5 hectares of vineyards which Sotiris Lyrarakis obtained in the 1960s. Organic viticulture has been applied to all the family-owned vineyards over the last few years, and the winery's main philosophy is to support sustainability both in viticulture and during the winemaking process. Four of the winery's varietals – Vilana Queen, Vidiano Queen, Single Area Plyto Psarades and Vidiano Ippodromos – from rare indigenous varieties are now certified as organic.
This is truly a family business; brothers, cousins and nephews are all involved, as the older generation gives way to the younger one. The family is devoted to reviving Crete's indigenous varieties, some of which were close to extinction, including the white varieties Dafni, Plyto and Melissaki. During the last few years, the winery has opened its doors to thousands of tourists, offering wine tours and rare wine-tasting experiences with food pairings involving traditional Cretan dishes.
LYRARAKIS.COM 
SCALAREA ESTATE(Boutari Winery)
One visit is never enough to absorb the fascinating beauty of this estate, situated just 8 km from the archaeological site of Knossos. One of its previous owners had named the estate "Fantaxometocho" which, in Greek, means "the haunted estate." The idea was to keep pirates away by spreading the rumor that location was haunted. Surrounded by its vineyards, the winery offers spectacular views of the nearby hills and is open to visitors who wish to tour the cellars and enjoy a wine-tasting session (accompanied by local cheese and cold cuts) or a wonderful wine picnic in a unique setting. Visitors can also choose to stay in one of the three suites at the estate's old guesthouse. The Boutaris family, one of Greece's oldest wine producers, bought the estate in the 1990s and, in 2014, begun to replant the whole vineyard, focusing on Crete's indigenous varieties: the reds of Kotsyfali and Liatiko and the whites of Vidiano , Assyrtiko Athiri. Today, the estate is the property of a new company, Ellinika Oinopoieia.
DOULOUFAKIS WINERY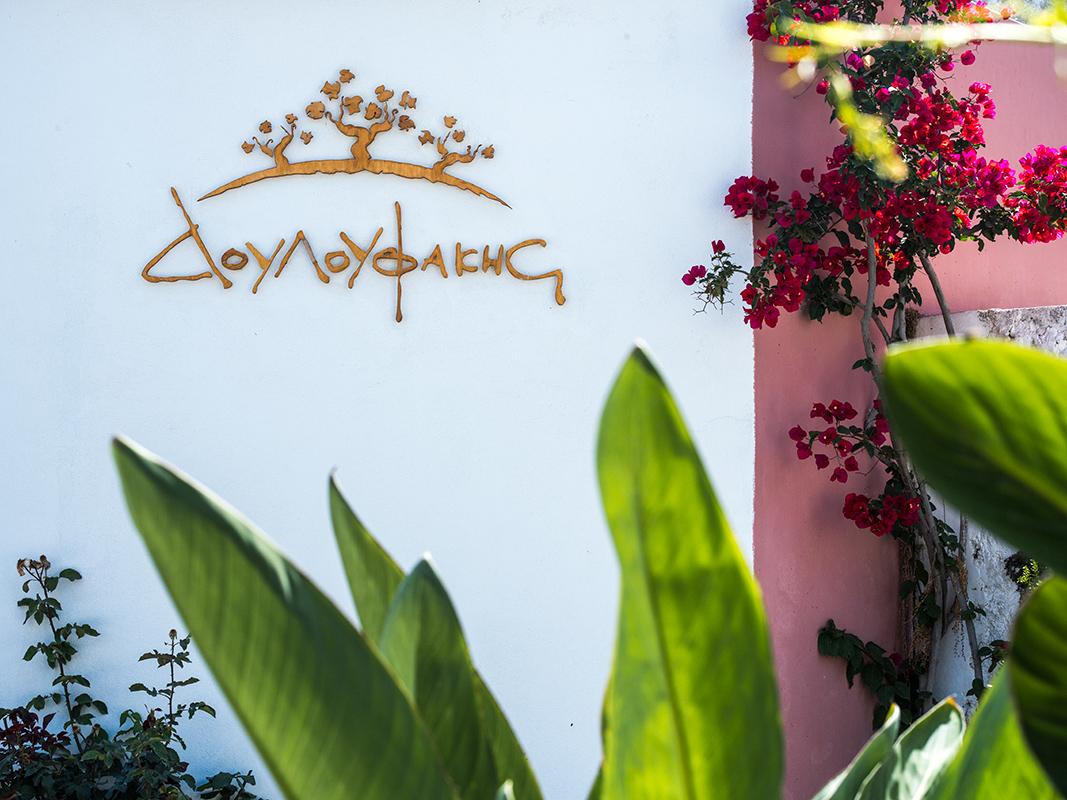 Bouncing down a steep dirt road in the back of a pickup truck might be a bit out of the ordinary, but it's also the best way to take in all the wild beauty of the Cretan landscape. Vineyards and olive groves are all you'll see descending the hill from Dafnes, the village where Nikos Douloufakis has his winery. The vineyards are small parcels of land scattered among olive groves around the area, a dispersal which doesn't help with costs but does give the wines greater complexity. All the vineyards are located on steep slopes, harvesting is done manually and the main varieties are Vidiano, Vilana, Assyrtiko, Mandilari, Malvasia, Liatiko and Kotsifali, for the indigenous varieties, and Chardonnay, Sauvignon Blanc, Sangiovese and Syrah for the internationals.
 DOULOUFAKIS.WINE
 DOMAINE PATERIANAKIS
Along with the breathtaking views of the vineyards from the windows of the winery, we were treated to Cretan delicacies, cheese, olives, homemade bread, and true Cretan hospitality during our visit to this estate in the area of Arhanes. Emanuella and Niki Paterianaki now run the winery established by their father George, and they're producing organic wines, following the practices of biodynamic viticulture which forms part of the tradition of winemaking in Crete. The winery building, designed by their father – a civil engineer by profession – was built with six levels in order to take advantage of gravity during all stages of production. The winery's philosophy involves the production of high quality wines with the least possible intervention. The wines produced belong to four different groups: natural wines; premium wines; local wines, with an emphasis on local varieties such as Vidiano, Assyrtiko, Kotsifali and Mandilari; and a varietal wine made from Moschato Spinas, a rare indigenous variety that originated in western Crete.
PATERIANAKIS.GR
SILVA DASKALAKI WINERY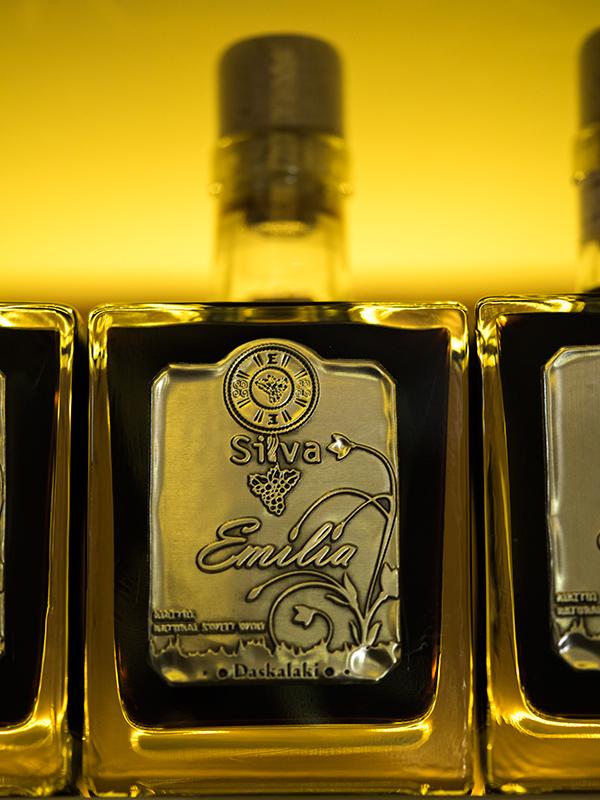 Irini Daskalaki is an impressive woman. She wakes up every morning to tend to her vines before the sun rises and only goes to bed after having inspected all the work in the winery. A strong believer in biodynamic viticulture, she follows a special calendar based on moon phases, according to which she plans all the work that has to be done in the vineyard. Her daughter Haroula is responsible for bottling and marketing. "You can't be a real winemaker if you're not willing to put your hands in the dirt," Irini says. "You've to be very careful during all the stages of winemaking, because what good is it to have a good grape and then mess up with the winemaking?" Her hard work has been recognized; the estate's wines have won numerous prizes. The winery's emphasis is on indigenous varieties, although their best wine is considered to be a blend of Kotsifali and Syrah. They also produce a series of sweet wines from local varieties.
 SILVAWINES.GR
 DIAMANTAKIS WINERY
Zacharias Diamantakis is one of the many young aspiring wine producers on Crete. The Diamantakis Winery is located in Kato Assites, surrounded by vineyards scattered around the eastern foothills of Crete's highest mountain, Mt. Psiloritis. The views from the winery are spectacular, and the wine-tasting experience that Zacharias organized for us was unique.
The vineyards here are at an elevation of 400 m with a southeastern aspect. They have been planted on terraces because of the steepness of the slope; manual harvesting is quite a challenge. The varieties planted here are the indigenous Mandilaria and Malvasia, as well as Chardonnay. A little higher up, at 600 m, is a vineyard planted with Assyrtiko. Diamantopetra White, a blend of Vidiano and Assyrtiko, is one of this winery's best wines.
DIAMANTAKISWINES.GR
RETHIMNO 
Rethimno is home to one of the best known Cretan varieties, Vidiano, which survived in the really old vineyards of this area, some of which are over a hundred years old. The planted area in Rethimno is smaller than those in the other regions of the island, and most of the old vines can be found at high elevations of 600 meters or more. Having started out in this mountainous area, the Vidiano variety is now considered one of the most promising varieties, not only of Crete but of Greece as a whole.
ILIANA MALIHIN WINERY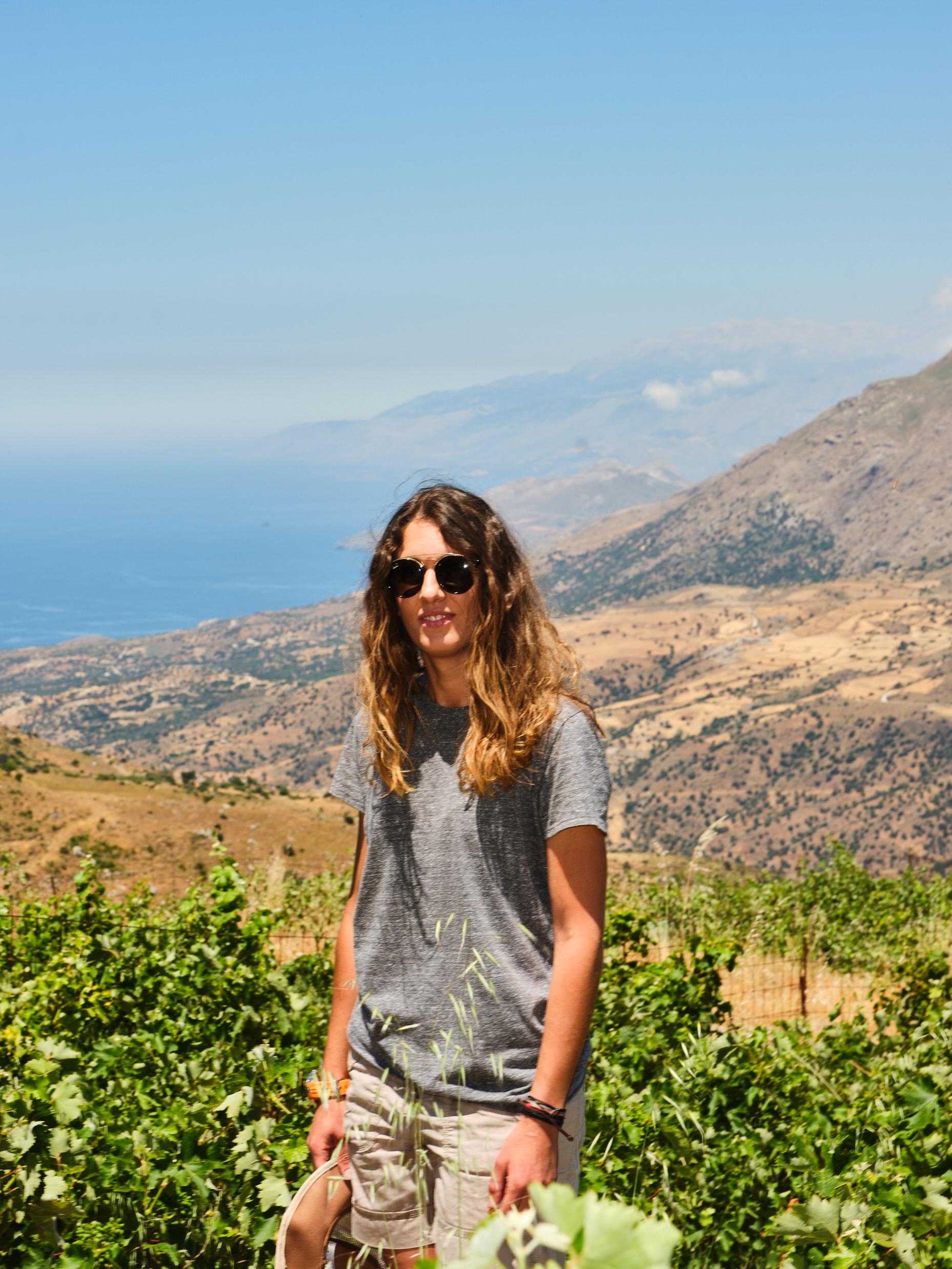 Having moved to the area from which her grandparents came, Iliana decided to dedicate herself to salvaging old abandoned vineyards that had once belonged to the villagers. For years now, she has been taking care of vines, some as old as 140 years, that grow at an elevation of 900 meters. It is a unique vineyard, a part of which, unfortunately, suffered serious destruction during a brush fire two years ago. Malihin has put all her efforts in keeping it alive, managing to get funding from a number of people, including fellow winemakers who wanted to help. She's a strong advocate of organic farming, which she has been trying to teach to the local farmers, and the wines she produces are made with minimal intervention. The winery, housed in an old storage facility in the village of Melambes, has been turned into a welcoming space now open to visitors.
 ILIANAMALIHINWINERY.COM
KLADOS WINERY
This is a family-run business, founded in 1997 by chemist-oenologist Emmanouil Klados.
In 2000, the winery team began an effort to promote the local Vidiano variety and, since 2003, it has been organically growing the variety. Today, the second generation is in charge. His son Stelios, who studied chemistry at the University of Crete and got a post-graduate degree in oenology in Italy, has been in charge of the winery since 2014. The emphasis of this winery is on Vidiano, which is produced both as a varietal under the label "White Diva" and in a blend with Moschato Spinas that comes under the name "The Great Hawk". The winery is open to visitors and offers further option to those who aren't just interested in tasting the wines.
KLADOSWINERY.GR
CHANIA
On the other side of Crete, near the picturesque port of Chania, we came across a number of wineries producing exceptional wines that reflect the unique terroir of the area, from crisp whites to robust reds.
MANOUSAKIS WINERY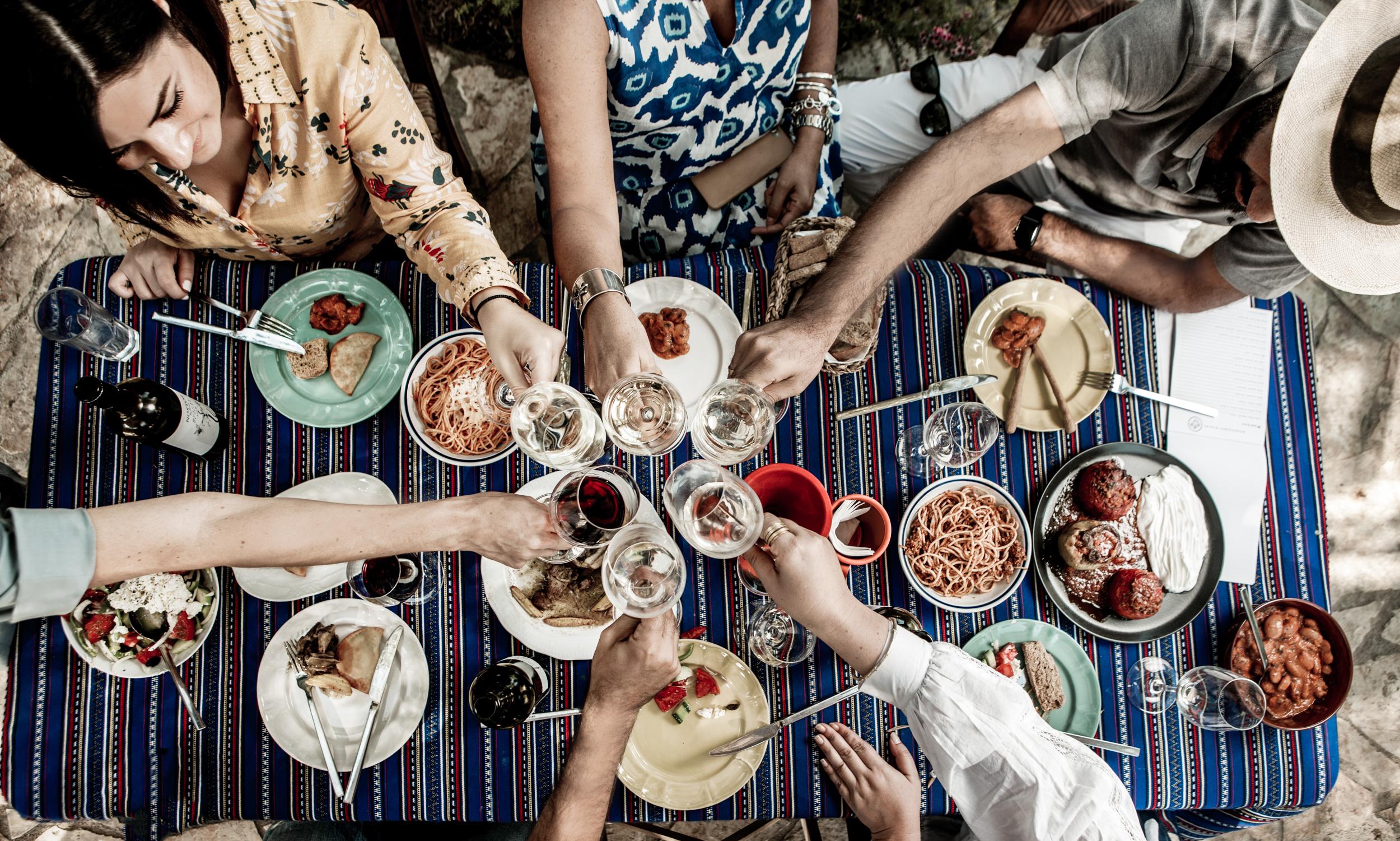 This beautiful estate, situated in Vatolakos, about 15 km from the city of Chania, owes its existence to the vision of one man. Born in 1943 in a house that still exists on the estate, Theodoros Manousakis emigrated to the United States at the age of 11 to escape the dire economic situation at home. As a young immigrant, he built a new life but never forgot his homeland; the desire to come back was always ablaze in his heart. A successful businessman and a well-traveled individual, Manousakis set out to produce great wines from his home soil. He began by buying a few plots of land and, with the help of experts, decided to plant four Rhone Valley varieties: Syrah, Grenache, Mourvedre and Roussane. Soon the vineyard was expanded to include Greek varieties; Vidiano, Assyrtiko, Romeiko are now all vinified under the guidance of the estate's chief oenologist, Kostas Galanis. Today, the management of the winery has passed into the hands of Manousakis' daughter Alexandra and her husband Afsin Molavi, a sommelier who also owns Salis, an award-winning restaurant in Chania that offers an impressive wine list.
 MANOUSAKISWINERY.COM
DOURAKIS WINERY
Situated in the area of Alikampos, this winery was one of the first ones in the region of Chania to open its doors to visitors and offer wine-tasting sessions. The estate was established in 1988 by Andreas Dourakis, who had studied oenology in Stuttgart; today, it's run by his son Antonis. The first label produced was "Logari", which slowly came to be known at local restaurants and hotels during a time when the dominant trend was to serve wine in bulk, i.e., by the carafe rather than the bottle. The elder Dourakis made the decision to invest in the winery, buying equipment and building an elegant building whose design was based on traditional architecture. "If it doesn't work out, we can always turn it into a nightclub," he used to joke. Things did work out, however, and the estate now produces 17 different labels, most of them from local varieties. The grapes being grown on the estate are a mix of local and international varieties, but with an emphasis on the Cretan ones: Vidiano, Malvasia, Kotsifali, Mandilari, and Romeiko, an indigenous variety from the area of Chania that many winemakers find attractive.
DOURAKISWINERY.GR
KARAVITAKIS WINERY
Still in the region of Chania but on the other side of the area's capital city, we found Karavitakis Winery, where we were welcomed by Nikos Karavitakis, a fourth-generation winemaker. Karavitakis's great-grandfather was the family's first winemaker, although the estate was established by Nikos' father Manolis who, upon returning from his studies in Italy, became manager of the local cooperative while also caring for the family's vineyards. Most of the vineyards in the area had been destroyed by phylloxera, and the local people had turned to the cultivation of olives. Influenced by his studies in Italy, Manolis started planting international varieties such as Syrah, Grenache and Carignan, but quickly turned his attention to the indigenous varieties, which today make up 85% of the cultivation. "The estate's philosophy, especially in the past 11 years since I started working here, is to showcase the potential of our indigenous varieties, using them in blends with international varieties but also making good quality varietal wines," Nikos explains, adding that he believes in a more modern approach to winemaking with less barrel, more expression of the fruit and lower alcohol levels. According to him, the two indigenous varieties that can stand alone and make it to the international markets are Vidiano for whites and Liatiko for reds. "Vidiano is a strong variety that can have many different expressions; it can make everything from fresh everyday wines to dynamic aged ones. Contrary to what many believe, it is not an aromatic variety," he says. "As far as Liatiko is concerned, we choose to approach it more as a Pinot Noir, producing a fresher, more New World, fruitier style with minimal barrel in comparison to the traditional long barrel-aged style of other producers."
KARAVITAKISWINES.COM