The Cycladic islands have always been synonymous with the Greek summer, offering deep blue waters, wonderful beaches, plenty of sun, great hospitality, and excellent food. Unfortunately, as in many regions of Greece, visitors did not always have a great experience when it came to wine.
In the past, cheap wine would fill the glasses at waterfront tavernas, leaving customers with a bad taste in their mouths. However, it's important to note that the Cycladic islands do produce good wine and that, in fact, they are home to some of the most important Greek varieties, with Assyrtiko being a celebrated example.
Over the past decade, Santorini and many other islands have been developing their wineries and can now offer great wine tasting experiences and excellent wines that perfectly complement the fine food products these wind ravaged islands have to offer. Visitors can taste sundried tomatoes from Santorini, rare cheeses from Naxos and Paros, and other delicacies from islands like Tinos and Syros alongside the wines, creating a unique culinary experience for those who wish to go beyond just lying in the sun. Of course, there's nothing wrong with stretching out on the beach, but if you can combine it with excellent food and wine, then even just lying in the sun can be a whole new experience…
Santorini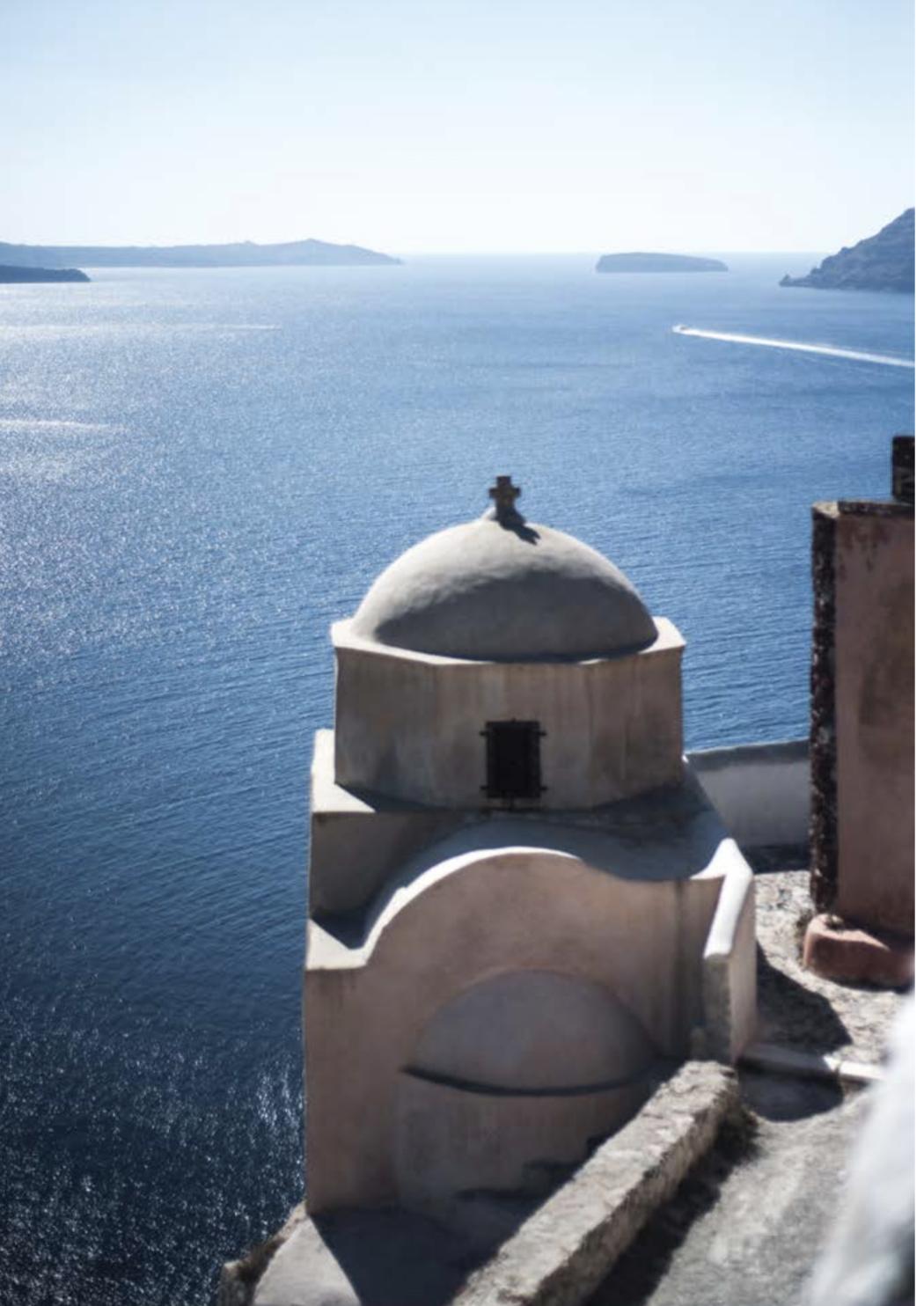 World renowned for its sunsets, its savage beauty of volcanic terroir, its breathtaking sea views and its luxurious hospitality, the island now offers another great thing. Santorini is a mesmerizing wine region in Greece, a true vinicultural gem. Its unique volcanic soil, ancient vineyards, and Cycladic terroir create an exceptional winemaking environment.
It's renowned for its indigenous Assyrtiko grape variety, which produces vibrant, mineral-driven whites that beautifully capture the island's essence. From bone-dry to lusciously sweet, Santorini wines display remarkable complexity and character.
Wineries offer unforgettable tastings, allowing visitors to immerse themselves in the region's rich winemaking heritage. The breathtaking sunsets, cliffside vineyards, and the Aegean Sea as a backdrop create an enchanting ambiance, making Santorini an unparalleled destination for wine enthusiasts.
ESTATE ARGYROS
Estate Argyros captivates with its unparalleled charm. Immerse yourself in their enchanting vineyards and savor their award winning wines, crafted with passion and precision. Indulge in the luxurious accommodations they offer and relish breathtaking views of the Aegean Sea. A truly unforgettable experience awaits you at the estate. ESTATEARGYROS.COM
HATZIDAKIS WINERY
Hatzidakis Winery provides a taste of Santorini's wine legacy and embodies a centuries-old winemaking tradition. Explore their vineyards, where ancient vines thrive in volcanic soil, and sample the handcrafted wines, celebrated for their distinct character and unparalleled quality. HATZIDAKISWINES.GR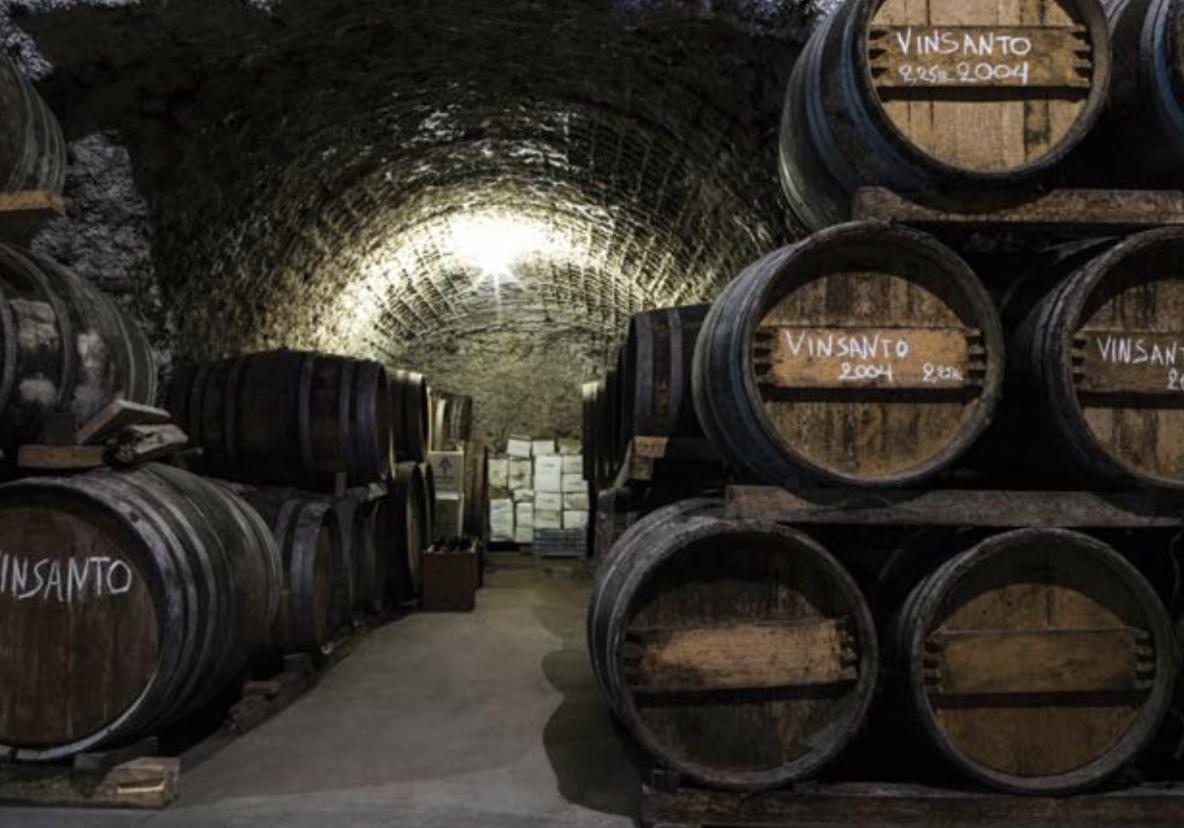 DOMAINE SIGALAS
Domaine Sigala Santorini invites wine enthusiasts on a sensory journey. Explore volcanic terroir, sip crisp Assyrtiko, and savor sunkissed Santorini flavors. Uncover ancient vineyards, breathe in the sea breeze, and witness traditional viticulture in action. Taste the essence of Santorini, where passion and terroir blend harmoniously.  SIGALAS-WINE.COM
ANHYDROUS WINERY
Set in a breathtaking Santorini landscape, Anhydrous Winery crafts wines of unparalleled purity. From sun-kissed grapes nurtured in volcanic soil, the winemaker creates remarkable expressions of terroir. Visitors will enjoy a journey of the senses that will leave indelible impressions on their palates. ANHYDROUSWINERY.COM 
VENETSANOS WINERY
Venetsanos Winery is a testament to time- less craftsmanship. With sweeping views of the caldera and exceptional wines, carefully crafted from hand-picked grapes, it's a perfect destination. Explore their state-of-the-art facilities and delve into the artistry behind each bottle. VENETSANOSWINERY.COM 
SANTO WINES WINERY
Explore the captivating world of Santo Wines, where passion for winemaking is intermingled with Santorini's volcanic essence. Taste thoughtfully crafted wine labels showcasing indigenous grape varieties. Enjoy a tour of their modern winery, surrounded by panoramic vistas. SANTOWINES.GR
BOUTARI WINERY
Boutari Winery showcases a rich legacy of winemaking expertise. Visit the vineyards, where indigenous grape varieties flourish. Witness the art of vinification in their historic cellars and taste exceptional wines that celebrate a harmonious fusion of tradition and innovation. BOUTARIWINERYSANTORINI.GR
ARTEMIS KARAMOLEGOS WINERY
Artemis Karamolegos Winery's exquisite portfolio combines passion and expertise. From elegant to "hardcore" whites, the labels show case the artistry of Santorini's terroir. Visit the modern winery, witness the craftsmanship and experience the allure of Greek wines at their finest. ARTEMISKARAMOLEGOS-WINERY.COM
KOUTSOGIANNOPOULOS WINERY
Meet the intricate wines of Koutsogiannopoulos Winery, where each bottle showcases the rich heritage of Santorini's indigenous grape varieties. Stroll through the historic winery, witness the art of vinification, and savor the symphony of flavors that exemplify the essence of Santorini wines. SANTORINIWINEMUSEUM.COM
VASSALTIS VINEYARDS
Vassaltis Vineyards' portfolio showcases a harmonious blend of aesthetic excellence and oenological craftsmanship. The exquisite wine labels are a testament to the artistry within each bottle. Explore this modern winery, where innovation meets tradition, and indulge in the refined flavors that define their exceptional wines. VASSALTIS.COM 
GAVALAS WINERY
Gavalas Winery in Santorini is an esteemed historic winery that's been producing exceptional wines since 1885. With a focus on indigenous grape varieties and a commitment to quality, their wines showcase the unique terroir of the island. A visit offers a captivating blend of tradition, innovation and breathtaking scenery. GAVALASWINES.GR
CANAVA CHRISSOU–TSELEPOS WINERY
Canava Chrissou-Tselepos Winery's wine labels reflect their commitment to quality and showcase the unique character of the Santorini terroir. Explore this charming winery, where traditional techniques complement modern innovation, resulting in exceptional wines that delight the senses. TSELEPOS.GR
GAIA WINES SANTORINI
Gaia is known for high-quality wines that reflect the unique terroir of the region. Blending tradition and innovation by combining ancient winemaking techniques with modern practices to create exceptional wines, Gaia Wines showcases the distinct flavors of Santorini's volcanic soil and the Assyrtiko grape variety. GAIAWINES.GR
CANAVA ROUSSOS WINERY
Canava Roussos Winery has a history that dates back to 1836. The winery is situated in an old traditional canava, a cave-like structure commonly used on the island for wine production and storage, where winemaking methods have been passed down through generations. CANAVAROUSSOS.GR 
OENO Π
OENO Π was founded by Paris Sigalas in an old canava belonging to his family; it's located right on the shore in Baxedes-Oia, near the area of the active underwater Kolumbo volcano. The winery was created for the production of high-quality wine and puts out a limited number of bottles (no more than 20,000) annually. OENOP.COM
ART SPACE WINERY
Art Space Santorini Winery is a welcoming place that honors tradition and yet boasts all the contemporary technology to ensure that the winery's motto, "quality over quantity", remains a true reflection of its operation. ARTSPACE-SANTORINI.COM 
MIKRA THIRA WINERY
Mikra Thira is the first and so far only winery built on the small island of Therasia, just to the west of Santorini. The structure that houses the winery was build to blend into the natural environment. It was constructed using local materials and reflects the traditional Cycladic architectural design with its geometric elements. The vineyard, which operates according to organic growing principles, yielded its very first harvest in 2018 and is already producing exciting wines. MIKRATHIRA.COM
Sikinos and Syros
Sikinos is one of the smaller Cycladic islands, with less tourism development and therefore more areas of untouched natural beauty. Syros is one of the first gems you'll spot from the ship if you're approaching the Cycladic islands from the west.
If you're looking for tranquility, purity and an absence of mass tourism, then it's the island for you. Despite its small size, Sikinos boasts a noteworthy wine region and wines renowned for the unique craftsmanship that produced them. The island's steep terraced vineyards, carved into the rugged hillsides, produce exquisite wines. Whether they're made from indigenous Aidani and Assyrtiko grapes or the delightful Mavrotragano red variety, Sikinos wines captivate with their distinct flavors and aromas. With a rich winemaking tradition rooted in ancient times, the island offers a wine experience that reflects both its stunning landscapes and its passion for winemaking.
MANALIS WINERY
Manalis Winery captivates visitors with its charming wines. Set in stunning surroundings, this family-owned winery produces a diverse range of products. From refreshing whites to robust reds, each bottle showcases the winery's dedication to traditional winemaking methods. Enjoy the tranquil atmosphere of Manalis Winery, visit its welcoming family restaurant and take part in a wine-tasting experience that will leave a lasting impression. MANALISWINERY.GR
SYROS
Ermoupoli, the stunningly picturesque port, happens to be the capital city of the island group. The island's rich cultural history is notable, and there are museums and performance venues attesting to this. The wealth of 19th-century neoclassical architecture sets it apart from the other Cycladic islands. Its favorable Mediterranean climate, abundant sunshine, and gentle sea breezes all contribute to an ideal terroir for grape cultivation. Growing on the terraced vineyards that dot the landscape are a delightful range of varieties; with them, skilled winemakers craft exceptional wines capturing the essence of the island.
CHATZAKIS SYROS WINERY
Drawing on experienced oenologists and holding a clear vision for the future, Chatzakis Winery began operations in 2011, working with local grape growers. Today, it continues to be dedicated to crafting exceptional wines that reflect the island's unique terroir, in a stunning location that is a must-visit destination on the island.[ +30 ] 694 630 2920
OUSYRA WINERY
The Ousyra Winery is a small family-run winery creating terroir-driven wines from rare indigenous Cycladic varieties. The philosophy of the winery dictates the curation of organi-cally farmed ungrafted vineyards. OUSYRAWINERY.COM
PARA KOPOIS WINERY
Para Kopois Winery embraces the ethos of small-scale artisanal production, focusing on quality rather than quantity. The winery's name, "Para Kopois," translates to "Extra Work" in Greek, reflecting the owners' com- mitment to meticulous care and attention throughout the winemaking process. [ +30 ] 697 498 9560
Paros and Naxos
Situated at the center of the Cyclades island group, Paros is a famous tourist attraction that offers numerous sandy beaches of extreme beauty, crystal clear waters, and beautiful inland landscapes. Naxos is the largest of all Cycladic islands and the most fertile, too.
PAROS
Paros, although it's less famous, has a winemaking history along as impressive as that of Santorini, and is worth discovering. Its sun-kissed vineyards and fertile soil produce wines of exceptional quality and character. With a rich winemaking tradition dating back centuries, Paros offers a diverse range of varietals, including the indigenous white grape variety Monemvasia and the red grape variety Mandilaria earning to a unique PDO.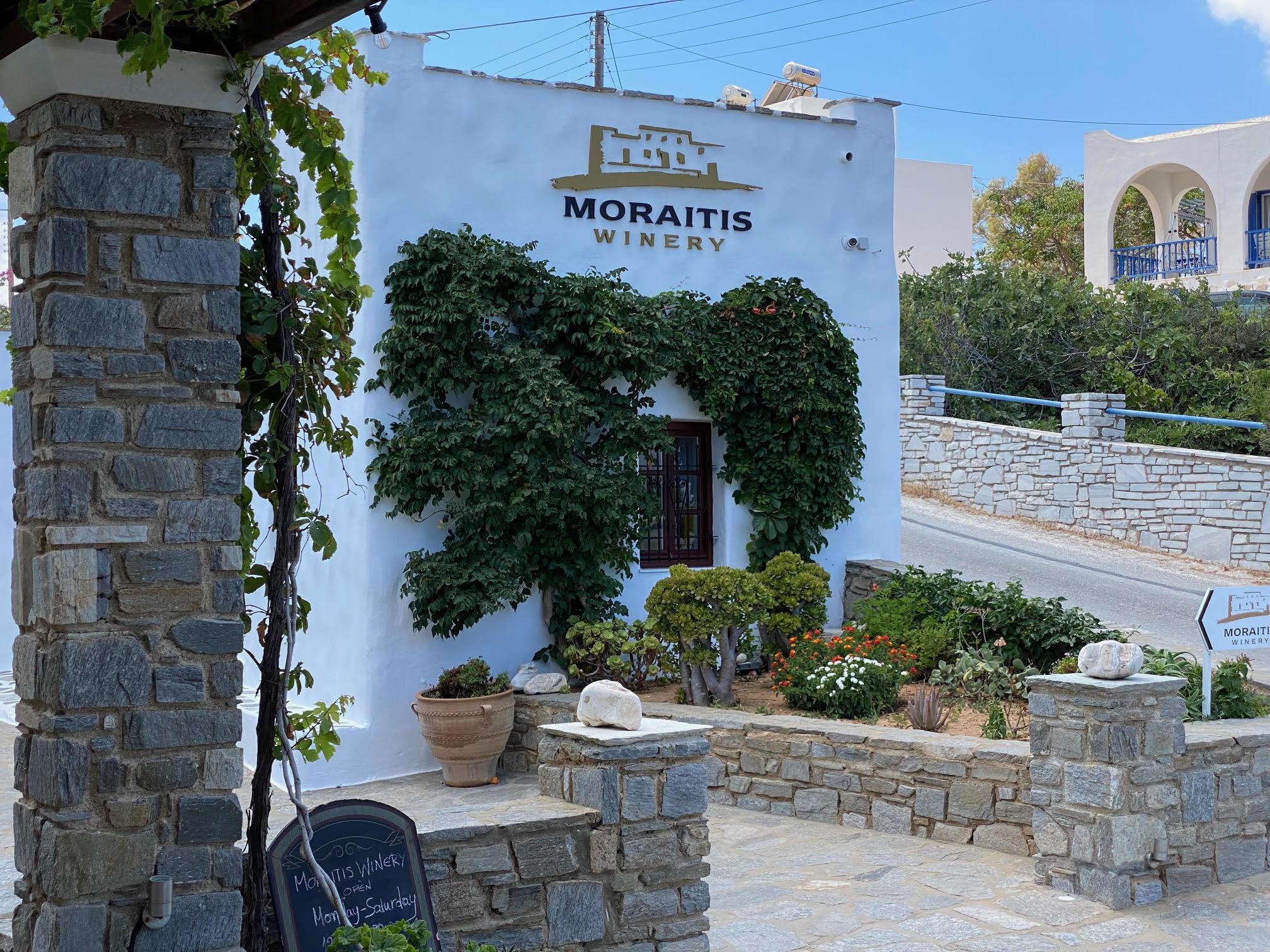 ASTERAS PAROS WINERY [ KTIMA ROUSSOS ]
This new winery is located in the Asteras region, near Ysterni. Over time, on it's 130 family-owned acres, new vineyards have been planted linearly with local varieties. With the quality that comes with the highest stand- ards in wine production, Paros can yield great wines through the revival of traditional viticulture and winemaking. KTIMAROUSSOS.GR
PFC [ PAROS FARMING COMMUNITY ]
Nearly a century of activity has made the cooperative an inseparable part of the social fabric of the island. Always working to support the agricultural producer, PFC is evolving as it adapts to the demands of the modern market. The knowledgeable PFC team vinifies the indigenous varieties Monemvasia and Mandilaria with a spirit of experimentation, redefining their true potential. SEIRADIPFC.GR
NAXOS
Along with its size comes a diversity of land- scapes, sandy beaches, castles, amazing local cuisine, and some of the most famous cheeses of Greece. This island is a very promising wine region that will delight wine enthusiasts with its exceptional selections. Blessed with abundant sunshine and volcanic soil, Naxos can produce wines of exceptional quality and depth.
SAINT ANNA WINERY
Saint Anna Winery has been operating since 2016, producing both dry and semi-sweet styles of wine. The winery's name comes from a little chapel which stands on the grounds of the estate and attracts visitors interested in its historical importance. SAINTANNAWINERY.GR
Tinos
Tinos is a captivating Greek island that delights both those travelers who are seeking a picturesque getaway and the wine enthusiasts in search of exquisite flavors. As a tourist destination, Tinos enchants visitors with its charming villages, pristine beaches, and stunning landscapes.The island's rich history and cultural heritage are reflected in its impressive architecture and iconic landmarks, such as the Panagia Evangelistria, a renowned Greek Orthodox pilgrimage site. Tinos boasts a thriving wine industry that captivates oenophiles. The finds on display in the archaeological museum confirm the special devotion the people of this island felt for Dionysus, and wine is still important here. With its fertile soil and favorable microclimate, Tinos produces exceptional wines characterized by the unique terroir. With crisp whites, savory rosés and amazing reds, the island's wineries offer unforgettable tasting experiences, blending traditional vinicultural methods and innovative new technologies to create remarkable vintages that embody the essence of Tinos.
VOLACUS WINES
The Volacus story begins in 2009 with the acquisition of a plot of land in Gardari, Falatados, which was planted a year later with Malagouzia. In subsequent years, Assyrtiko and Mavrotragano were introduced. The vineyards are located at an elevation of 400 meters, in clay-sandy and granitic soil. VOLACUSWINE.GR
VAPTISTIS WINERY
The Vaptistis Winery is located in Steni, close to the vineyards of the village of Mesa, near Falatados. Its first wines were produced in 2016. Today, the winery works with such indigenous Greek varieties as Assyrtiko, Monemvasia, Roditis, Mavrotragano, Mandilaria and the rare Mavrothiriko. VAPTISTISWINERY.COM
DOMAINE DE KALATHAS
Respecting the island's winemaking roots, vigneron Jerome Binda uses a natural approach with his old vines and focuses on rare local varieties such as Aspro Potamisi, Mavro Potamisi, Koumariano and the much-misunderstood Rozaki. DNSWINES.COM

T-OINOS WINERY AND VINEYARDS [ TINIAKOI AMPELONES ]
With a focus on sustainability and the use of organic and biodynamic practices in their vineyards, T-Oinos embraces the island's terroir. Their meticulous winemaking process results in elegant and expressive premium wines that communicate the essence of Tinos to consumers in both Greek and international markets.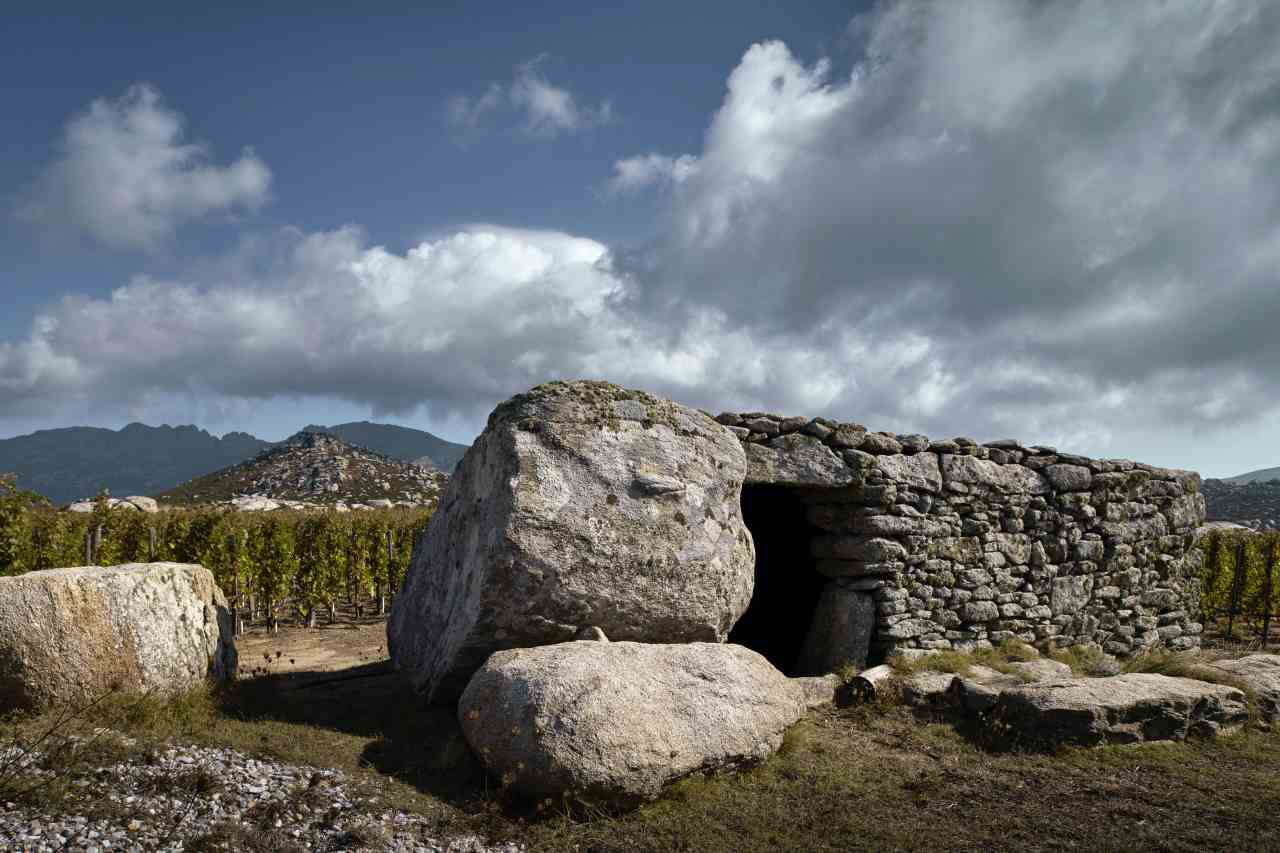 CHRISTOS FONSOS WINERY
The first person who bottled his production on Tinos was Christos Fonsos, who did this in 1996, in the village of Komi, drawing on then-unknown traditional local grape varieties such as Potamisi, Koumariano, and Monemvasia. Today, Fonsos produces 3,500 to 4,000 bottles each year, all of which which are sold exclusively on the island. [ +30 ] 22830 51221 
X-BOURGO
Founded by Theodore Kosmopoulos, X-Bourgo in the village of Exombourgo is a new winemaking endeavor that shows great promise. They are producing a white made from Assyrtiko and a red made from Mavro- tragano and Mavrothiriko, with grapes exclusively sourced from their private vineyard. The grapes are transported to an Attica winery for vinification, but the vineyard is open to visitors.