In 1987, the verse of a song inspired the name of a new restaurant which, 30 years later, has become a synonym for seafood gastronomy. Lefteris Lazarou's Varoulko opened its doors for the first time that year; after more than three decades, it continues to convey the very essence of culinary creativity.
With its view out to the beautiful Aegean Sea that Lazarou so loves, Varoulko Seaside has been the perfect spot for its owner/chef to work on innovative versions of his favorite dishes and to create the new gastronomic experiences that have established the restaurant as an exciting and versatile seafood destination. It's also a venue for events and the location for very special cooking classes held in the chef's open kitchen.  Last year, on the occasion of Varoulko's 30th anniversary, Lazarou, alongside his new collaborator, Giannis Parikos, and their experienced team, created two special menus to mark the occasion. The "Anniversary Menu" told the story of the restaurant by recreating some of its landmark dishes, such as the cabbage rolls stuffed with minced shrimp and turmeric sauce, as well as the steamed monkfish served with celeriac purée, celery leaves and lemon cream. The "2017 Tasting Menu" celebrated Varoulko's more recent approach and pointed towards the future. It featured such dishes as shrimp tartar with cauliflower mousse, carrot gelée and ginger & lemongrass consommé; grilled squid fished in Greece and served with smoked herring cream, cauliflower and vine leaves stuffed with cuttlefish risotto; and red mullet with green peas cream, scented with Aegina pistachio, smoked tea and rice chips with cuttlefish ink. Keeping its passion for original creations alive and offering its guests the warmest possible hospitality, Varoulko is ready to sail across a sea of tastes through the decades that lie ahead.
Akti Koumoundourou 52
Mikrolimano, Piraeus
T  (+30) 210 5228400
Shrimp Kritharoto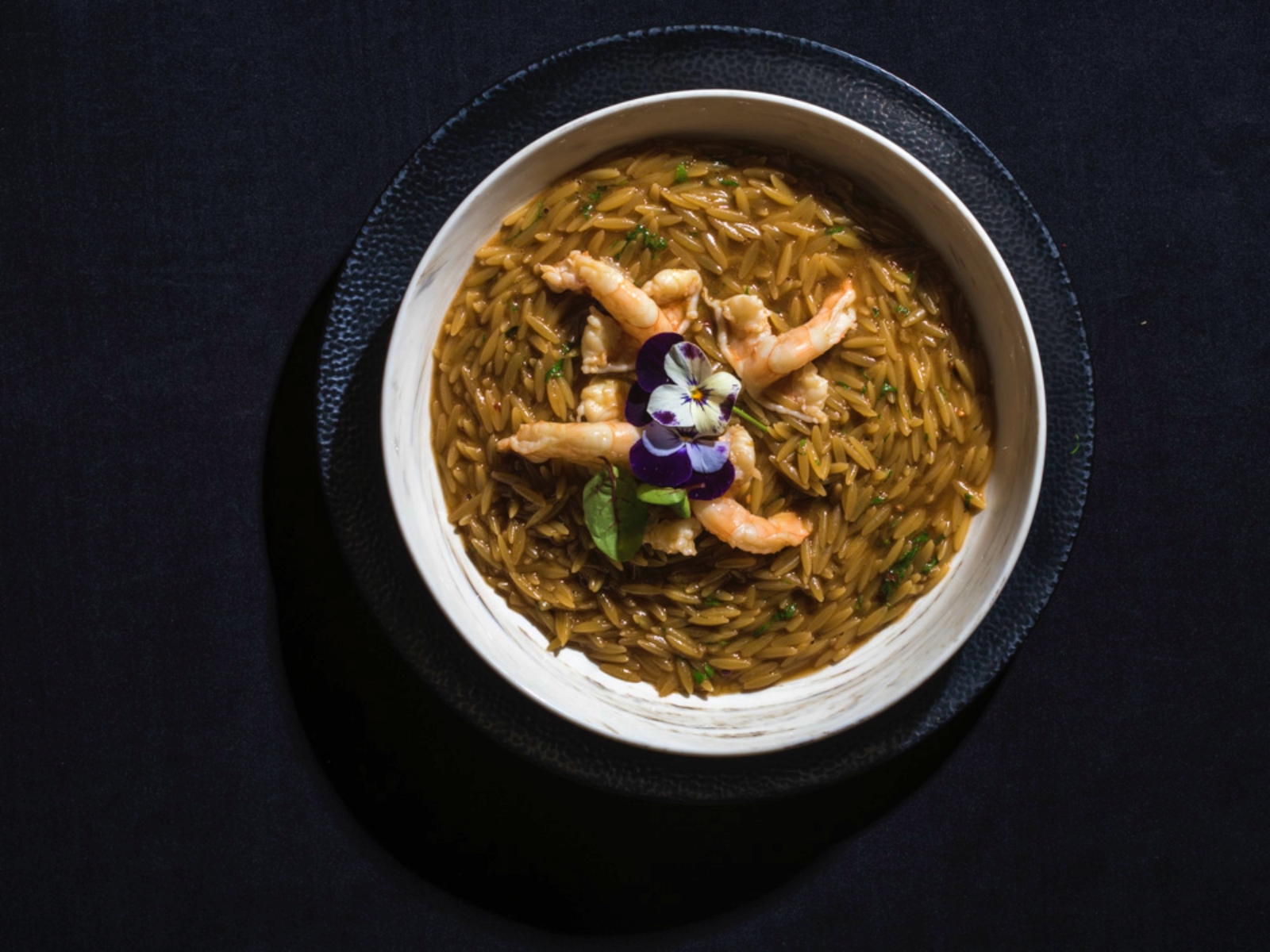 Serves 4
Ingredients:
100ml demi-glace

100ml bisque

500g orzo

10ml olive oil

12 shrimp (approx. 400g), peeled

1/2 tsp finely chopped garlic

1/3 tsp spicy red pepper flakes

350ml sweet white wine

1 rounded tsp finely chopped parsley

20g butter

20g grated Parmesan

Salt

Pepper 
Preparation:
Place the olive oil in a pan and sauté the garlic and red pepper flakes. Douse with sweet wine and let the alcohol evaporate. Then add the demi-glace, bisque and orzo. Oil the shrimp and season them with salt and pepper. Place the shrimp in the pan with the orzo to cook. Shortly before all fluids are absorbed, remove from heat and add the chopped parsley, butter and grated Parmesan. Season with salt and pepper. 
Alexandros Aggelopoulos Sommelier
We chose Lapotrypi, from the vineyards on the slopes of Mount Kithairon, a rather original combination of 60% Chardonnay and 40% Assyrtiko. Its crisp acidity starts with freshness and vividness. Then it fills the mouth with its rich and round body, which finds an ideal partner in this solidly built pasta. The subtle taste of Parmesan, diffused through the dish, rests ideally on the wine's greasiness, which is primarily expressed through the Chardonnay.  
  Shrimp cooked in wine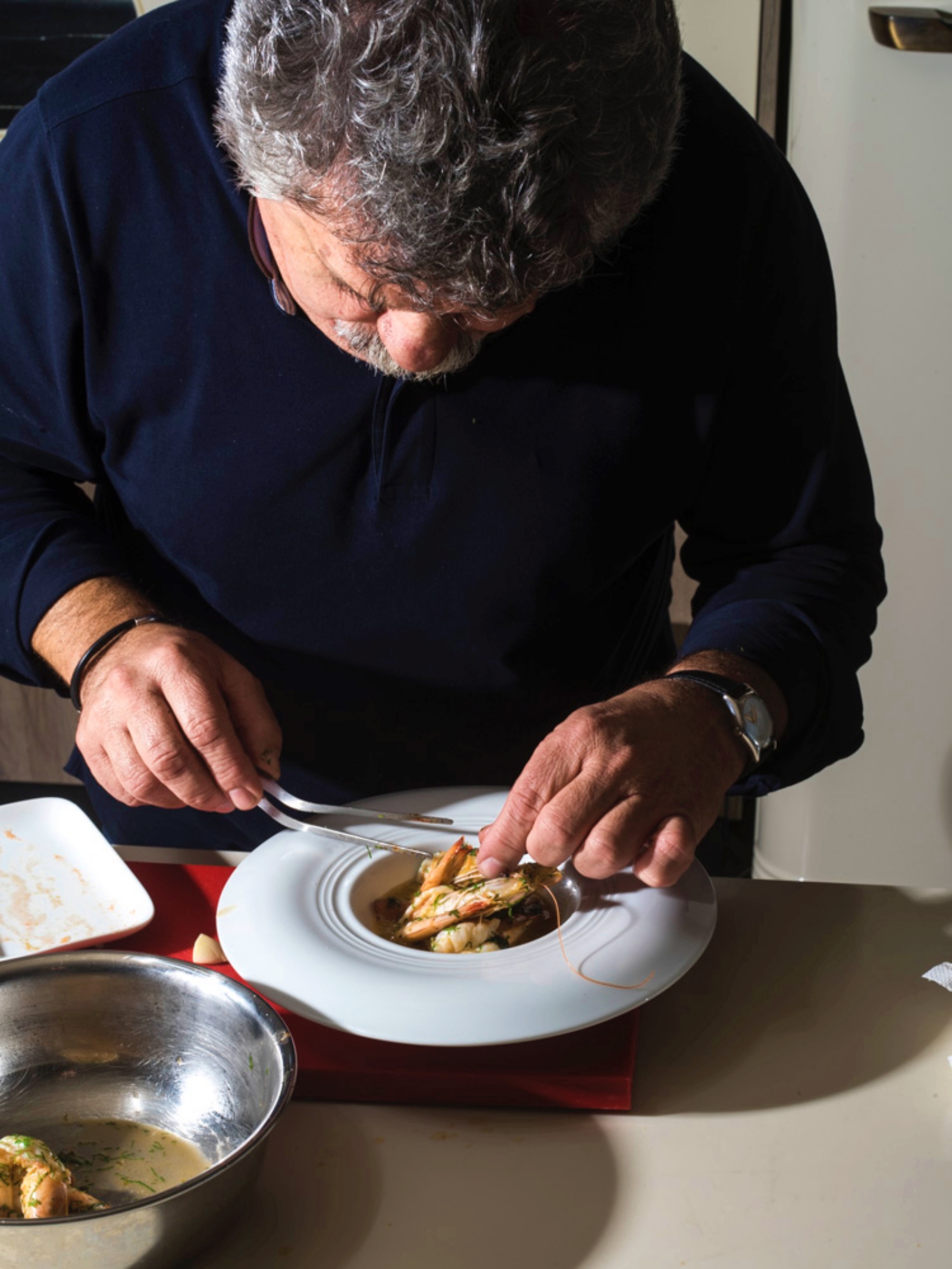 Serves 4
Ingredients:
8 shrimp (approx. 165g), peeled – leave the head and the tail on

35ml dry white wine

40ml roasted tomato sauce

2g salt

0.5g white pepper

1g lemon zest

30g olive oil

40ml vegetable stock 

30g cherry tomatoes, cut in half

5g frozen butter, cut in cubes

1 level tsp dried estragon

1 level tsp parsley, finely chopped
Preparation:
Δείτε Επίσης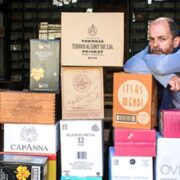 In a pan, heat the wine and cherry tomatoes, parsley and lemon zest and add the shrimp right away. Stir gently, add the salt, pepper, vegetable stock and olive oil. Carefully turn the shrimp over and add the roasted tomato sauce. Cook for about 30 seconds, add the butter to thicken the sauce and then add the estragon.
Alexandros Aggelopoulos Sommelier
The warm reception from the wine world for the wine "Tear of the Pine" is proof that resinated wine can be of high quality as well. What's more, its distinctive but utterly food-friendly profile blends harmoniously with Mediterranean flavours. On the one hand, the Assyrtiko variety, aged for six months in a combination of barrels to add vividness and notes of lime and citrus fruit, is a perfect match for the shrimp that were doused in wine. On the other hand, the soft touch of the resin brings out aromas of sweet spices, coriander and rosemary and, unexpectedly, pairs very well with the rich tomato sauce cooked with thyme and aromatic herbs. g