When I first decided to send an email to Victoria Hislop, author of the best-selling book "The Island," asking for an interview, I had no idea we were going to end up chatting under an olive tree overlooking the vines at Fantaxometocho Estate.
Her enthusiastic response was followed by the revelation that she had never visited a winery before so, after making the proper arrangements, we met on a warm sunny day and together enjoyed the brilliant hospitality of Marina Boutari, who was kind enough to arrange a tour of the vineyards, followed by a wine tasting and lunch. Victoria's tight schedule had taken her to Knossos, where she was filming a documentary for fundraising purposes, a small break from the shooting of "Cartes Postales from Greece," the new Greek television series based on her novel, expected to air this fall. Her deep love for her adopted country – Victoria Hislop became an honourary Greek citizen last year – was manifest throughout our talk, but what really struck me was her accurate perception of modern Greece and her relentless thirst to learn more.
What is it about Greece that has inspired you to write so many books about this country?
Well, most of my books cover periods of really difficult history. Greece's 20th century was really a very difficult time, and I grew up in a country where we hadn't been invaded since 1066. Generally, life has been pretty straightforward in Britain, whereas in Greece there was never a dull moment in history. When I first started writing about Greece, I didn't really know anything, I didn't know any of it and I think that most British people who come as tourists haven't got a clue about what is going on. They come and they see beautiful landscapes and lovely food and then they go home again. I am just interested in learning about these things; I try to learn so that I am less ignorant. Then they become fiction, because I want to imagine what it was like to live through those things, and then come the characters.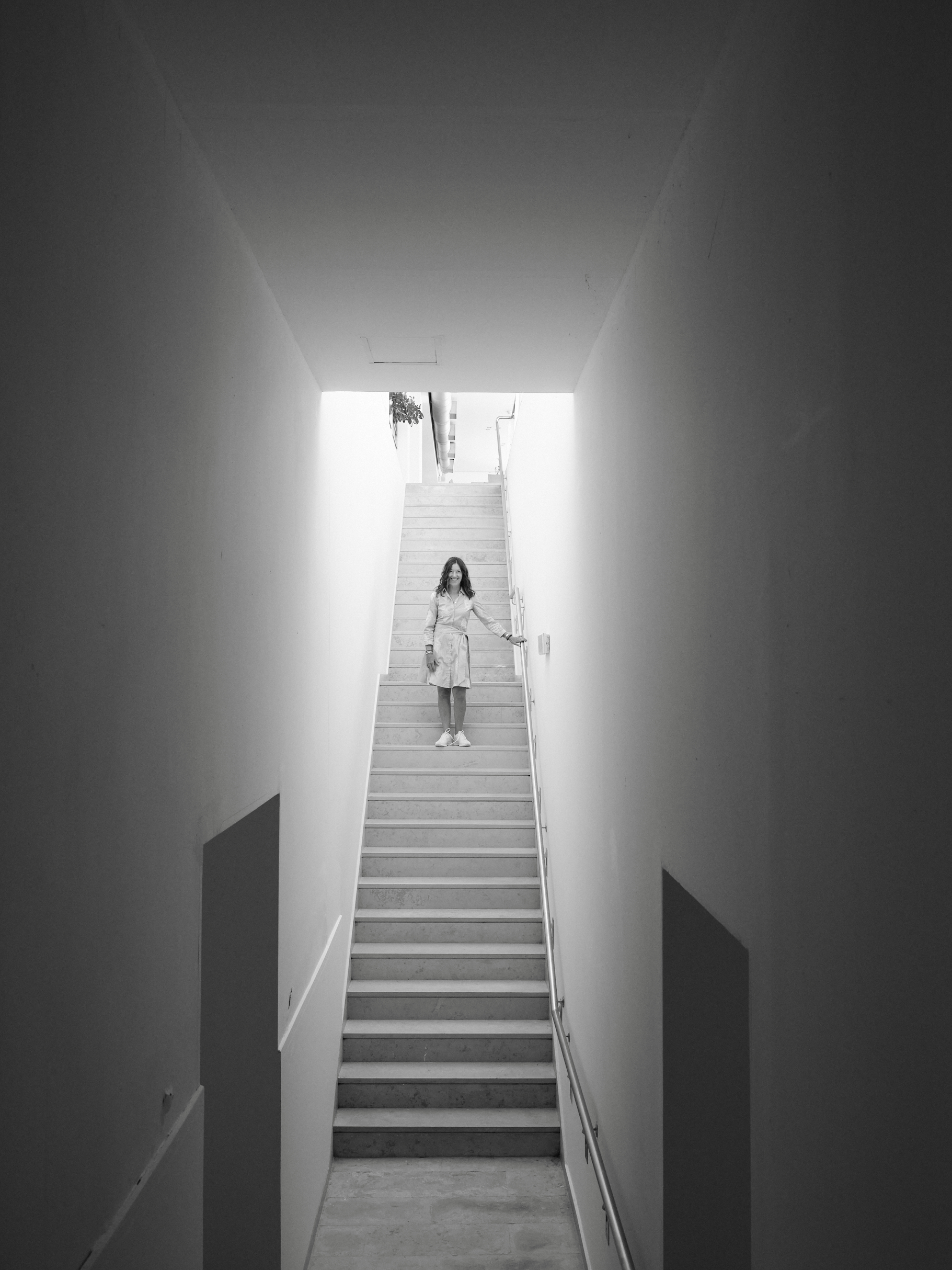 When was the first time you came to Greece?
My love of Greece began when I was a teenager. Back then – I was born in the late 1950s – there was no such thing as commercial travel; people weren't flying anywhere on holiday. Our first holiday was actually to Malta. My mother had started working when I was about 15, and her priority was to travel; until then, she'd never been anywhere. So we got on a plane. And then, the second time we went somewhere, it was to Athens. It was transformative! It was an immediate love affair and it never stopped. I was 17 years old…
Can you recall what made you fall in love with the country?
It was the light. I have been to all the other southern European countries and the light isn't the same. I don't know what it is but the translucence of the light in Greece is definitely not the same as in Spain or in Italy. I don't know how you compare the two scientifically but you know, for me, the light is definitely brighter. It was also the sea. Until then I had only ever swam in the English Channel…
So it was partly the contrast and also something I cannot really define. I remember thinking, "This is utterly beautiful, and I want to come here from now on," and I did. It was never a person, nothing like that; I somehow never had that experience, it was the place, the sky and the sea, and the blue – definitely the blue.
Have things changed since you first came to Greece?
Oh yes, things that I'm not sure have been communicated clearly to other British people. Wine is one example; I really get very irritated when I go to supermarkets back in the UK and I can't find Greek wines. Food and wine have come on massively; there are some amazing restaurants in Agios Nikolaos in Crete, for example, restaurants that were not there 10 or 15 years ago. I think food in Greece in general has risen to new levels. And all the restaurants have very good wine lists.
What would you say to someone who is setting out to discover Greece?
Gastronomy and the wine would be their biggest surprise. Most summers, I organise a writers' retreat. One year I had invited Boris Johnson's sister, a journalist and friend of mine, and took her to Chrisofyllis, one of our favourite places in Agios Nikolaos. She was really impressed. Although she comes to Greece often, she had no idea how good the food could be. Most of the people who participate in my writers' retreat, especially those who have not visited Greece before, are surprised by the quality and variety of the Greek cuisine. I think that wine tourism can be a really big attraction as well. Something that frustrates me is trying to persuade people to come after the three months of the summer; I keep telling them there's much more to see; walking in Greece in the autumn, for example, or visiting the wineries, not necessarily during the summer season.
What is your favourite Greek wine and what's your favourite Greek dish?
It is Assyrtiko. I love dry white wines that are not fruity. My favourite Greek dish would be spanakorizo; my neighbour goes to the market and gets very fresh horta [wild greens], or she picks them herself, and she makes a huge tub of it for me and I can't stop eating it. Food has always played a role in my upbringing. My mother lived with a French chef for 25 years, and he was a big influence in my life.
Your most recent book about Greece was "Those Who Are Loved," a novel that explores some very traumatic moments in recent Greek history.
I was very afraid about having this book published. During the period of my writing it, there was this massive controversy in the United States about a book called "American Dirt," because the writer – an American – was writing from the point of view of a Mexican woman trying to escape from Mexico to the US. The American 'very politically correct' lobby said that she couldn't write this because she wasn't Mexican. But isn't this what fiction allows you to do? Anyway, all this was happening around the time I was writing my book , where I take the view of an elderly Greek woman. I remember thinking, "Am I allowed to do this or not?"
Did you in fact have any problems because of this?
No, fortunately I think Greek readers are not yet so brainwashed as some of these American critics.
You did touch on a lot of sensitive chapters of Greece's recent history. Do you think Greeks have left all this behind them, or can you still detect some scars on the Greek psyche?
There are scars. Where I get a sense of that is when I do my book tours. I go to all these amazing towns, such as Kastoria and Alexandroupoli, and people in Greece aren't at all like the British, where, during book presentations, everyone sits very politely; they are very lively, very bold. They are lovely, generally, fantastic, polite, warm and kind, but there are always a couple of people who become antagonistic… Generally, the ones who want to stand up and say something are the older people. And I'm always kind of waiting for that to happen… I accept that in the civil war there were atrocities on both sides. Themis, the main character in "Those Who Are Loved," is very much somebody who regrets the things she has done.
Odysseus Elytis, the renowned Greek poet and Nobel Laureate once wrote, "If you deconstruct Greece, what will remain is an olive tree, a vine and a boat." What does Greece mean to you?
That's very poetic, very minimalist, but it seems to me that it misses out the people. I never think of deconstructing Greece. When people ask me, "What does Greece mean to you?", I really don't know where to begin. I feel a bit guilty sometimes; I appear not to notice the bad things, or I brush them off because I've seen so many Greeks that only see the bad things. They have forgotten the vine, the olive tree, and the boat. They have a difficult experience of their own country, so I like Elytis' image, but I am aware there's still a darker side, too. But I think the more you focus on the positive, the more space it has to become the greater part. g