In 1945, Ioannis Alifantis opens a kafeneio (traditional café) in Aegina. Each day, he starts work long before dawn, serving coffee and revitalizing, nutritious fish soup to the island's fishermen and workers. This early start to the day is why the locals gave him the nickname 'Skotadis' ("man of the darkness"). In 1980, his son-in-law turns the kafeneio into an ouzeri (restaurant serving ouzo and mezedes). In 2002, Giorgos Lykouris, grandson of the original Skotadis, takes over. Excellent ingredients, imagination and good hard work in the kitchen are the trademarks of Skotadis, and you can find all of this (and a view to Nektaria's grocery boat) at this restaurant in Aegina's enchanting harbour.
MARINATED OCTOPUS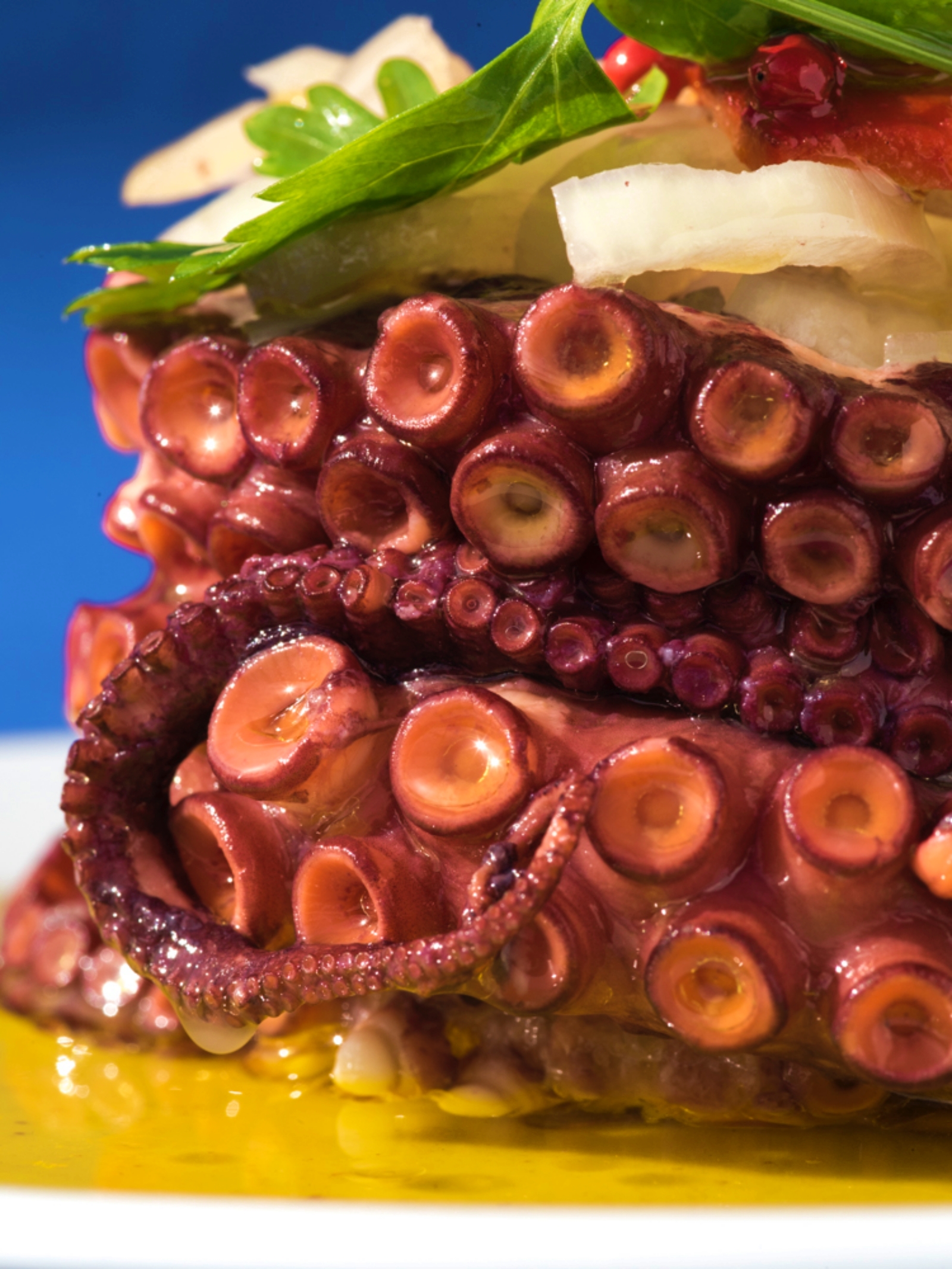 Ingredients:
1kg octopus

2 onions

3 Florina peppers

20 grains of fresh red pepper

Olive oil

0.3ml vinegar
Preparation:
Place the octopus in a large pot and cover with 0.5L water. Bring to a boil, then simmer for 40 min over low heat. Grill the peppers for 10 min, then peel off their skin. In a large bowl, mix the olive oil and vinegar. Slice the onions into rings, then place them in the bowl. Add the peppers and grains of red pepper and let them sit with the octopus in the marinade for 24 hours.
CRAYFISH KRITHAROTO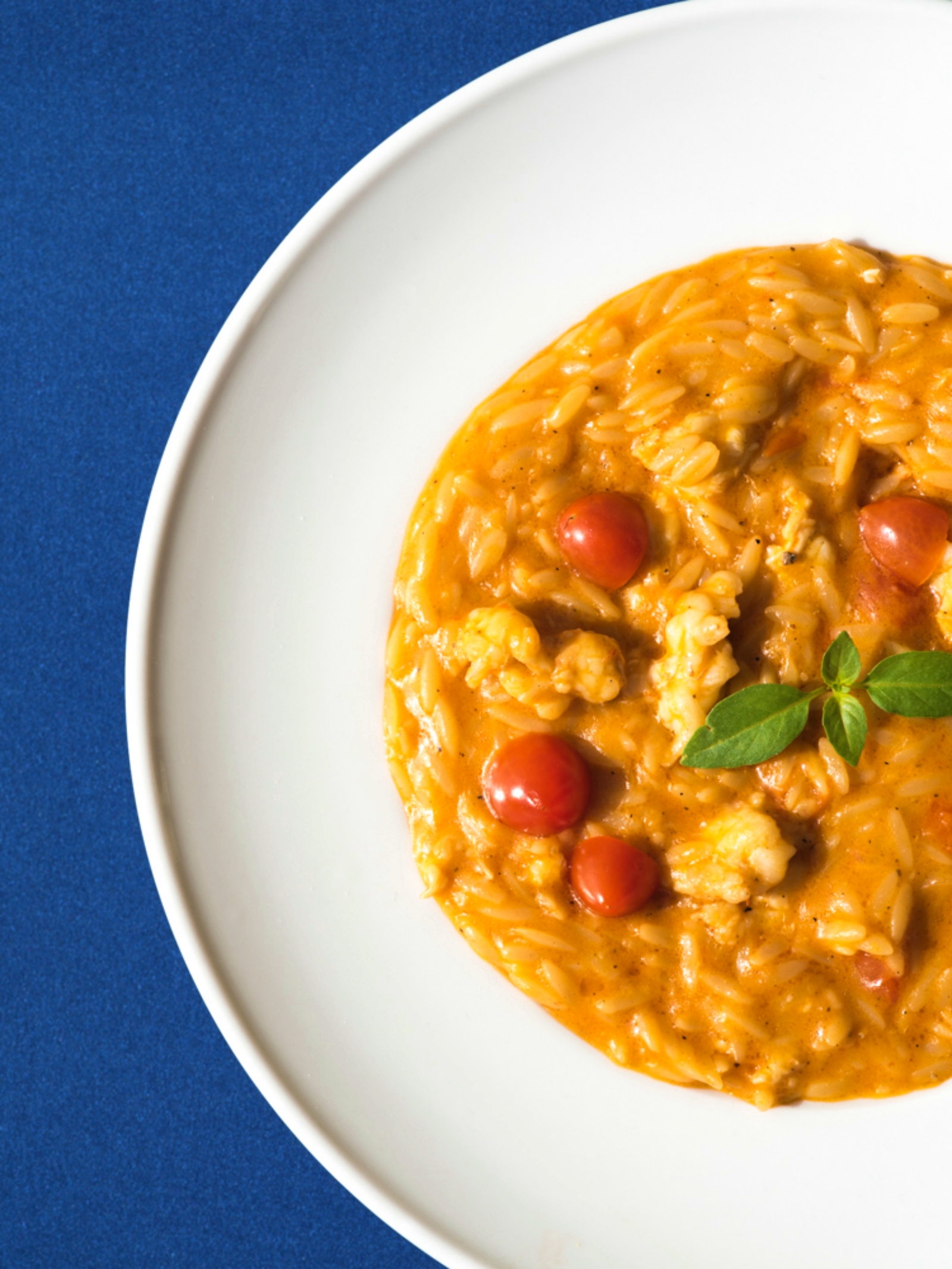 Serves 4
Ingredients:
For the broth you will need:
2 carrots
1 onion

1⁄2 fennel

3 pieces of star anise

2.5L water

2 tomatoes

4 crayfish, whole
Preparation:
Sauté 130g thinly sliced onions with 12 grape tomatoes cut in half and 28 crayfish tails, peeled. Remove the sautéed ingredients and pour 1.5L broth in the same pan. Add 500g orzo (medium-sized) and let boil until fluids are absorbed. Add the sautéed ingredients and season with salt and pepper until the orzo becomes mushy. Once mushy, remove from heat, add 90g butter and 100g grated parmesan cheese and stir.
Wine pairing:
For the crayfish kritharoto, we chose Katsaros Estate Chardonnay, an exemplary oaked white wine by one of the most significant Greek winemakers. Rich, thick and complex, it makes an impression on the nose and is a winner in the mouth, giving an enduring and rich result, which balances this strong-flavoured dish.
For the octopus, nothing beats Assyrtiko, so we went with an Avantis Afoura. Afoura was the name of the large wooden barrels traditionally used on Santorini. This excellent version of Santorini's premier variety by Avantis Estate has also aged in large barrels, acquiring a mature and complex character, which accurately expresses Assyrtiko's unique features. Another ideal match is Le Vigneron Grec by Domaine Papargyriou, an Assyrtiko from the region of Corinthia, with strong aromas, vivid tannins and acidity.
Dimokratias Ave., Aegina
T: (+30) 2297 024014 g