It's really not that hard to get Stellios Boutaris to speak about wine. His passion for what he does is evident as soon as he starts talking…
Stellios was born and raised in the family business, Ioannis Boutaris and Son Winery S.A , which was founded by his grandfather Giannis. Although he had known right from the beginning that he was going to end up getting involved with the wine business eventually, he chose to study mathematics and economics in the United States first. A winemaker with a dream of building an extraordinary winery one day in order to satisfy his secret love for architecture, he has already started working on that in Naoussa, Nothern Greece where most of his vineyards are situated. Together with his brother Michalis, Stellios represents the fifth generation of one of the oldest winemaking families in Greece. It is a heavy legacy, which he considers a blessing, since he believes that, in the wine business"you need a sense of continuity, you need to be able to look into the future." It was in the UK that he received his wine education when, parallel to getting his Master's Degree from the London School of Economics, he also earned a WSET Diploma. Ever since, he continues to learn something new about wine every day…
People tend to have a romantic image as far as winemakers are concerned. Where does the romanticism end and the hard reality begin?
Winemaking is a job in which you do not make money easily. It takes a while to turn a profit. It needs time, patience, resilience and a lot of personal work. It's not a coincidence that very few multinational companies get into the winemaking business. On the other hand, there's definitely an element of romanticism. I don't consider winemakers businessmen; we see ourselves as artists. Furthermore, on an international level, a lot of winemakers have become part of a star system. They promote themselves, which, in my opinion, is fine. It appeals to people who need to identify the person behind the label.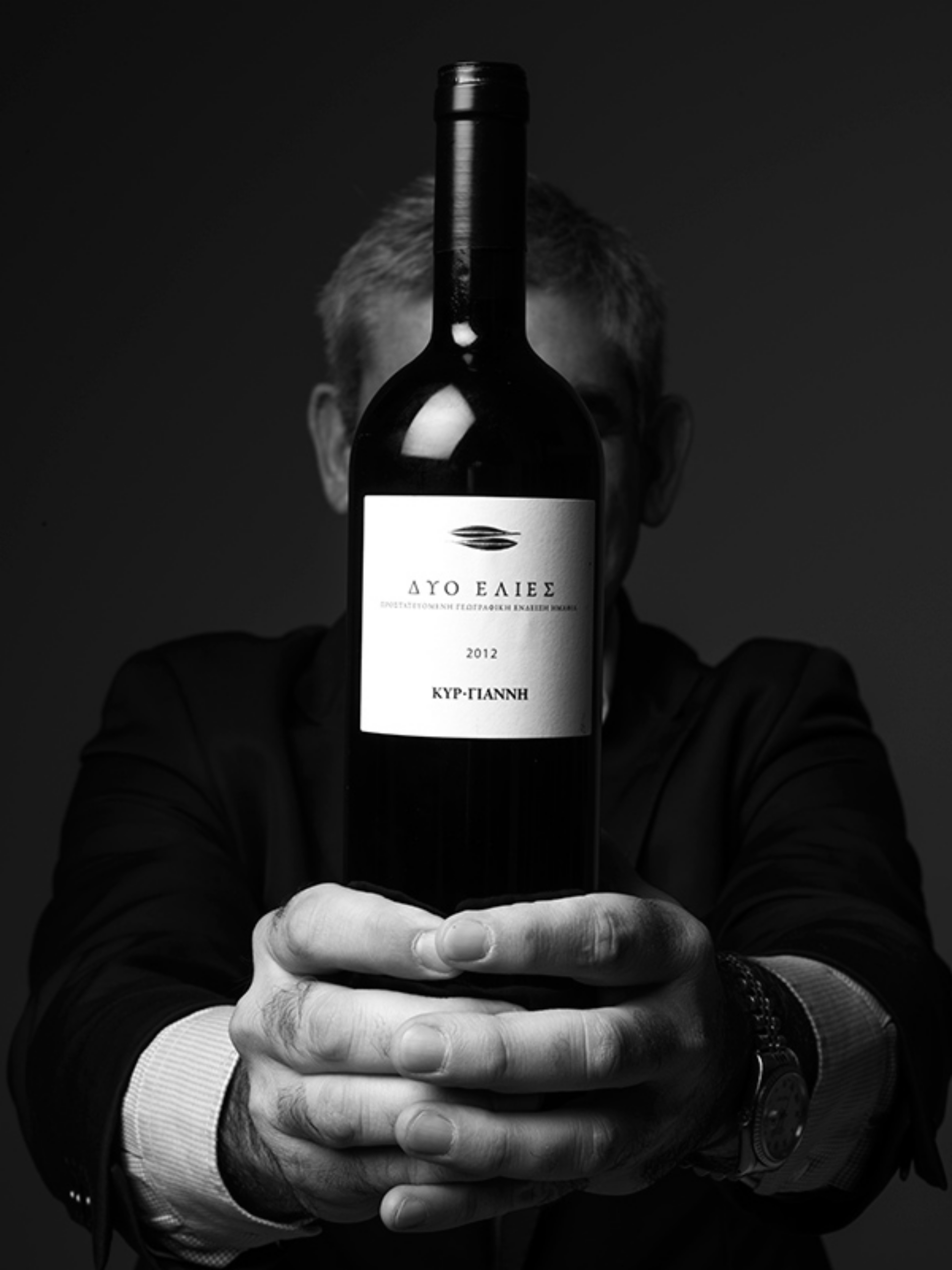 Does wine's ageing potential, and the fact that winemakers are able to taste 10 or 20 years from now something they produced today, give wine a distinct dimension?
Definitely. Wine is about past and present. It also contains a lot of vanity; we winemakers are very vain. There's a reason why most winemakers put their names on the label – they love to see their names on the table.
Where would you place Greek wine on the global wine map?
We are still lagging behind, despite the fact that there has been tremendous progress during the past five years. In numbers, Greek wine makes up 1% of global production and just 0.2% of global wine exports. Despite the fact that wine production here can trace its origins back to ancient times, Greece does not have any tradition whatsoever in modern winemaking.
What do you mean by that?
During the '60s, there were five big wine producers in Greece. The consumer was more interested in brandnames and that is exactly what these companies gave them. This was followed by a second revolution that happened in the '90s with the appearance of small-scale producers and boutique wineries. I believe that, in the next five years, we will see one more revolution, one that will happen in the vineyard. It's not a coincidence that Greek white wines are better than the reds and much more successful in the global market. White wines are basically produced in the winery and depend less on the vineyard, and therefore their production is easier. On the other hand, the production of a quality red wine depends on the quality of the grape, and in that aspect there is still a lot to be done. Furthermore, during the '70s and the '80s many Greek restaurants in countries like Germany or the US were asking for cheap Greek wines. Despite the fact that Greece at the time was exporting a lot of wine, we weren't able to enter the main markets because our exports were based on a network of Greek wholesalers. And, to be honest, we also lacked good quality wines. 
In what way do you think things have changed today?
We have become extremely extroverted. I believe that the economic crisis has helped us. Winemakers have shown a tremendous maturity. We produced better wines, our prices became more competitive and we all worked hard together. As a result, Greek wine is becoming part of the global market. Our next challenge will be to increase these exports. I am very optimistic that by 2025 Greek wine exports will have doubled to 140 million. 
Indigenous or international varieties?
Right now, our exports depend mainly on indigenous varieties, and I think they will continue to do so. Of course, I'd never suggest that we shouldn't vinify international varieties, such as Cabernet Sauvignon. Any way that you look at it, Cabernet Sauvignon is the king. Having said that, I believe what we need is an iconic wine, a wine produced from a Greek variety that will sell for €200. 
Is Greek wine overpriced as many suggest?
I wouldn't say it's overpriced. I believe that in Greece cheap is expensive and expensive is cheap. We still haven't been able to produce good-quality entry-level wines, although we have made some progress during the crisis. You can, for instance, now find good-quality wines that cost around €3. However, there are some Greek wines that could sell for €200 euros. Lately, certain expensive wines have started being produced so that a wider price range can be created.
THE PROUST QUESTIONNAIRE
Your most memorable moment?
When we planted our new vineyard on the land that I bought from the daughter of the man who had sold the estate to my father in 1968.
Favourite label?
Dyo Elies (Two Olives). It was the first wine I produced without my father's approval. 
Your hero in real life?
My father.
Which talent do you admire most in people?
The talent for public speaking.
FAVOURITE WINES
WHITE 
Karanika Brut Cuvée Spéciale

Ktima Gerovassiliou

Santorini Sigalas

Robola Gentilini

Ovilos Biblia Chora

Malagousia Zafeirakis

Samos Grand Cru
RED
Grand Cuvee Skouras

Ktima Gaia

Cava Merkouri

La Tour Melas

T-Oinos Clos Stegasta

Amethystos Cava Lazaridi

Ktima Driopi g