Yannis Kaimenakis is a sommelier. It seems rather strange to say this though, since he doesn't swirl his wine beneath his nose, or talk about yellow-green highlights, aromas, bouquets or long aftertastes. His own kind of wine is made up of places, travel, nice evenings with friends and other experiences. He knows each and every one of the hundreds of bottles in his cellar inside out and introduces them humbly and lovingly to the people who, as he says, "do him the honour of coming all the way to Piraeus." 
 "I don't want to be endlessly describing or mechanically repeating things, I don't want to include wines on my wine list that are popular among football players according to Parker's Guide. I want to have a substantial relationship with each place of origin. Behind the bottles that blanket the restaurant and under the place-names printed on my chairs, I guard secret moments. I've kept the bottle of the wine I drank with a dear friend on the day that we met, spicy moments, good and bad ones, friendships that have withered away; they are my own personal bits and pieces that show me the way. And on some evenings, when I'm in a bad mood, tired, or I've had to deal with a rude customer, I take refuge there, in my bottles and in my moments. While someone tells me their table is too small, I am remembering the great time I once had at Port Verd in Spain. I see the Côte-Rôtie '85 and I think of the friends I have shared it with. The 'juice' contained in the bottle is of lesser importance. Above all else, I want to see people and share moments with them."
Paleo takes your breath away. It's a huge warehouse – situated between machine-shops and auto body repair places – with a wooden ceiling and skylights, concrete walls and wine bottles that put you in a… 'kleptomaniacal' kind of mood, as Yannis himself puts it; and in the background, on both sides, like in the sanctum of a church, two tall wine cabinets, behind which Yannis and his companion and co-worker, Alexandra, move almost like dancers. Chairs have the wines' place-names printed on their back and multi-functional barrels are ready to be turned into tables.
"I was no stranger to the neighbourhood. Under capital controls and generally difficult circumstances, I had closed down my old business and was searching for a new place; rents were going through the roof. I hated what was happening in Athens. I never followed the crowd; someone makes a start and next thing you know, 20 more people are doing the exact same thing. I thought of finding a warehouse to store my wines and then later on going to work in Italy. As soon as I pulled up the rolling shutters, and despite the fact that there was no door, no floor, no nothing, I could see everything in my head. What it would look like, the people who would come here, the tables, the wines, and I decided I had found my bar. I wanted people to be driving and already thinking: 'Which wine should I have when I get there, Latour or Santorini?' – to be able to 'lead them by the nose' so to speak. A bar that was merely OK was not an option".   
You have a gift for selecting the right wine for each person. Which is it after all, wine or people, that you are so good with? 
I'm a wine drinker myself, and this is important because it allows me to put myself in the customers' shoes. So I'm always thinking that I shouldn't do my job hastily or inadequately. I will attend to Pinelopi and try to think of what she wants to drink, regardless of my own preferences. The wines I have drunk and consider my personal favourites form a different story altogether, and I have learnt to draw a line between the two in order to be a good professional. I want to satisfy your appetite for acidity or for a fruity taste. I want people to know, when leaving my bar, that I have put time into trying to satisfy them. And this is the main reason why I never make business deals. If someone tells me: "Put this wine on your list and I'll give you money for it," I'll never do it. That doesn't concern me. I rack my brains to find the right wine for each person, to please them. This is my job; I suggest to people who trust me wines they will never forget. It doesn't matter if they cost €5 or €1,000; I've put the same time into selecting them. I will make sure that you get a very good wine, but I'm not the protagonist of this story, you are.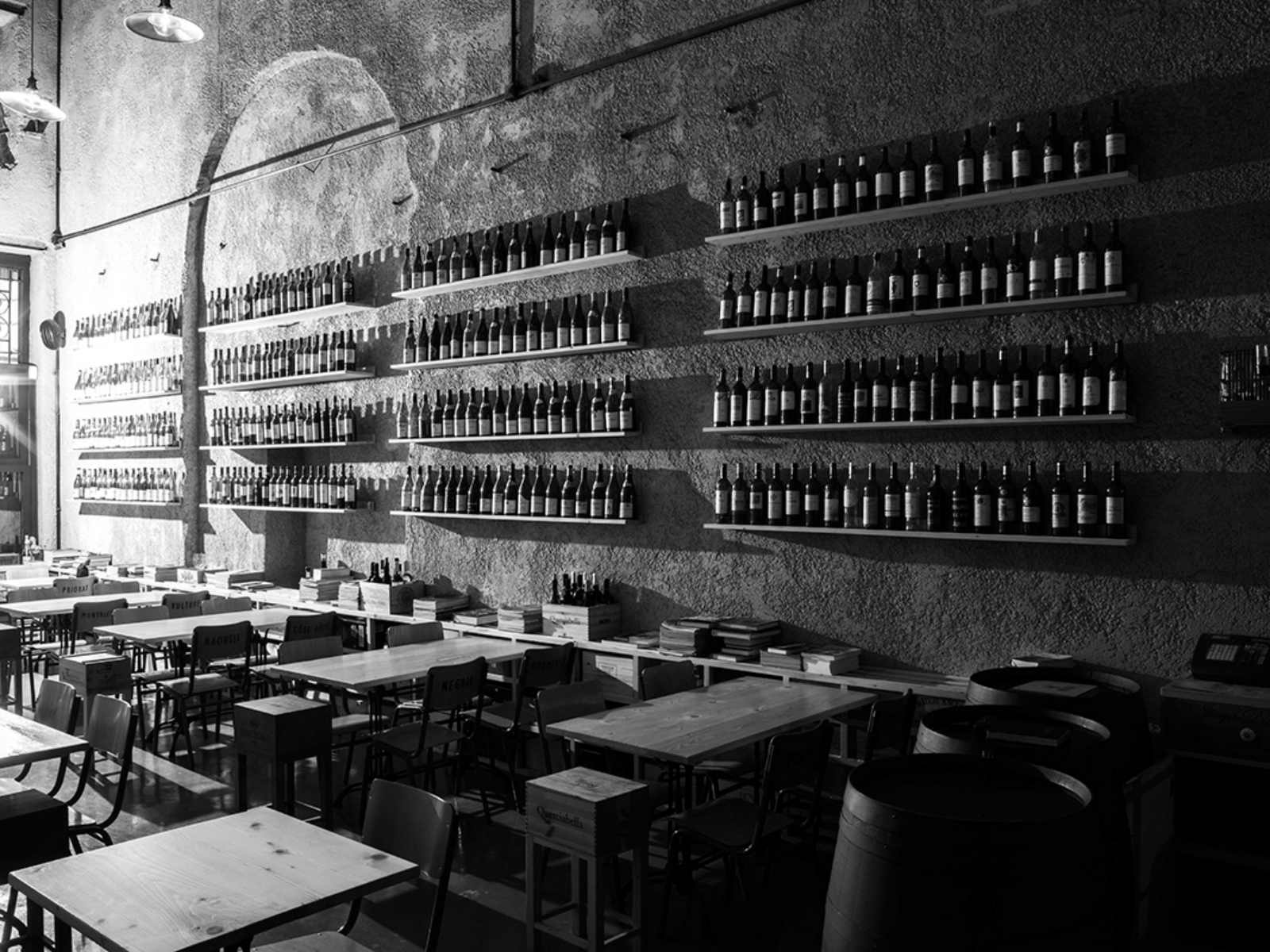 So how does Yannis Kaimenakis set up his famous wine cellar? 
An incidental experience I had on my first business trip was decisive for the way I later came to choose my wines. I had found myself in Tuscany, invited to Marchesi Antinori. As I was very young at the time, I couldn't believe my luck. When I got a glimpse of the wines I had heard so much about at a vinoteca, I could hardly contain my enthusiasm. As luck would have it, however, those wines were produced at a different winery, so Vittorio – the man who had invited me there – put me back in line, coolly reminding me that the sole reason for my visit was Marchesi Antinori. This is when I realized that being invited somewhere is a two-way street. So I decided to change course. I now travel once a year. I have visited the south of France, the Rhône river, Tuscany, Apulia, Sicily, Campania (which I love), Spain and Portugal. I choose a region and then I "profile" its producers based on their wines' quality and price. This is the way I buy wines; it's a method that provides me with a true sense of the region, instead of a more academic, rigid approach. 
What place do Greek wines hold in your cellar?
I work on two different lists: the Museum List has roughly 300 wines on it and I scold myself over it, thinking that this is way too many; but at the same time, I keep adding more of them. The second list is the Bodega Sacristía – in Spain, this is the name of the part of the cellar to which only the boss has the keys – containing 100 wines, where a 'single wine per origin' principle is applied, that is to say there can't be 5 different Santorini wines. There are 50 whites and 50 reds on that list. I also make sure that the vintages I choose have something about them that makes people enjoy them. Throughout my career, terroir has been the decisive factor when it came to choosing my wines. I never believed in Greek Chardonnay, nor in Greek Sauvignon Blanc or Merlot. On the other hand, I have Assyrtiko and Naoussa, Nemea, Zakynthos and Crete on my list – and I am very happy with them. I have a weakness for Santorini in all its forms; when it comes to the reds, Naoussa is what does it for me. I despise an overly strong oak flavour and this is something that shows on my wine list. In Santorini, grapes grow in a volcanic soil under the Greek sun and covered by the sea's salty spray. Why add oak to it? It's simply too much. On the other hand, I adore Slovenian oak, which is more subtle and provides each wine with such a distinctive character. Another thing is that I no longer have any New World wines at my bar; not for at least 7 years now. Very good value for money wines, nobody can compete with them, but they don't reflect the origin that produced them. The world owes its beauty to its diversity, wines can't be the same everywhere. The idea of a "coca-colonization" of wine scares me. I don't like how someone can distort a wine to such an extent: rid it of its flaws, but also strip it of its unique qualities at the same time. 
What do you like to drink in your personal moments?
I go through different phases. I change my mind dramatically, as my perception changes. Lately, as I grow older, I don't mind spotting a flaw in a wine; this is also something that charms me. A Santorini, for example, which is anything but balanced, reflects the island's microclimate and this is a singularity I adore. An Aliança might make your mouth awfully dry, but I'm no less crazy about it. Personally, I would never choose Naoussa's most famous wine; I like offering it to my customers, but for myself, I would probably prefer a wine that might not deliver 100%, due to its vines. It interests me because it reflects something very specific. My favourite appellation is Cornas Rhône, an austere and rough Syrah. Hatzidakis is my favourite winery. 
Wine and food…
On this subject I wouldn't exactly say I'm breaking the mould. Sergio Esposito, Italy's greatest wine merchant, has a story about the first time he traveled to Italy from the US, as a 17-year-old. Having grown up on peanut butter and ketchup, he asked the waiter to bring him an ossobuco and a Coke or Fanta. The Italian waiter, losing his temper, replied: "I have both Fanta and Coke, but if I bring them to you, you'll tell me the food is no good." Wine should leave room for food and food should leave room for wine. If you eat something that has truffle oil or balsamic vinegar in it, it's best if you drink plain water, I don't see the point in having wine with it.
 The most beautiful moment at Paleo?
When I first opened my bar, I would see the door open and people coming in, and I would feel like bursting into tears. I was very moved by the fact that someone would come all the way from Mets or Kolonaki just to be here. Even if Paleo were to close down right then and there, I'd still be very happy; having experienced this would suffice for me.
Yannis Kaimenakis could not think of the worst moment at Paleo. g