Only an hour's drive from Thessaloniki, Naoussa is an area that shouldn't be missed by any wine lover who wants to explore Greek wines. This is the land of Xinomavro, which means acidic ("xino") and black ("mavro") a rare, indigenous red variety which has been compared to Nebbiolo, thanks to its firm structure and its unique aromatic character. Its high acidity and tannic character produces wines which can age for decades and are suited for more experienced palates.
A number of committed winemakers in this area are producing high-quality wines, combining tradition with modern winemaking techniques. Having visited the area back in 2016, when we discovered a new generation of winemakers full of energy and fresh ideas, we decided to come back, this time focusing on some of the boutique wineries as well as on the Kir-Yianni Estate, the dominant winery of the appellation. The winemakers' passion for the great potential of Xinomavro and their dedication to promoting this unique and versatile grape variety was what impressed us most on this trip to the region. Most of the people we talked to are second-generation and third-generation winemakers, young and energetic, with great faith in what they are doing and dedicated to producing high-quality wines with the least possible intervention.
KYR-YIANNI ESTATE
If you're visiting Naoussa, a stop at the Kir-Yianni Estate is mandatory. In contrast to the rest of the wineries of the area, Kir-Yianni is a large estate, boasting 500 acres. It doesn't concentrate solely on the production of Xinomavro, although the varietal wines produced by this variety are the estate's premium labels. It was founded in 1997 by Yiannis Boutaris who, breaking away from the family business his grandfather had established in 1879, went on to create his own estate, concentrating on the production of quality wines that express the character of Naoussa's terroir. Ramnista and Diaporos are two outstanding wines which do just that, helping them to find their way to international markets. Today, the estate is managed by Yiannis' sons Stellios and Michalis Boutaris, fifth-generation winemakers. With an annual output of 500,000 bottles, Kir-Yianni is the largest winery in the area and, thanks to Stellios' vision, it offers one of the best wine tourism experiences in the country. In addition to enjoying the magnificent views of the vineyards nestled on the rolling slopes of Mt Vermion, visitors can take tours around the winery, enjoy an upmarket picnic in the vineyards with dishes based on local recipes, or opt for a BBQ on the winery's veranda. Naturally, the meals are accompanied by wines produced on the estate. All the options offered to the visitor, along with their seamless delivery, are the result of perfect organization by the winery's courteous and knowledgeable staff. Although great emphasis is placed on indigenous varieties, Kir-Yianni Estate produces some excellent labels from international varieties. Drumo, a Sauvignon Blanc from a single vineyard in Amyndeon, a neighboring appellation where Kir-Yianni also has vineyards, is a treat not to be missed.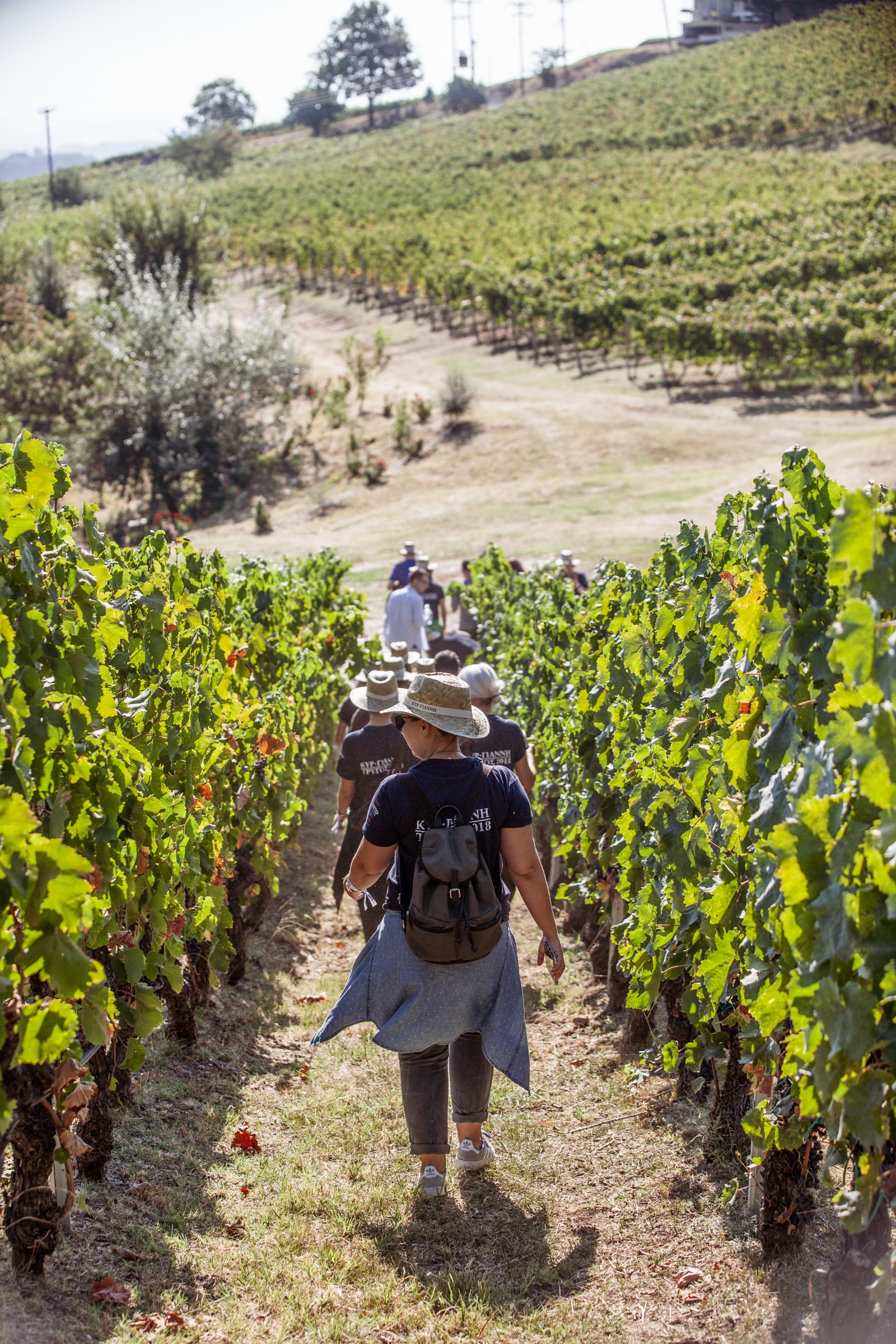 DOMAINE DALAMARA 
When he took over from his father in 2011, Kostis Dalamaras was the youngest winemaker in Naoussa. Following time in Burgundy – where he had studied oenology and viticulture – and in Catalunya, Spain, and Alsace, France, Kostis came back to take over the small winery which had been founded in 1991 by his father Yiannis. He did not hesitate to push through important changes in the winemaking techniques, applying knowledge he had accumulated abroad, but more importantly, he decided to switch the emphasis to the vineyard. About 20% of the family-owned vineyards were replanted, getting rid of varieties that Kostis thought were not serving his purpose, in order to concentrate on the indigenous varieties of the area and Xinomavro in particular. His production is small, about 40,000 bottles a year, but his aim is to produce a high-quality wine which is the best expression of Xinomavro.
As is the case with other winemakers in the area, Dalamaras seems determined to focus on this unique and versatile red variety, which is capable of producing very complex wines which age well. A quiet young man who adores spending time up on the mountain with his fiancée Maria, who also works in the winery, Dalamaras believes that all the important work is done in the vineyard. He spends most of his day attending to the vineyards himself, getting a little help from his cousin Yiannis, a viticulturist, and his father who, after many decades of hard work, is now considering retirement. The small winery is surrounded by vineyards, but perhaps the most valuable plot of land is a few kilometres away in an area called Paliokalias. This particular vineyard produces the winery's most expensive wine, Paliokalias, which is produced in an extremely limited quantity (a maximum of 8,000 bottles) and does not come out every year. The climate of this area features warm dry summers and mild winters. For most of the day, the vines are exposed to the full benefit of the sun.
All of the vines are grown organically, and Dalamaras tries to follow the biodynamic calendar, a philosophy he embraces. Despite the fact that he studied in Burgundy, he seems to prefer wines coming from Roussillon, France. "I think my experience in that particular wine region has influenced me more than Burgundy," he says. The winery is located on the outskirts of Naoussa and is open to visitors.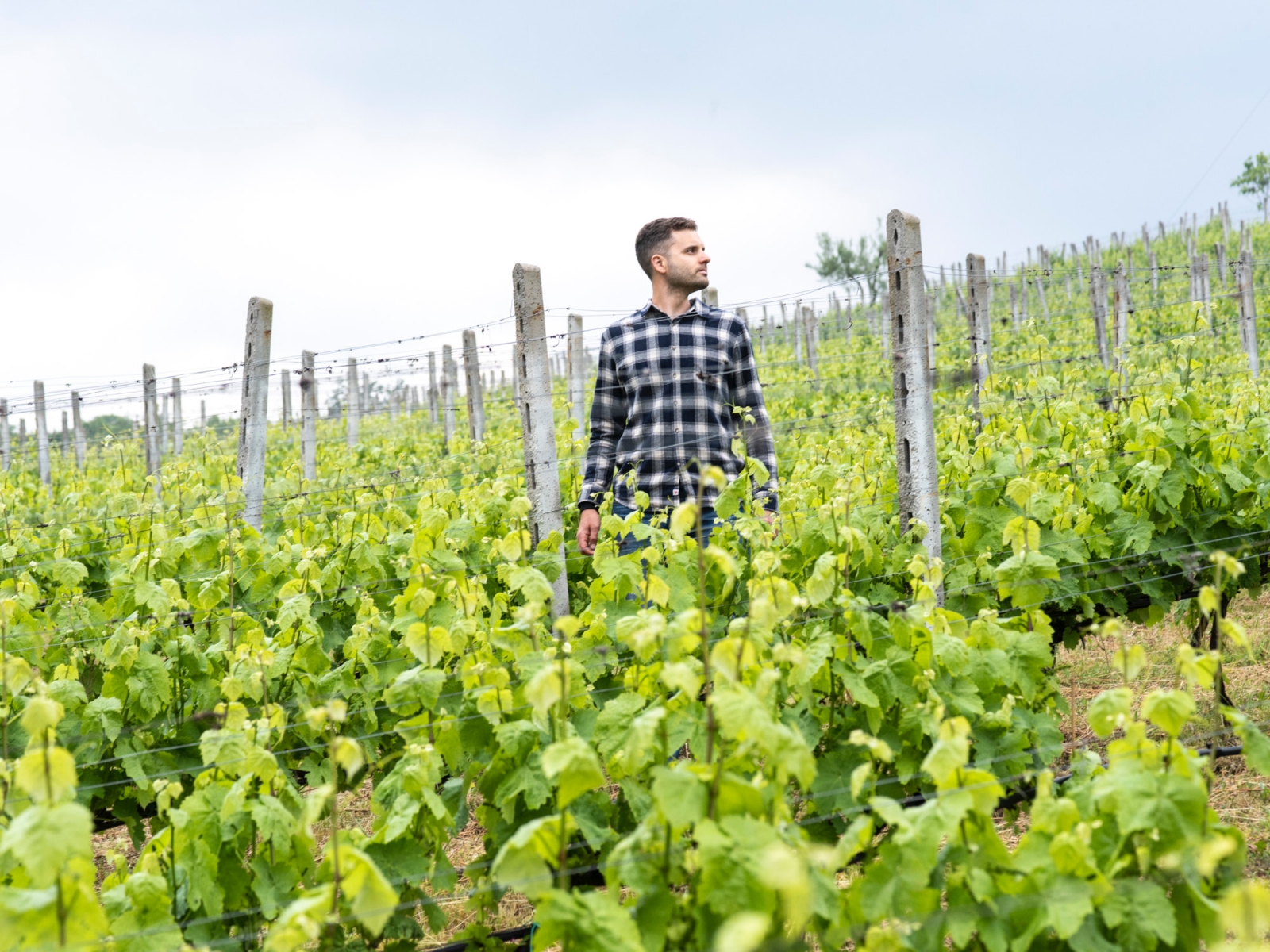 MARKOVITIS WINERY
Markos Markovitis is arguably Naoussa's most avant-garde wine producer. A third-generation winemaker, he took over in 2012 after his father passed away, and changed everything. He only had one thing in mind, to focus on the area's star variety. He began by replanting the whole 140-acre vineyard, replacing other varieties with Xinomavro. He then eliminated all other wines (about six) that his father and uncle had been producing, and focused on the production of just one, a red wine made from 100% Xinomavro. At the same time, he changed the label from Chateau Pegasus to Markovitis Winery. "You need to focus on one variety, which in my case is Xinomavro," he says. His philosophy is very clear. "I don't need to experiment with different varieties, all I want to focus on is this particular variety, which is indigenous, unique and offers immense possibilities." His is a complete one-man show. He takes care of the vineyard and vinifies the wine himself, having studied oenology and viticulture in Germany. "It is my German discipline that has helped me," he jokes. Markovitis is convinced that anybody who is interested in promoting Greek wine must have a very clear sense of geography. "Naoussa produces Xinomavro, Nemea produces Agiorgitiko, Santorini produces Assyrtiko," he says. "This should be our focus." Markovitis' winemaking approach is based on a philosophy of non-intervention in the winery, and that's why, he explains, their wines "cannot be consistent. You'll have good years and you'll have bad years, like, for example, 2014. That year, we didn't produce any wine. We had to sell our grapes to other producers." In September, he will be releasing Markovitis 2016, a great vintage according to the winemaker, a great wine with all the typical red fruit aromas of Xinomavro, very good acidity and well-rounded tannins. Trying a bottle of Chateau Pegasus 1999, we realised the amazing ageing potential of Xinomavro. The winery produces 80,000 bottles a year, 80% of which are exported to Germany, the UK, the US and Sweden. The winery is not open to visitors. 
ARGATIA WINERY
Christoforos Georgiadis is the newest winemaker at this small winery in the area of Naoussa. Son of well-known viticulturist Haroula Spinthiropoulou, Georgiadis decided to give his mother's name to his first blend. Following a different philosophy from the previous two producers, Georgiadis believes that the best way to introduce someone to Xinomavro is through a blend. Thus he created Haroula, a blend of Xinomavro with two other indigenous Greek red varieties: Negoska, which grows mainly in Goumenissa – a different PDO area in northern Greece – and Mavrodafni, Cephalonia's main red variety. "It's an easy-drinking, entry-level wine with no barrel ageing that's doing really well in the markets abroad, especially in the United States," he explains. As far as the PDO wines are concerned, Argatia Winery produces one Naoussa label, which it released into the market after five years' maturation in the bottle. "The strong, tannic character of Xinomavro doesn't make it very appealing to the consumers," he says, "so our philosophy is to keep our wines for as long as we can before releasing them into the market. Being a small winery, our space is limited; otherwise, we'd keep our bottles for even longer, seven or eight years, because this is how long a Xinomavro needs to mature." The production is small, just 14,000 bottles. The winery is open to visitors. 
Other wineries in the area: 
Domaine Karydas: The estate produces two labels, Ktima Karyda, a typical Naoussa Xinomavro, and Ktima Karydas Collectible, an exuberant blend of Xinomavro, Cabernet Sauvignon and Merlot — domainekarydas.com
Domaine Diamantakos: Two wines are produced here, a red from Xinomavro and a white from Preknadi, another indigenous variety — diamantakos.gr
Domaine Foundis: The most traditional winery of the area, this estate produces a more rustic version of Xinomavro — ktimafoundi.gr
Domaine Chrisochoou: Its best-selling wine is Chrisochoou Xinomavro. A Blanc de Noir is also produced from Xinomavro. g