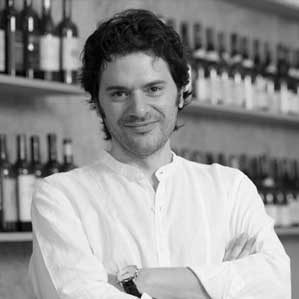 Do you know what "unicorn wines" are? First of all, they have to be beautiful. You hear about them, but they're so rare you almost never experience them. Getting your hands on a unicorn wine is not so much about paying ridiculous amounts of money for a bottle, but more of an adventure, an actual quest to find and taste the unexpected. Are there any unicorn wines in Greece? Well, let me introduce you to Yiannis Economou.
Born in Crete, Yiannis Economou first studied agriculture in Milan and then specialized in oenology at Alba University in Piedmont. He has a solid winemaking background: he has worked for Ceretto Wines in Piedmont; in Baden, Germany; and for first-growth legend Château Margaux in Bordeaux. When, in 1994, he returned to Crete from Château Margaux, he planted vines with American rootstock but, over the last few decades, he has completely abandoned those vineyards. Now he mainly sources grapes from phylloxera-free vineyards, many owned by his family. These vineyards are scattered over just seven hectares around Ziros, a village at an elevation of 650m located in the municipality of Sitia in the easternmost part of Crete. The altitude keeps the temperature down; even though Ziros is a good deal south of Santorini, the grapes here are harvested at least 45 days later than those in Santorini vineyards. Speaking of Santorini, Assyrtiko is the only fully non-Cretan grape Economou uses. All other varieties are almost exclusively of Cretan origin: dark-skinned Liatiko and Mandilari, and white-skinned Vilana and Thrapsathiri. 
It is interesting that, while Yiannis Economou has mastered all aspects of modern winemaking, he prefers to work similarly to his ancestors: he uses no commercial yeasts and there isn't much technology involved in production either. His approach to winemaking is gentle and discreet, allowing his vineyards to express themselves in producing a distinct array of character-driven wines. Of course, the grapes he uses help make his life easier – he works with a large quantity of old vines (roughly 60-80 years old) yielding very small quantities of concentrated fruit. The sea fossils in the vineyard soil offer a nice mineral touch, while the high elevation provides the wines with a nice acidity that gives a strong backbone to the wines.
And then there is… time. Yiannis Economou can wait. He is unbelievably patient. At the moment, he has the following vintages on the market: Sitia White 2013, Assyrtiko 2013, Rosé 2014, and Sitia Red 2006. His white wines are usually released three to five years after harvest – sometimes even longer – while the reds are released 8-12 years after harvest. There is no predetermined rule for the sequence of releases. The decision is made once the wine has been tasted; a more recent vintage could be released earlier than an older one, if the former feels ready. For the reds, the majority of the vessels used are 350-litre to 500-litre barrels, which are used a total of three times. After ageing, the wine is then racked back to the steel tanks for assemblage and blending.
If you want a dense, golden white wine with aromas of ripe stone fruits, dry nuts, honeycomb, earth and chestnut, a very textural palate and a long aftertaste, you should try Sitia White (a blend of Vilana and Thrapsathiri). I always go for wines with unique personalities, not ones that copy other wines, and if you feel the same way, you should give this one a try. The Sitia Red, on the other hand (made from the indigenous Cretan grape variety Liatiko, a local Sitia clone), is the flagship wine that gave Economou cult status. It's light in color, with a lovely earthy bouquet of herbs, a mixture of dried petals and spices (potpourri), leather and earthy notes. The wine is ethereal and powerful at the same time. The oak influence adds a very subtle touch, contributing mainly to the wine's texture. The long finish hints at the old vines from which the grapes were sourced. As for production size, let me give you an idea of the numbers. Sitia White, Assyrtiko, Rosé and Sitia Sweet (the last two coming from Liatiko) yield about 170 cases each (12 bottles/9 litres). Sitia Red production falls somewhere between 840 and 1700 cases. So the overall production is less than 30,000 bottles. That's few enough bottles for these to be considered unicorn wines, but still enough to supply his clients. Yiannis Economou is selling his wines mainly in the US and UK markets, to high-end accounts that cater to some of the world's most prestigious restaurants.
If Yiannis Economou was not crafting these wines, nobody would understand the unlimited potential of the terroir of Sitia in eastern Crete, where the weather's never too hot or too cold and where the use of sulphur powder is enough to protect the vineyards, so that no other chemicals need be employed. What's more, Sitia produces healthy grapes that allow for minimal human intervention in the process of winemaking. But perhaps the most important element of this terroir is Yiannis Economou himself. It's great to know there's someone doing everything their own way, everything differently, against the grain, especially since the results of his efforts are wines with personality, excellence and authenticity, displaying the winemaker's own sincere passion for the land they comes from… Crete! g